Cover Your Health in 5 mins
Compare Premium.
Buy Now.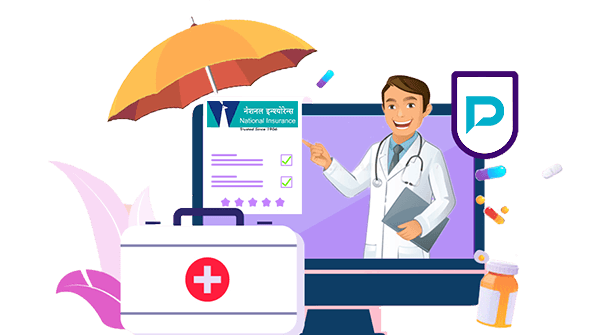 Compare

Individual Health Insurance Plans
National Health Insurance Renewal
Renewal of the National Health Insurance plan is essential for protecting your future with various coverage and benefits. If you will not renew your National Health Insurance plan on time, you will lose health coverage for yourself and your entire family. This article will help you understand how to renew your health insurance plans from National Insurance.
How To Renew National Health Insurance Plan?
The steps to renew your health insurance coverage with National Insurance online are as follows:
Pay a visit to the official website of the company.
Click on the "Quick Renewal" tab at the top of the page.
Enter the policy number, fill in the captcha, and then click on "Renew Policy".
Before proceeding, review the policy's information and make any necessary adjustments, such as modifying the sum insured amount or selecting an add-on option.
Make a payment for the renewal amount using one of the available payment gateways.
You will receive a confirmation email confirming the policy's successful renewal.
Benefits Of Renewing Health Insurance Plans With National Insurance
Here are the following benefits for renewing health insurance plans with National Insurance:
The cumulative bonus permitted at renewal in respect of an insured person shall be equivalent to 5% (five percent) of the sum insured (excluding CB) of the expiring policy, provided no claims were made under the terminating policy.
At the time of National Health Insurance renewal, the policyholder can include family members at a pro-rata premium. This allows the policyholder to not only protect his/her future but also his/her family members.
When a policyholder renews a National Health Insurance plan, he/she is allowed to change the plan as per his/her current needs. However, this is applicable only when the insured is not suffering from any kind of chronic disease and 4 years of continuous coverage is purchased by the policyholder.
The National Health Insurance plans enable the policyholders to renew the plan annually throughout their lifetime. The ability to renew the plan for the rest of your life decreases the risk of increasing healthcare costs. It assists in balancing rising healthcare expenditures with long-term financial security.
Enhancement Of Benefit Amount
The policyholders can also increase the amount of benefit while renewing the National Health Insurance plans. The amount of the benefit can be increased to the next slab at the company's discretion.