Cover Your Health in 5 mins
Compare Premium.
Buy Now.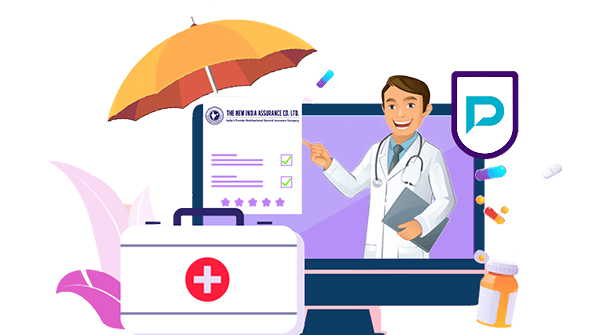 Compare

Individual Health Insurance Plans
New India Cancer Guard Policy
The New India Cancer Guard policy is intended to cover cancer treatment received in inpatient, outpatient, or daycare. The New India Assurance Co. Ltd.'s well-known health insurance products include the New India Assurance Cancer Guard Policy. Conventional medical procedures like chemotherapy, radiotherapy, organ transplantation, and oncology surgery are covered by this policy.
This policy ensures that the owner of the New India Assurance Cancer Guard Policy is qualified to receive all benefits. Depending on the possibilities available for his or her age, the policy gives a wide range of insured options that the insured can choose from, ranging from Rs. 5 Lakh to Rs. 50 Lakh. Furthermore, the Cancer Guard Policy does not require a pre-policy medical check to be eligible for coverage.
Read on to know more about the New India Cancer Guard Policy's eligibility criteria, coverage details, features & benefits, exclusions, claim process, buying process, and more.
Here are the eligibility criteria for the New India Cancer Guard Insurance Plan.
Parameters
Details
Age

Minimum- 18 Years

Maximum- 65 Years

Members Covered
Proposer, Spouse, Children, Parents, and ward
Sum Insured Options
Rs. 5, 10, 15, 25 & 50 Lakhs
Pre-acceptance Medical Examination
Not Required
Here are the coverage details for the New India Cancer Guard Plan.
| | |
| --- | --- |
| Parameters | Details |
| Cancer Care Benefit | 50% of the Sum Insured would be paid as Critical Care Benefit alongside the admissible claim amount. |
| Post Treatment Follow Up | Payable up to Rs. 10,000 once in a Period of Insurance. |
| Second Opinion for Surgery | payable up to Rs. 5,000 |
| Cumulative Bonus | Sum Insured under Policy shall be increased by 10% at each renewal in respect of each claim-free year of Insurance, subject to a maximum of 50% of the Sum Insured. |
| Ambulance Charges | Payable up to Rs. 3,000 per hospitalization |
| Day Care Procedures | 58 Day Care Procedures are covered in the policy. |
| Digital Discount | 10% Digital Discount for Fresh and Renewals. |
Features of Buying a New India Cancer Guard Insurance Policy
The following are the key features and benefits of a New India Cancer Guard Insurance Policy.
Major Cancer Treatments and Procedures Covered- It comprises common medical procedures like radiation, oncosurgery, organ transplantation, and chemotherapy. Additionally, it incorporates cutting-edge medical techniques including proton therapy, immunotherapy, and bone marrow and stem cell transplants.
In-patient Treatment: Ambulance costs, lodging, and board costs, nurse expenses, second opinions for surgeries, and nursing fees are all reimbursed up to Rs. 3,000 per hospital.
Pre-hospitalization Coverage: There is a 90-day waiting period for this coverage. During this time, the premiums are repaid and the coverage is terminated in the event of a cancer diagnosis. However, in situations involving renewal, this is irrelevant.
Post- hospitalization Cover– Includes post-surgery reconstruction of the affected body part till it attends the essential physical functioning. A posting period follows up of up to Rs 10,000 will be paid once in the period of insurance.
Daycare Treatment- Another major feature of choosing the New India Cancer Guard policy is that it covers 58 daycare procedures, offering a seamless and smooth treatment of your treatment without any difficulty.
Restoration of Sum Insured- With each renewal, the amount insured under the insurance will rise by 10%. This relates to each year of insurance that is free from claims, which is limited to a maximum of 50% of the Sum the policyholder is insured with.
Emergency Ambulance Charges: According to hospitalisation under the insurance, emergency ambulance charges are also payable up to Rs 3,000.
Critical Illness Benefit- There is no precise cure date for cancer. The rebuilding of any injured bodily part or any post-treatment follow-up is therefore covered by the policy. Cancer treatment at any stage, bone marrow transplantation, immunotherapy, proton therapy, stem cell transplantation, hormonal therapy, personalised therapy, endocrine manipulation, and targeted therapy are all included.
Free Look Period: After receiving the policy, the policyholder will have fifteen (15) days to evaluate the terms and conditions and return the insurance if they are not acceptable.
Cumulative Bonus: Each time the policy is renewed, the amount insured will go up by 10% for each year without a claim, up to a maximum of 50%. The cumulative bonus accrued will be reduced at the same rate it is accrued if a claim is filed in any specific year.
Is there Anything Not Covered Under the New India Cancer Guard Policy?
Listed below are the things not covered under the New India Cancer Guard Policy.
Any therapy other than cancer treatment.
Before the company's first policy being issued, the insured person (as specified in the Schedule) had a pre-existing condition for cancer for which they displayed symptoms or signs, were diagnosed, or sought medical advice or treatment.
Within ninety days of the first policy's start date, the insured person was diagnosed with or developed cancer.
Any cancer therapy either directly or indirectly from, arising from, or related to war,
invasion, foreign enemy action, warlike activities (whether or not one has been proclaimed), nuclear weaponry or ionising radiation, contamination by radioactive substances, nuclear fuel or nuclear waste, or nuclear fuel burning.
Cosmetic, aesthetic, and plastic surgery.
External medical equipment, non-durable implants, and prosthetic devices are expensive.
Surgery of any kind, other than dental, unless it's necessary for the treatment of cancer.
Costs associated with hospital stays are mostly related to diagnostics, laboratory tests, x-rays, and other diagnostic studies that are not directly related to or incidental to the diagnosis and treatment of cancer.
Expenses for vitamins and tonics, unless they are prescribed by the attending physician as part of a treatment plan for an injury or illness.
Non-Allopathic treatment.
Any costs associated with item costs.
Pharmacological regimens and unproven/experimental treatments.
Any service fees, surcharges, luxury taxes, or other fees imposed by the hospital.
Outside of India, treatment was received, including investigation and diagnostic services.
Rest, treatment, and temporary care
Premium Illustration Of New India Cancer Guard Policy
As a case study, let's use Mr. Mithun Sharma, a young professional from New Delhi who is employed by a product-based company. Due to the high cost of cancer treatment, he was hoping to obtain a specific health plan that would shield him from the disease. Additionally, because he is the only provider for the family and medical expenses are on the rise, he does not want to take any chances. After doing a lot of research, he ultimately decided on the New India Cancer Guard Policy.
Age
No. of Members Covered
Sum Insured

Are you A smoker

(aggregate)?

Are you in the habit of chewing

Tobacco/Pan Masala or any other intoxicant?

Estimated Premium

(Excluding GST)

30 Years
1
Rs. 500,000.00
No
No
Rs. 837.00
40 Years
1
Rs. 1,000,000.00
Yes
Yes
Rs. 1,095.00
How to Get New India Cancer Guard Insurance Policy?
The expense of cancer care has significantly increased in the modern world as a result of the increasing number of cancer diagnoses and the lengthier post-diagnosis treatments. The likelihood of receiving a cancer diagnosis later in life is substantially increased by a family history of the disease. Choosing cancer insurance coverage may be advantageous for you if there is a history of cancer in your family. In addition to covering the cost of your treatment, having cancer insurance as a backup helps you become financially stable so that you have enough funds to pay for your medical costs.
If you are looking to buy New India Cancer Guard Insurance Plan, listed below are the steps you need to follow.
Visit the official website of New India Insurance.
On the home page, you will see the "Products section" at the top in the blue-coloured banner. Click on it. Go to the "Health" section. And then, click on "More" in the corner.
The moment you click on it, you will see a range of health plans under the "Health" section. Then, navigate to "New India Cancer Guard Policy (Cashless facility available)". When you put your cursor over it, you will need to click on "Know More" to open the plan page.
After that, the plan page will be opened. Scroll down a bit and you will see "Buy Online". Click on it.
A new page will open, asking you to enter all the details like your date of birth, select your gender, sum insured, enter your contact details, policy period information, and more. Once you have successfully entered all the information, click on two of the checkboxes. Then, click on "Calculate Premium".
Then, you will see all the details of your premium information along with the sum insured. If you are happy with the premium amount that you need to pay, click on "Save & Continue".
After that, a box will appear asking for registration. Click on "Register" and then enter your first name, last name, date of birth, email Id, mobile number, and more. Click on the checkbox. Then, click on the "Register" button.
Once you are successfully registered, you will need to proceed with the buying process. Then, a page will ask you to enter additional details like your address, occupation, earnings per annum, and more.
When you click it, a payment page will open where you may complete the transaction with your credit/debit card, Net Banking, EMI, or UPI.
Choose the plan of action that will best serve you. Next, click "Proceed to Pay". The last step is to send you a message and the policy documents through email and your registered mobile number.
How to File a Claim for New India Cancer Guard Policy?
Let's take a look at the steps to follow while filing a claim for your New India Cancer Guard Insurance Plan.
Within 72 hours after being admitted to the hospital, intimate the New India Insurance company.
Within fifteen (15) days of the date of hospital release, submit the following supporting papers to TPA concerning the claim:
Duly completed claim form
Numbered Bill, Receipt, and Discharge certificate/card from the Hospital.
Numbered Cash Memos from the Hospitals(s) / Chemists(s), supported by proper prescriptions.
Numbered Receipt and Pathological test reports from Pathologist supported by the note from the attending Medical Practitioner / Surgeon recommending such tests.
Surgeon's certificate stating nature of operation performed and Surgeons numbered bill and receipt.
Attending Medical Practitioner's / Anaesthetist's numbered bill and receipt, and certificate regarding diagnosis.
Copy of PAN Card and NEFT Details.
Please submit all claim documentation within fifteen (15) days after the conclusion of any post-Hospitalization (limited to sixty days) treatment.
Give TPA permission to acquire medical records and other documents from any hospital, laboratory, or other organization.
Note: The documents must all be in their original form. A certified true copy of the originals, along with the settlement note, should be submitted if the originals have already been given to another entity.
Renewal Process of the New India Cancer Guard Policy
Protecting yourself and your family from the severe financial burden this condition causes is imperative. Therefore, to meet your needs, make sure you purchase a cancer plan like the New India Cancer Guard Policy. But even after buying the plan, if you fail to renew it on time, you will lose substantial benefits like coverage and hospitalization. If you want to renew your New India Cancer Guard Policy, the following are the steps to follow.
Visit the official website of New India Insurance.
On the top, you will see the "Quick Help" button. Click on it. Then, you will see "Quick Renewal". Click on it.
A page will open, asking you to enter your customer ID and policy number. Ensure you enter the correct details. After that, click on the "Proceed" button.
Following that, you will need to pay the insurance renewal premium. At that point, you can renew your insurance using a credit or debit card.
After you make the payment, a message containing information about your insurance will be sent to your registered phone number and email address.
Frequently Asked Questions