Cover Your Health in 5 mins
Compare Premium.
Buy Now.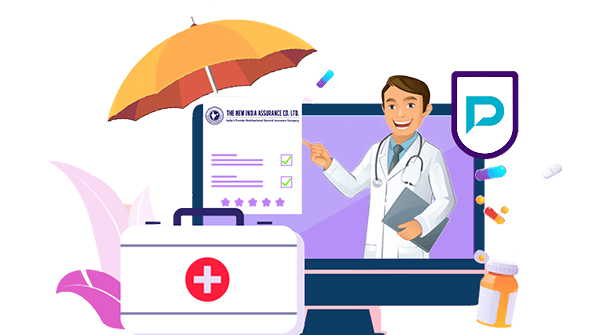 Compare

Individual Health Insurance Plans
New India Jan Arogya Bima Policy
Having good health and maintaining a healthy lifestyle are necessities for everyone, no matter from what economic background he or she belongs. To sustain a healthy and worry-free life, health insurance policies play a pivotal role due to their protective nature. But due to the skyrocketing medical expenses, the price of health insurance policies has gone high, for which the weaker economical class often cannot afford a medical policy.
To solve this problem, The New India Assurance Company Limited has come up with a health plan, Jan Arogya Bima Policy, that has been designed to provide cheap medical insurance to the poorer sections of society. This policy offers not only protection against different ailments, diseases, and health risks but also provides financial relief in the face of a medical emergency. As this plan targets the economically weaker section of society, it is a super pocket-friendly plan. to know about this policy, have a look at the following mentions.
Parameters
Description
Who can buy this policy

This Insurance is available to persons between the ages of 5 years to 70 years.
Children between the ages of 3 months to 5 years can be covered only if the parents are also covered under the policy.

Sum insured option
It is restricted to Rs. 5000 per person
Grace period
30 days
Free look period
15 days
Policy type
Individual policy and Family Floater policy
Who can be covered
Self, spouse, dependent children (maximum 2)
Renewal
Lifelong renewability
Waiting period

30 days – Initial
90 days – Diabetes mellitus, hypertension, and cardiac conditions.
12 months – Cataract, Benign Prostatic Hypertrophy, Hysterectomy for Menorrhagia or Fibromyoma, Hernia, Hydrocele, Congenital Internal diseases, Fistula in the anus, piles, Sinusitis, and related disorders.
48 months – Treatment of mental illness, stress or psychological disorders and neurodegenerative disorders, Age-Related Macular Degeneration (ARMD), Genetic diseases or disorders, and External Congenital Diseases.
48 months – Pre-existing diseases.
Coverages Under New India Jan Arogya Bima Policy
This policy has come up with a sack full of benefits and facilities that promise to keep you and your family protected and secure. The following table gives you a detailed idea about the benefits. Have a look.
Parameters
Detail
Coverage
The Policy covers reimbursement of Hospitalization Expenses or Domiciliary Treatment in India under Domiciliary Hospitalisation benefit for Illness, or Injury sustained.
In-patient hospitalization benefit

It covers the followings:

Room rent, Boarding, DMO/RMO/CMO/RMP Charges, and Nursing (Including Injection / Drugs and Intravenous fluid administration expenses), as provided by the Hospital.
Associate Medical Expenses; such as Professional fees of Surgeon, Anaesthetist, Consultant, Specialist; Anaesthesia, Blood, Oxygen, Operating Theatre Charges and Procedure Charges such as Dialysis, Chemotherapy, Radiotherapy & similar medical expenses related to the treatment.
Cost of Pharmacy and Consumables, Cost of Implants and Medical Devices, and Cost of Diagnostics.

Coverage for modern treatments and procedures
Certain pre-specified modern and advanced procedures are covered either as an in-patient or as part of daycare treatment in a hospital.
Treatment for congenital diseases
Covered after the specified waiting period of 12 months and 48 months
Key Highlights of New India Jan Arogya Bima Policy
Apart from the above facilities and benefits, this plan has presented several extraordinary advantages that have made the policy unique and popular among consumers. Keep an eye on the following special advantages.
Puberty and Menopause-related Disorders:
Treatment for any symptoms, Illness, or complications arising due to physiological conditions associated with Puberty, Menopause, such as menopausal bleeding or flushing, is covered only as an Inpatient procedure after 24 months of continuous coverage.
Age-Related Macular Degeneration (ARMD):
It is covered after 48 months of continuous coverage only for Intravitreal Injections and anti – VEGF medication.
Behavioral and Neurodevelopmental Disorders:
Disorders of adult personality and Disorders of speech and language including stammering, and dyslexia; are covered as Inpatient procedure after 24 months of continuous coverage.
Genetic diseases or disorders:
These are covered after 48 months waiting period.
Impairment of Persons' intellectual faculties:
If it is caused by the usage of drugs, stimulants, or depressants as prescribed by a medical practitioner then it will be covered subject to it arising during treatment of covered illness.
Artificial life maintenance:
It also includes life support machine use, where such treatment will not result in recovery or restoration of the previous state of Health under any circumstances unless in a vegetative state as certified by the treating medical practitioner, is covered following admission for a covered illness.
Treatment of mental illness, stress or psychological disorders, and neurodegenerative disorders:
The below covers are subject to the patient simultaneously exhibiting the following traits and requiring Hospitalisation as per the treating Psychiatrist's advice
Major Depressive Disorder- when the patient is aggressive or violent.
Acute psychotic conditions– aggressive/violent behavior or hallucinations, incoherent talking, or agitation.
Schizophrenia- esp. Psychotic episodes.
Bipolar disorder- manic phase.
Migration:
You will have the option to migrate the policy to other Health Insurance products, or plans offered by the company by applying for migration of the policy at least 30 days before the policy renewal date as per IRDAI guidelines on Migration.
Cancellation:
You will be allowed a period of fifteen days from the date of receipt of the Policy to review the terms and conditions of the Policy and to return the same if not acceptable. The refund would be made only if no claim has been made or paid under the Policy.
Cancellation within free look period – you will be entitled to get the followings:

A refund of the premium paid less any expenses incurred by the insurer on medical examination and the stamp duty charges or;
where the risk has already commenced and the option of return of the policy is exercised by You, a deduction towards the proportionate risk premium for the period on the cover or;
Where only a part of the risk has commenced, the proportionate risk premium is commensurate with the risk covered during such period.

Cancellation after free look period – The refund would be at the company's Short Period rate table given below:
| | |
| --- | --- |
| Up to 1 month | 1/4th of the annual rate |
| Up to 3 months | 1/2th of the annual rate |
| Up to 6 months | 3/4th of the annual rate |
| Exceeding 6 months | Full annual rate |
What Are The Exclusions of New India Jan Arogya Bima Policy?
Understanding a policy is not completed if you do not go through its exclusions of it thoroughly. Therefore, to provide you with a better and more comprehensive idea of the plan and to avoid future complications, here are the general exclusions of the New India Jan Arogya Bima Policy.
Any kind of psychological counseling, cognitive, family, group, behavior, palliative therapy, or other kinds of psychotherapy for which Hospitalisation is not necessary will not be covered.
If you raise any claim against such an illness, ailment, or disease that is still within the waiting period, the company will not approve your claim.
Any expenses arising out of any treatment, including surgical management, to change the characteristics of the body to those of the opposite sex will not be compensated by the policy.
Any expenses incurred due to the surgical treatment of obesity that does not fulfill all the terms and conditions of the policy, will not be reimbursed by the company.
Expenses related to any admission primarily for enforced bed rest and not for receiving treatment will also fall under the category of exclusions.
Any diagnostic expenses which are not related or not incidental to the current diagnosis and treatment will not be covered by the policy.
Expenses related to any admission primarily for diagnostics and evaluation purposes will not be included.
Any kind of cosmetic surgery or plastic surgery will not be covered by the policy.
If you take part in any kind of hazardous activities, or adventurous sports such as scuba diving, sky diving, mountaineering, etc., and receive injury from it, the company will not take any responsibility for those medical expenses.
Expenses for treatment directly arising from or consequent upon any Insured Person committing or attempting to commit a breach of law with criminal intent will be permanently excluded from the policy.
The company will not take any liability for the treatments for, alcoholism, drug or substance abuse, or any addictive condition and consequences thereof.
Treatments received in health hydros, nature cure clinics, spas, or similar establishments or private beds registered as nursing homes attached to such establishments or where admission is arranged wholly or partly for domestic reasons will be excluded from the policy.
Dietary supplements and substances that can be purchased without a prescription, including but not limited to Vitamins, minerals, and organic substances unless prescribed by a medical practitioner as part of a hospitalization claim or daycare procedure will not be included.
Expenses related to the treatment for correction of eyesight due to refractive error less than 7.5 dioptres will not be compensated by the company.
Maternity expenses, medical costs related to infertility, and sterility will not be the liability of the company.
Expenses related to any unproven treatment, services, and supplies for or in connection with any treatment will not be reimbursed.
Bodily Injury or Illness due to wilful or deliberate exposure to danger (except in an attempt to save human life), intentional self-inflicted Injury, and attempted suicide are permanently excluded from the policy.
Premium Calculation of New India Arogya Bima Policy
As the sum insured is limited and restricted to Rs. 5000 per insured person, the premium calculation is also fixed depending on the age band and the number of members to be insured. The following table will give you an idea of the premium that you have to pay to avail of the policy benefits.
| | | | | |
| --- | --- | --- | --- | --- |
| Age of the person insured | Up to 46 years | 46 years to 55 years | 56 years to 65 years | 66 years and above |
| Head of the family | Rs. 74 | Rs. 105 | Rs. 126 | Rs. 147 |
| Spouse | Rs. 74 | Rs. 105 | Rs. 126 | Rs. 147 |
| Dependent child up to 25 years | Rs. 53 | Rs. 53 | Rs. 53 | Rs. 53 |
| For a family of 2 adults + 1 dependent child | Rs. 200 | Rs. 263 | Rs. 305 | Rs. 347 |
| For a family of 2 adults + 2 dependent children | Rs. 252 | Rs. 315 | Rs. 357 | Rs. 399 |
Frequently Asked Questions