Cover Your Health in 5 mins
Compare Premium.
Buy Now.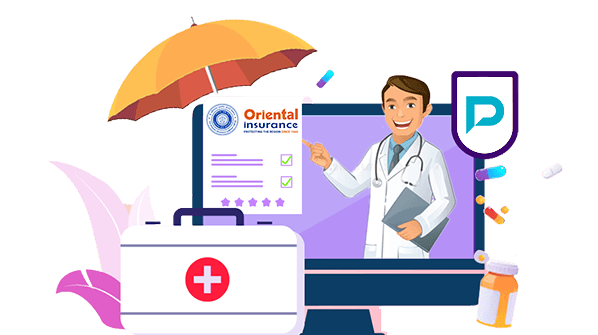 Compare

Individual Health Insurance Plans
Oriental Cancer Protect Policy
Oriental Cancer Protect is a Policy designed to provide indemnity towards covered expenses reasonably incurred on account of the treatment of Cancer of specified severity taken as Inpatient or Outpatient or Day Care. No pre-medical check-up is required to take the policy. Most conventional & advanced methods of Cancer treatment are covered under this policy. Sum Insured may be enhanced to the immediate next eligible Slab after every 3 continuous claim Free Years. No Proof of Income is demanded from the proposer/ insured for coverage under this policy. To know more about this policy, have a look at the following mentions.
Age at entry

Minimum – 18 years

Maximum – 65 years

Dependent children – 3 months

Type of policy
Individual basis
Relationships covered
Proposer, Spouse, Children, Parents/Parents in Law (either of them), unmarried siblings if financially dependent
Base sum insured slabs

<= 50 years – Rs. 5 lakhs, Rs. 10 lakhs, Rs. 15 lakhs, Rs. 20 lakhs, Rs. 25 lakhs, and Rs. 50 lakhs

Above 50 years – Rs. 5 lakhs and Rs. 10 lakhs.

Free look period
15 days
Table of Coverage of Oriental Cancer Protect
The following table offers a glimpse of the policy for a better understanding.
Parameters
Details
Pre-hospitalization
45 days
Post-hospitalization
90 days
Medical Expenses incurred on follow-up check-ups
Up to Rs. 10000
Room rent charges
Up to 1% of the sum insured
Medical consultation
Up to Rs. 10000
Cumulative bonus

Minimum – 5%

Maximum – 50%

Road ambulance cover

For Sum Insured of 5, 10, and 15 Lakhs – INR 3000/- per Hospitalization or actuals, whichever is less
For Sum Insured of 20, 25, and 50 Lakhs – INR 5000/- per Hospitalization or actuals whichever is less
Know The Key Features of Oriental Cancer Protect Policy
This policy has come up with a sack full of benefits and facilities. Some of the important mentions are as below.
Intensive Care Unit (ICU) or Specialised Expenses as provided by the Hospital /Nursing Home will be covered under this policy.
One can avail of air ambulance cover up to 5% of the sum insured.
The policy shall cover treatment for Cancer taken in Inpatient or Outpatient or Day Care. Following Conventional and Advanced Treatment shall be covered in the Policy:
Chemotherapy
Radiotherapy
Organ transplant, as part of Cancer Treatment
Once-surgery (Surgeries for excision of cancerous tissue or removal of organs/ tissues)
Proton Treatment
Personalized & Targeted therapy
Hormonal Therapy or Endocrine manipulation
Immunotherapy including immunology agents
Stem cell transplantation
Bone marrow transplantation
In case the Insured person named in the policy is stuck at a place within India due to Natural calamities not limited to Flood, Earthquake, Tsunami, or due to Lockdown/Curfew/Emergency declared by State/Central Government during the Policy period and if adequate medical facilities are not available locally, Policy will cover reasonable expenses incurred up to the Sub Limits specified in the Policy for this Benefit towards the arrangement of an Emergency evacuation of the Insured Person to the nearest medical facility.
Policy Covers reasonable & customary Medical Expenses incurred for the reconstruction of affected body parts to restore essential physical functioning as a direct result of Cancer Surgery, provided the claim for cancer surgery is admissible and the policy is in force without a break. The limit of indemnity will be the aggregate of the Sum Insured and the Cumulative Bonus, if any, of the Insured Person receiving the organ.
If during the Period of Insurance, any Insured Person is diagnosed with Cancer for the first time and is in Stage IV (based on TNM classification) or Advanced Metastatic Cancer, 50% of the Sum Insured would be paid as Critical Care Benefit in addition to the admissible claim amount. Cancer Care Benefit is payable only once in the lifetime & Limited to INR 10 Lacs for each Insured Person. It will not be applicable for whom it is a Pre- Existing Condition. Any payment under this Clause would be in addition to the Sum Insured.
The Policy can be extended to cover Insured Persons visiting other SAARC (South Asian Association for Regional Co-operation) countries – Afghanistan, Bangladesh, Bhutan, Maldives, Nepal, Pakistan, and Sri Lanka. No additional premium will be charged for this extension. Cashless service will not be available for treatment taken in countries outside India.
General Exclusions of Oriental Cancer Protect
The company will not be liable to make any payment under this policy in respect of any expense whatsoever incurred by any Insured Person in connection with or in respect of :
Any treatment other than Cancer.
Pre-Existing Condition for Cancer for which the Insured Person was diagnosed by a physician within 48 months prior to the effective date of the policy issued by the insurer or its reinstatement.
Insured person Diagnosed suffering from Cancer during the first 75 days of the commencement date of the first policy.
Any treatment for Cancer caused by or arising from or attributable to War, invasion, Act of Foreign enemy, War like operations (whether war be declared or not), nuclear weapon/ionizing radiation, contamination by Radioactive material, nuclear fuel, or nuclear waste or from the combustion of nuclear fuel.
Cost of external prosthetic devices, non-durable implants external medical equipment.
Dental treatment or Surgery of any kind unless necessitated due to treatment of Cancer.
Expenses related to any admission, primarily for diagnostics and evaluation purposes only, are excluded.
Any diagnostic expenses which are not related or not incidental to the current diagnosis and treatment are excluded.
Non-Allopathic treatment.
Any services for people who are terminally ill to address physical, social, emotional, and spiritual needs.
Expenses for cosmetic or plastic surgery or any treatment to change appearance unless for reconstruction following Cancer or as part of medically necessary treatment.
Expenses for treatment directly arising from, or consequent upon, any Insured Person committing or attempting to commit a breach of law with criminal intent.
Dietary supplements and substances that can be purchased without a prescription.
Treatments received in health hydros, nature cure clinics, spas, or similar establishments or private beds registered as a nursing home attached to such establishments or where admission is arranged wholly or partly for domestic reasons.
Expenses related to any unproven treatment, services, and supplies for or in connection with any treatment. Unproven treatments are treatments, procedures, or supplies that lack significant medical documentation to support their effectiveness.
Get To Know The Buying Process of Oriental Cancer Protect
Follow the below easy steps to avail of a smooth online buying process.
Go to the official website of Oriental Insurance.
On the top of the homepage, there will be the buy online tab. Click on that.
Select the health policies option.
After that, look for the Oriental Cancer Protect Policy option. Click on that.
On the landing page, put the required details such as insurance details, primary insured details, nominee, branch office, etc.
Then click on the calculate premium option.
On the basis of the given details, the premium amount will be calculated and displayed. Check it twice.
If no discrepancy is found and satisfied, pay the premium amount online safely.
Download the policy document for future reference.
Claim Procedure of Oriental Cancer Protect
This company offers both cashless and reimbursement claims. Both procedures have been discussed here.
Cashless Claim:
Intimate the insurer 48 hours prior to the planned hospitalization and for emergency hospitalization within 24 hours.
Cashless Treatment may be availed through TPA in a network provider/PPN hospital and is subject to preauthorization by the TPA.
Once the request for pre-authorization has been granted, the treatment must take place within 15 days of the pre-authorization date at a Network Provider and pre-authorization shall be valid only if all the details of the authorized treatment, including dates, Hospital, and locations, match with the details of the actual treatment received.
All the related documents must be submitted to the insurer.
A surveyor may be appointed to assess the incident.
If no discrepancy is found, the claim amount will be paid directly to the hospital.
Reimbursement Procedure:
In case the insured has availed treatment in non-network hospitals, payment must be made up-front.
For reimbursement of claims, the insured person may submit the necessary documents to TPA (if the claim is processed by TPA)/company (if the claim is processed by the company) within the prescribed time limit.
After evaluation of the claim, the claim amount will be settled to the insured person.
Required Documents:
Duly completed claim form
All previous consultation papers indicating history and treatment details for a current ailment;
Copy of indoor case papers with a nursing sheet (If Available) detailing the medical history of the Insured Person, treatment details, and the Insured Person's progress;
Numbered Bill, Receipt, and Discharge certificate/card from the Hospital.
Numbered Cash Memos from the Hospitals(s) / Chemists(s), supported by proper prescriptions.
Numbered Receipt and Pathological test reports from Pathologist supported by the note from the attending Medical Practitioner / Surgeon recommending such tests.
Surgeon's certificate stating the nature of the operation performed and the Surgeons' numbered bill and receipt.
Attending Medical Practitioner's / Anaesthetist's numbered bill and receipt and certificate regarding diagnosis.
Copy of PAN Card and NEFT Details.
Documents in respect of organ donation claim shall be in accordance with the extant Act, Central / State Rules/regulations, as applicable, in respect of transplantation of Human Organs.
Authorisation Letter to TPA to obtain medical and other records from any Hospital, Laboratory, or other agency.
Any other information/document/data required by Insurer/TPA
Frequently Asked Questions