Cover Your Health in 5 mins
Compare Premium.
Buy Now.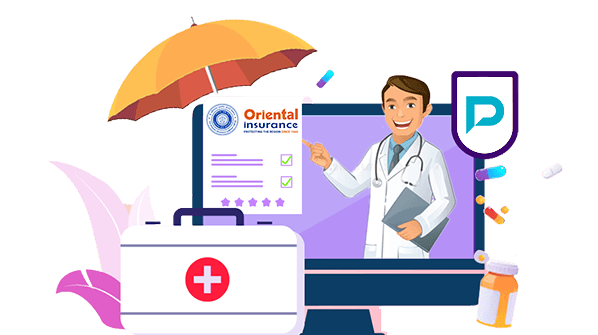 Compare

Individual Health Insurance Plans
Oriental Critical Illness Policy
The Oriental Critical Illness policy is designed to provide coverage for 22 critical illnesses. When a policyholder is identified as having one of these conditions, the insurance company provides a lump sum payout. The insurance is offered in two different forms: Plan A covers 11 serious illnesses, while Plan B covers 22 serious disorders.
There are two versions of the policy: Plan A and Plan B. Plans A and B both provide coverage for 11 specific illnesses, while Plans B also provides coverage for an additional 11 essential illnesses. You can select the policy's two-term options—1 year or 3 years—following your needs. If you are between the ages of 18 and 65, you may purchase a critical illness insurance policy. The Critical Illness Policy offers insured options between Rs. 2 Lakh and Rs. 50 Lakh for those under the age of 50.
Read on to know more about the Oriental Critical Illness Policy eligibility criteria, coverage details, features & benefits, exclusions, premium illustration, claim process, buying steps, renewal process, and more.
Here are the eligibility criteria for the Oriental Critical Illness Insurance Plan.
Parameters
Details
Age

Minimum- 18 Years

Maximum- 65 Years

Members Covered

Spouse
Dependent legitimate or legally adopted children, up to twenty-five (25) years of age.
Parents OR Parents in Law (either of them).
Unmarried dependent siblings.

Sum Insured (SI)
SI available per insured person is INR 2/4/6/8/10/12/14/16/18/20/25/30/35/40/45/50 Lakhs
Policy Period

Annual Policy – One year

Long-Term Policy – Three years

Renewability
Life-long renewals
The benefit of Medical Second Opinion
Yes
Here are the coverage details for the Oriental Critical Illness Policy.
Parameters
Details
Family discount
A flat discount of 10% is available
Portal discount

A discount of 10% on the premium, subject to a maximum of Rs.2,000/- available where

policy taken online without any intermediary.

Grace period facility
30 days Grace period facility available for payment of renewal premium
Waiting period
90 Days
Survival period
30 days
Discount on direct Online Policies

A discount of 10% (subject to a maximum of up to Rs. 2000/-) on

premium is allowed, if the Policy is purchased on-line
Highlighting Benefits Of Choosing Oriental Critical Illness Policy
The following are the key features and benefits of Oriental Critical Illness Insurance Plan.
Coverage for 22 Critical Illnesses
In the event of the diagnosis of 22 serious illnesses, such as cancer, heart disease, coma, stroke, third-degree burns, benign brain tumours, kidney failure, etc., this policy pays the insured a lump sum.
Enhancement of the Sum Insured
The policyholder may increase the policy sum insured to the following eligible slab at the time of renewals if no claims have been filed in the previous two years.
Under Section 80D of the IT Act, the premium paid to purchase or renew an Oriental Critical Illness policy may be written off as a tax deduction.
Medical Second Opinion Benefit
A second medical opinion on the diagnosed critical disease will be covered for up to 1% of the sum insured, up to a maximum of Rs 10,000 for sums insured up to Rs 20 lakh and Rs 20,000 for sums insured over Rs 20 lakh.
Discount on direct Online policies
If the Policy is purchased online and there is no involvement of an intermediary, a 10% discount on the premium is permitted (up to a maximum of Rs. 2000/-). This discount also applies to online policy renewals when there was never any involvement from an intermediary, either during the initial purchase or subsequent renewal.
From the date of receipt of the policy document, the insured has fifteen days to evaluate the terms and conditions and return the document if they are not acceptable.
According to IRDAI portability guidelines, the Insured Person will have the option of moving the Policy to other insurers by applying to such insurer to port the entire policy along with all of the family members, if any, at least 45 days before, but not earlier than 60 days from the policy renewal date.
Exclusions Under the Oriental Critical Illness Insurance Plan
The Company shall not be responsible for paying any claim that is based on, results from, arises out of, or is in any way related to any of the following:
The cost of treating a pre-existing disease (PED) and its immediate complications will not be covered until 48 months have passed after the first insurance policy was started with the insurer.
If the amount insured is increased, the exclusion will once again apply to the new amount insured.
The waiting period for the same would be shortened to the extent of prior coverage if the insured person maintains continuous coverage, as defined by the portability criteria of the current IRDAI (Health Insurance) Regulations, without a pause.
Any pre-existing disease must be disclosed at the time of application and accepted by the insurer for it to be covered under the policy after the first 48 months have passed.
Critical sickness identified within three months of the policy's launch. For consecutive renewals with the Company without a gap, this exclusion does not apply.
Any illnesses that result in the insured person's death during the allotted survival period which is counted from the date of initial diagnosis.
Sports that are considered hazardous or adventurous include parachuting, rock climbing, mountaineering, rafting, auto racing, horse racing, scuba diving, hand gliding, skydiving, and deep-sea diving. These costs are related to any treatment that is required as a result of participating as a professional in these sports.
Premium Illustration Of Oriental Critical Illness Policy
Let's use Mr. Roy Manchanda as an example. He is a young professional working for a reputable pharmaceutical company in New Delhi. He wanted to get a specific health plan that would guard him against serious diseases. Additionally, because he is the only provider for the family and medical expenses are on the rise, he does not want to take any chances. After doing a lot of study, he ultimately decided on the Oriental Critical Illness Insurance Policy.
| | | | | | | |
| --- | --- | --- | --- | --- | --- | --- |
| Age | Plan Type | Policy Period | Sum Insured | Pre-existing ailments | Do you wish to opt for TPA services? | Premium Amount |
| 30 Years | Plan A | 1 Year | Rs. 1, 00, 00, 00 | No | No | Rs. 2644 (Including GST) |
| 30 Years | Plan B | 1 Year | Rs. 2000000 | No | Yes | Rs. 7065 (Including GST) |
How to Get Oriental Critical Illness Policy
The Critical Illness Benefit offers protection from particular life-threatening conditions. Such serious illnesses could call for numerous hospital stays spread out over a long period. There will be additional expenditures in addition to the hospitalisation costs, such as copays for doctor appointments, medical bills, and more. If you don't have a critical illness policy, then you may end up draining your life savings. To protect yourself and your loved ones from critical illness, ensure you buy an Oriental Critical illness insurance plan.
To make your purchase, listed below are the steps to follow.
Visit the official website of Oriental Insurance.
On the top, you will find the "Buy Online" button in orange-coloured banner. Put your mouse over it and under "Health Policies", you will find "Oriental Critical Illness Insurance Policy". Click on it.
The moment you click on it, you will see blanks wherein you will need to fill in your date of birth, select your gender, enter your PAN number, select the policy start date, choose the sum insured, add a nominee, their name, select your state, and branch.
Once you have successfully provided all the necessary information, you may need to scroll down a little bit and click "Calculate Premium" after selecting the "yes" button.
The premium information and potential premium payment amount will then be displayed. After that, a little farther down, click the "Continue" option.
You then need to finish your KYC button. Enter your email address and complete the form with your information as well as the information for your nomination, including your occupation, address, state, city, and pin code. Make sure you accurately fill out all the fields. Once you have verified all the information, select "Agree" in the declaration area. Next, select "Continue" from the menu.
When you click it, a payment page will open where you may complete the transaction using your credit/debit card, Nett Banking, EMI, or UPI. Choose the strategy that will best serve you. Next, click "Proceed to Pay".
The last step is to send you a message and the policy documents through email and your registered mobile number.
Know the Complete Claim Process of the Oriental Critical Illness Insurance Policy
Here is the complete claim process of the Oriental Critical Illness Insurance Policy.
Within 15 days of receiving a diagnosis or undertaking the procedure, the insured person or an authorised representative of the insured person must notify the policy issuing office in writing that a critical illness has occurred that could result in a claim under the policy.
For the policy issuing office to check the records and register the claim, the notification must include all relevant information, such as the policy number, policy period, name of the insured individual suffering from a critical illness, date of diagnosis, or any procedures, and the name of the critical illness suffered.
If necessary, the underwriting office will provide a claim form after the claim has been registered; this form must be filled out, signed, and returned to the underwriting office with the necessary paperwork.
Documents Required to File a Claim
Listed below are the documents required to file a claim for your Oriental Critical Illness Insurance Plan.
A certificate from a doctor attesting to the diagnosis of the critical illness or attesting to the procedure's completion, together with the date on which these events occurred.
Original/Attested copy of Discharge summary
Original/ Attested copies of all diagnostic/ radiological/ Histopathological/ investigation reports
Original/Attested copies of Indoor case papers (If needed)
Original/Attested copies of all the medical bills (If needed)
Any other document (e.g., Disability Certificate, Dialysis records, etc.) deemed necessary at the time of claim assessment for a specific Critical Illness condition
Copy of PAN Card and NEFT Details ( to enable direct credit of claim amount in the bank account) and a cancelled cheque.
KYC ( Identity proof with Address) of the proposer, where claim liability is above Rs. One lakh as per AML Guidelines.
Legal heir/ succession certificate, wherever applicable.
How To Renew the Oriental Critical Illness Insurance Policy?
The majority of health insurance contracts are yearly agreements that must be renewed each year to maintain coverage. Due to this, it is equally crucial to renew your coverage on time. By doing this, you can keep taking advantage of the policy's advantages, including no-claim bonuses and the ability to skip waiting periods. To prevent the insurance from expiring and preserve its advantages, timely policy renewals are necessary.
Go to Oriental Insurance's official website.
The banner's "Renew" section is at the top. Simply click it.
A new page will then open where you must input your policy number. Ensure that you type it in correctly. Choose "Renew Now" from the selection next.
The insurance renewal premium will then need to be paid. At that moment, you can use a credit or debit card to renew your insurance.
Your registered phone number and email address will receive a message with information about your insurance when you make the payment.
Frequently Asked Questions