Cover Your Health in 5 mins
Compare Premium.
Buy Now.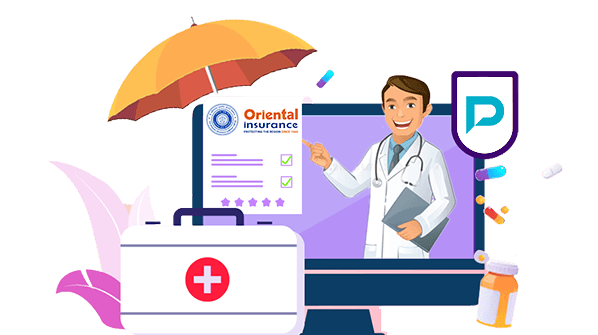 Compare

Individual Health Insurance Plans
Oriental Dengue Kavach Policy
The Oriental Dengue Kavach plan is a customized plan designed to cover the treatment cost of dengue fever. The plan is offered with an insured amount between Rs. 10,000 and Rs. 20,000. When you are first diagnosed with dengue fever within the policy period, the Dengue Kavach Policy, a benefit-based medical insurance policy, will pay you a lump sum benefit up to the sum insured. People between the ages of 18 and 70 can acquire the policy on an individual basis. Other members can include a spouse who is legally wed and up to two dependent children.
There is a 30-day waiting period before filing a claim under the Dengue Kavach Policy. The policy further emphasises that there is no applicable survival time. The insurance allows you to increase your sum insured to the immediately following slab after a year without filing a claim.
Here are the eligibility criteria for the Oriental Dengue Kavach Policy.
Parameters
Details
Age

Minimum- 18 Years

Maximum- 70 Years

(Children above the age of 3 months can be covered by the parents/guardians provided they are financially dependent on the parents/guardians.)

Sum Insured
INR 10,000 and INR 20,000 only on an individual basis.
Members Covered

Extended family Cover under single policy: Self, Spouse, 2 dependent children & Dependent

parents/parents-In-Law

Waiting Period
Only 30 day waiting period from the date of inception of the policy
Medical Check Up Required
No
Lifelong Renewability
Yes
Here are the coverage details for your Oriental Dengue Kavach Policy.
| | |
| --- | --- |
| Parameters | Details |
| Online Discount (Fresh/Renewal) | 5%, where no intermediary is involved |
| Family Discount | 2.5% (2 members), 5% (More than 2) |
| Period of Insurance | Annual |
| Other Facilities | Free Look period Grace Period |
Features of Oriental Dengue Kavach Insurance Plan
Here are the key features and benefits of choosing the Oriental Dengue Kavach policy.
If a person is diagnosed with dengue fever for the first time while the policy is in effect, the insurance provides a lump sum benefit that will be paid up to the limit of the sum insured listed below.
The Free Look Period shall only apply to new individual health insurance policies; it shall not apply to renewals or when a policy is ported or moved. Following receipt of the policy document, the insured person has fifteen days to evaluate the terms and conditions and return the document if they are not satisfactory.
A grace period of 30 days is permitted if the Policy's renewal is delayed. However, there will be no coverage during the grace period, and any illness or injury picked up during the hiatus will be classified as pre-existing and not covered.
If two family members, including the proposer, are insured under a single policy, a discount of 2.5% on the premium is permitted. If more than two people are insured under a single policy, a discount of 5% is permitted.
Discount On Direct On-Line Policies
If the policy is purchased online without the use of an intermediary, a discount of 5% on the premium is permitted. This discount also applies to online policy renewals when there was never any involvement from an intermediary, either during the initial purchase or subsequent renewal.
Enhancement Of the Sum Insured
If no claim has been reported by the insured person(s) seeking enhancement during the most recent immediately preceding policy period, the insured may request an increase of the sum insured in writing at the time of renewal up to the next immediately applicable slab of the sum insured. This request is subject to the underwriting guidelines.
What's Excluded Under the Oriental Dengue Kavach Policy?
The company shall not be liable to make any payment under this: –
For any illness, disease, or condition outside of dengue.
Any claim involving dengue that was discovered before the policy's start date or within the 30-day waiting period.
Premium Illustration Of Oriental Dengue Kavach Policy
Let's consider Mr. Roy Manchanda, a young working professional in an IT company from New Delhi, as an example. He was looking to purchase a specific health plan that would protect him from dengue because the cases are soaring in the capital city. And also, the medical costs are rising, he doesn't want to take any chances as he is the only breadwinner in the family. He ultimately decided to choose the Oriental Dengue Kavach Policy after conducting extensive research.
| | | | | |
| --- | --- | --- | --- | --- |
| Age | Sum Insured | City of Residence | Nominee | Premium Amount |
| 30 | Rs. 10000 | New Delhi | 1 Dependent children | Rs. 262 per annum |
| 30 | Rs. 20000 | New Delhi | 1 Dependent children | Rs. 525 per annum |
Purchasing Process of Oriental Dengue Kavach Policy
Dengue, a virus carried by mosquitoes, has posed a severe threat to human life since the 1950s. Over the past six to eight decades, this illness has claimed the lives of millions of individuals all over the world. If you have specific dengue insurance, such as Oriental Dengue Kavach insurance, you may be sure that your medical costs for treating dengue fever will be covered. To make your purchase hassle-free, listed below are the steps to follow while buying Oriental Dengue Kavach Policy.
Visit the official website of Oriental Insurance.
On the top, you will find the "Buy Online" button in orange-coloured banner. Put your mouse over it and under "Health Policies", you will find "Oriental Dengue Kavach Policy". Click on it.
The moment you click on it, you will see blanks wherein you will need to fill in your date of birth, select your gender, enter your PAN number, select the policy start date, choose the sum insured, add a nominee, their name, select your state, and upload their photograph (Only JPG, JPEG, PNG files are allowed).
After you successfully entered all the details, you then may need to scroll down a bit and select the "yes" checkbox, and then click on "Calculate Premium".
Then, you will see the premium details along with the premium amount that you may need to pay. After that, scroll down a bit and click on the "Continue" button.
After that, you need to complete your KYC button. Enter your email Id and fill in all the necessary details like your occupation, address, state, city, pin code, and the same details for your nominee, too. Ensure you fill in all the details correctly. When you finally double-checked all the details, click on the "Agree" option in the declaration section. Then, click on the "Continue" button.
When you click it, a payment page will open where you can use your credit/debit card, Nett Banking, EMI, or UPI to make the transaction. Select the approach that serves you best. Click "Proceed to Pay" next.
A message and the policy materials will be sent to you through email and your registered mobile number as the last step.
How To File a Claim for Oriental Dengue Kavach Policy?
If there is a claim (positive detection/diagnosis of dengue), the insured must notify the insurance company, i.e, Oriental Insurance and register the claim(s) with the mandatory documents listed below for claim processing in electronic form only. This must be done within 15 days of receiving the claim notification.
Aadhaar or another government-issued picture ID evidence must be submitted as KYC along with a properly completed claim form by the insured person/claimant (on the portal).
A doctor's prescription that has been signed and stamped with the MCI Registration Number, together with a lab report that confirms a positive result for dengue fever. A government-approved diagnostic/pathological laboratory in India should perform the dengue test.
Cancelled cheque and a properly completed NEFT mandate form from the claimant or insured person.
How To Renew Your Oriental Dengue Kavach Policy?
Not only is it crucial to decide to purchase insurance, but it's also crucial to continue doing so on schedule and without interruption. Certain benefits and coverages for certain insurances, such as Dengue Kavach, are forfeited if the policy is not renewed in a timely manner. If you want to renew your Oriental Dengue Kavach policy, then listed below are the steps you will need to follow.
Visit Oriental Insurance's official website.
The "Renew" section of the banner is located at the top. Just click it.
Your policy number will then need to be entered on a new page that will then open. Make sure you type it in properly. Next, select "Renew Now" from the menu.
Following that, you will need to pay the insurance renewal premium. At that point, you can renew your insurance using a credit or debit card.
After you make the payment, a message containing information about your insurance will be sent to your registered phone number and email address.
Frequently Asked Questions