Cover Your Health in 5 mins
Compare Premium.
Buy Now.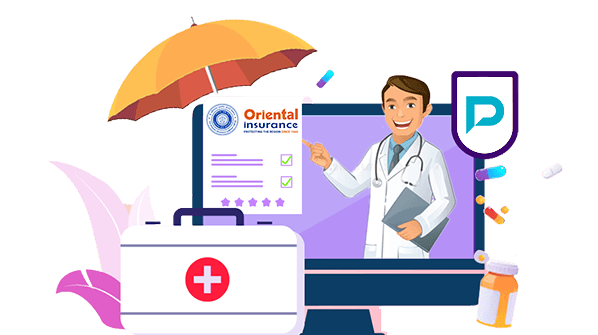 Compare

Individual Health Insurance Plans
Oriental Mediclaim Insurance Policy
Oriental Insurance Individual Mediclaim Policy is a comprehensive inpatient hospitalization policy that covers medical expenses following hospitalization/ domiciliary treatment due to illnesses/ Diseases/Accidents. This health insurance plan, which reimburses medical expenses paid for covered illnesses or surgeries while the insured was admitted to the hospital as a patient, is a hospitalization plan. Pre-hospitalization and post-hospitalization for intervals of 30 and 60 days, respectively, are also covered.
One of the major highlights of the policy is that it will cover planned and unplanned hospitalization expenses till the sum assured coverage amount.
Read on to know more about Oriental Mediclaim insurance policy, features, benefits, inclusions, exclusions, and more.
Here is the eligibility criteria for Oriental Mediclaim Insurance Policy:
| | |
| --- | --- |
| Parameters | Details |
| Age | Minimum- 18 Years, Maximum- 65 Years |
| Sum Insured | Rs. 1 Lakhs to Rs. 10 Lakhs |
| Renewability | Lifelong |
| Policy Tenure | 1 Year |
| Family Definition | Individual Plan – Self, Spouse, Children, Parent |
Features & Benefits of Oriental Mediclaim Insurance Policy
Listed below are the salient features and benefits of the Oriental Mediclaim insurance policy.
No Claim Bonus:
Health insurance policies may offer a cumulative bonus, whereby the Sum Insured is increased by a specific percentage at renewal for each year without a claim. There is no claim bonus benefit under this plan.
Pre-Existing Diseases:
means any illness, injury, or condition for which you experienced symptoms within 48 months of the insurer's initial policy being issued, were diagnosed or received medical advice or treatment. It also includes conditions that are related to those conditions.
Co-Payment
On SI of Rs. 2 lacs and more, there is an option for voluntary co-payments of 10% and 20% with matching premium discounts of 10% and 20%, respectively. The PA section does not apply to voluntary co-payments.
No Medical Examination: 
For people under the age of 55, one of the significant advantages of choosing Oriental Mediclaim insurance is that there will not be a medical examination.
Free Look Period
15 days after the insurance is received are allotted for you to evaluate its terms and conditions and return it if you don't agree with them.
Lifelong renewability is offered
If you have an Oriental health plan, you can benefit from its insurance advantages for the rest of your life, regardless of your age.
Portability Option is Available
If you have a bad experience with Oriental Insurance, you may quickly switch to another insurance company of your choosing thanks to the portability option.
Tax Benefits- 
In accordance with section 80D of the IT Act of 1961, tax deductions are available for the payment of insurance premiums.
What Does the Oriental Mediclaim Insurance Policy?
| | |
| --- | --- |
| Daily Hospital Cash | If you are hospitalized for more than two days straight, you will receive a daily hospital cash allowance. |
| Hospitalization expenses | The cost of the hospital stay for the donor (excluding the charge of the organ to the insured person) is reimbursed. |
| Ambulance charges | Covered |
| Fresh Covers | If the proposal is accepted, 50% of the cost of the pre-insurance medical checkup will be reimbursed. |
| Family Discount | 10% off the total rate for several policyholders under one insurance. |
| Co-pay Discount | 10% off if you choose a 10% co-pay and 20% off if you choose a 20% co-pay on the policy |
| Alternative Treatments | Treatment modalities other than "allopathy," or "modern medicine," are included; in the context of India, these include Ayurveda, Unani, Sidha, and Homeopathy. |
| Cashless Facility | Available |
| Donor Expenses | The insurance plan includes in-patient hospitalization Medical costs for organ donors under the condition that the donation complies with the Transplantation of Human Organs Act 1994 (as modified) and other relevant laws and regulations |
Things Not Included Under Oriental Mediclaim Insurance Policy
The following are the things not included under Oriental Mediclaim Insurance Policy.
Costs associated with self-inflicted harm (resulting from suicide, attempted suicide)
Costs related to or attributed to alcohol or drug abuse or misuse.
Expenses related to the treatment of AIDS
Medical care related to or resulting from pregnancy, childbirth, miscarriage, abortion, and its effects.
Infertility and in vitro fertilization tests and treatments.
Hospitalization caused by nuclear weapons, war, riots, and strikes
Vaccinations, immunizations, any type of cosmetic or aesthetic therapy, and plastic surgery
Cost of vision correction surgery, eyeglasses, contact lenses, hearing aids, etc.
Genetic conditions and stem cell procedures
Obesity management/participation in any risky activity
Non-prescription medications, outpatient diagnostic, medical, or surgical procedures, and medical equipment
Medical costs associated with any hospitalization, particularly those related to diagnostic, X-ray, and laboratory tests and investigations.
Premium Calculation- How Does the Oriental Mediclaim Insurance Policy Work?
Let's take an example to understand!
A man, named Mr. Meena Kumar, who is working as a software engineer at Cognizant, Gurgaon, is looking to buy a plan that perfectly caters to his health goals. As he is working in a private firm, he wants to safeguard the health of his family members. When he was searching for the best health plan, he then stumbled upon Oriental Mediclaim Insurance Policy on the internet. Also, he even asked his relatives, family, and friends, and many people in his circle suggested he buy Oriental Mediclaim Insurance Policy for maximum health benefit.
| | | | | |
| --- | --- | --- | --- | --- |
| Age of the Buyer | Nominee | Sum Insured | Co-Pay | Total Premium |
| 29 years | Father | Rs. 5 Lakhs | No | Rs. 6899 (Including GST) |
| 29 years | Father | Rs. 10 Lakhs | No | Rs. 10717 (Including GST) |
Frequently Asked Questions