Cover Your Health in 5 mins
Compare Premium.
Buy Now.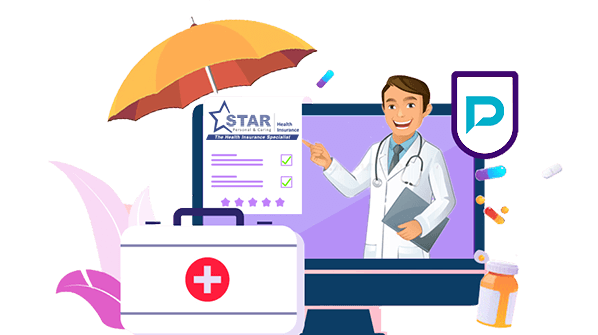 Compare

Individual Health Insurance Plans
Star Health Cardiac Care Platinum Insurance Policy
Star Cardiac Care Insurance Policy – Platinum is a unique health cover dedicated to individuals who have taken treatment for cardiac ailment in the past and have also undergone Surgical intervention or procedures for Cardiac ailments. The policy covers individuals aged between 7 Years and 70 Years with Sum Insured options available up to Rs.15,00,000. Hospitalization and Day Care expenses due to non-cardiac ailments and accidents are also covered up to the Sum Insured. Expenses incurred on cardiac devices like Pacemaker, CRT-D, and AICD are covered up to 50% of the Sum Insured. To know more about this policy, have a look at the following options.
Age at entry

Minimum – 7 years

Maximum – 70 years

Who are eligible?
The people have been diagnosed with a Cardiac ailment/disorder in the past and undergone a Cardiac Surgical intervention or procedure for the same.
Renewal
Lifelong
Sum insured options

Rs.5,00,000/-; Rs.7,50,000/-; Rs.10,00,000/-;

Rs.15,00,000/

Policy period
1, 2, and 3 years
Installment facility

Premium can be paid Quarterly and Half-yearly. Premium can also be paid Annually, Biennial (Once in 2 years), and Triennial (Once

In 3 years).

For the installment mode of payment, there will be loading as given below:

Quarterly: 3%
Half Yearly: 2%

Pre-hospitalization
30 days
Post-hospitalization
60 days
What Are The Key Highlights of Star Cardiac Care Insurance Policy-Platinum?
Let us understand the key benefits of the policy.
Benefits for Accident and Non-Cardiac Ailments:
The following benefits will be available.
Room (Single Private A/c Room), Boarding, and Nursing Expenses as provided by the Hospital / Nursing Home.
Surgeon, anesthetist, medical practitioner, consultants, specialist fees.
Anesthesia, blood, oxygen, operation theatre charges, ICU Charges, medicines, and drugs
Emergency ambulance charges for transportation of the insured person by private ambulance service when this is needed for medical reasons to go to the hospital for treatment, provided there is an admissible claim under the policy.
The Insured Person is given the facility of obtaining "E Medical Opinion" from the Company's expert panel.
Benefits For Cardiac Ailments:
Here is the list
Expenses incurred towards harvesting and transportation of heart by road or air are covered up to 200% of the basic Sum Insured.
For Cardiac devices up to 50% of the Sum Insured.
Conventional Coronary Angiogram Test: Expenses incurred up to the limits mentioned below is payable. This benefit forms part of the sum insured.
| | |
| --- | --- |
| Basis sum insured | Limit per policy period |
| Up to Rs. 7,50,000 | Rs. 20,000 |
| Above Rs. 7,50,000 | Rs. 25,000 |
Expenses reasonably and necessarily incurred at any Networked Facility in India herein defined as an Out-patient Treatment, provided policy is in force. The highest limit is Rs. 5000.
Additional Benefits:
The followings are the additional benefits.
Automatic Restoration of Basic Sum Insured: There shall be the automatic restoration of the Basic Sum Insured once by 100% upon exhaustion of the limit of coverage during the policy period. The unutilized restored sum insured cannot be carried forward. This Benefit is not available for Modern Treatment and cardiac ailments.
Cumulative Bonus: The insured person will be eligible for a Cumulative bonus calculated at 10% of the basic sum insured for each claim-free year, subject to a maximum of 100% of the basic sum insured.
Cost of Health Checkup: Expenses incurred towards the Cost of Health checkup up to the limits on completion of each policy year (irrespective of claim) is payable, provided the health check-up is done at a Networked facility. Payment under this benefit does not form part of the sum insured and will not impact the Bonus.
Wellness Reward Program: To avail discount on renewal premium, the insured should submit the following test reports at least 3 months before the policy renewal date.
ECHO (Echocardiogram)
Lipid Profile
HbA1c (Hemoglobin A1c)
General exclusions of Star Cardiac Care Insurance Policy-Platinum
Each policy has come up with certain exclusions for which it does not offer any benefit. Therefore, to avoid future complications and claim denial, the general exclusions of Star Cardiac Insurance Policy – Platinum are as follows.
Change-of-Gender treatments – Expenses related to any treatment, including surgical management, to change characteristics of the body to those of the opposite sex.
Cosmetic or plastic Surgery – Expenses for cosmetic or plastic surgery or any treatment to change appearance
Hazardous or Adventure sports – Expenses related to any treatment necessitated due to participation as a professional in hazardous or adventure sports, including but not limited to, para-jumping, rock climbing, mountaineering, rafting, motor racing, horse racing or scuba diving, hand gliding, sky diving, deep-sea diving.
Breach of law – Expenses for treatment directly arising from or consequent upon any Insured Person committing or attempting to commit a breach of law with criminal intent.
Excluded Providers – Expenses incurred towards treatment in any hospital or by any Medical Practitioner or any other provider specifically excluded by the Insurer and disclosed on its website/notified to the policyholders are not admissible.
Treatment for Alcoholism, drug or substance abuse, or any addictive condition and consequences thereof.
Treatments received in health hydros, nature cure clinics, spas or similar establishments or private beds registered as a nursing home attached to such establishments or where admission is arranged wholly or partly for domestic reasons
Dietary supplements and substances that can be purchased without a prescription, including but not limited to Vitamins, minerals, and organic substances unless prescribed by a medical practitioner as part of a hospitalization claim or daycare procedure
Refractive Error – Expenses related to the treatment for correction of eyesight due to refractive error less than 7. 5 dioptres.
Unproven Treatments – Expenses related to any unproven treatment, services, and supplies for or in connection with any treatment. Unproven treatments are treatments, procedures, or supplies that lack significant medical documentation to support their effectiveness.
Sterility and Infertility – Expenses related to sterility and infertility. This includes; any type of contraception, sterilization assisted Reproduction services including artificial insemination, and advanced reproductive technologies such as IVF, ZIFT, GIFT, ICSI, Gestational Surrogacy, and Reversal of sterilization.
Maternity – Medical treatment expenses traceable to childbirth (including complicated deliveries and cesarean sections incurred during hospitalization) except ectopic pregnancy
Circumcision (unless necessary), Preputioplasty, Frenuloplasty, Preputial Dilatation, and Removal of SMEGMA
Congenital External Conditions / Defects / Anomalies
Convalescence, general debility, run-down condition, Nutritional deficiency states
Injury/disease directly or indirectly caused by or arising from or attributable to war, invasion, act of foreign enemy, warlike operations (whether war be declared or not)
Injury or disease directly or indirectly caused by or contributed to by nuclear weapons/material.
How Does Star Cardiac Care Insurance Policy-Platinum work?
For a better understanding of the plan, here is an example. The following table gives a clear idea of how much premium amount an insured person has to pay for belonging to different age groups, and for different sum insured options for the given data, under this plan.
| | | | |
| --- | --- | --- | --- |
| Age | Policy term | Sum insured | Payable premium amount including GST |
| 36 years | 3 years | Rs. 5 lakhs | Rs. 73,644 |
| 33 years |   | Rs. 10 lakhs | Rs. 101,624 |
| 30 years |   | Rs. 15 lakhs | Rs. 116,884 |
Buying Process of Star Cardiac Care Insurance Policy-Platinum
To buy this policy easily, follow the below steps.
Visit the official website of Star Health Insurance Company.
On the top of the homepage, there will be the Plans option. Click on that and select the View All option under the Health tab.
Go through the options, and select the Star Cardiac Care Insurance Policy-Platinum Plan.
On the landing page, there will be the Buy Now option on the right side of the page. click on that and provide all the required details, such as personal data and policy-related data.
On the basis of the given data, the premium amount will be calculated. Check the details twice, and if satisfied, pay the premium amount online securely.
Upon successful premium, one will receive a notification regarding the same. Download the policy document for future reference.
Claim Procedure of Star Cardiac Care Insurance Policy-Platinum
One can avail of both cashless and reimbursement claims under this policy. Here are the steps of each process.
Cashless Claim Settlement Process:
For a cashless claim, one has to take medical treatments in any network hospital of the company.
As soon as the medical emergency appears, intimate the insurer and inform the hospital authority.
One needs to submit a copy of the health identity card as well.
Submit the duly filled and signed form. An insured person can download the pre-authorization form from the company's official website or else can fetch it from one of the official branches of the company.
The company will start the verification process once this form is submitted.
If it is required, the company may assign a field doctor to evaluate the situation. Co-operate with the surveyor. Do not produce any false information.
If the claim is accepted, the company will pay for the bills within the stipulated time.
Reimbursement Claim Settlement Process:
The insured can also file for reimbursement claim settlement if he/she has taken medical treatments in any non-network hospital.
In case of any medical eventuality, the insurer needs to be informed at least within 24 hours of the occurrence.
Receive the treatment, and upon the completion of the treatment, submit all the required documents like hospital and medical bills, discharge certificates, and original necessary documents to the insurer along with the duly filled and signed claim form.
The company will start the process and verify the provided information.
If approved, the claimant will be notified and paid the amount of reimbursement.
Required Documents For Claim Settlement:
Duly filled and signed claim form.
Original copy of the policy.
Original bills, receipts, and certificates received from the hospital.
The company assigned a field doctor's report (if any).
Treating doctor/surgeon/ medical practitioner's bills/certificates.
Self-declaration/FIR/ MLC in case of an accident.
Any other document as demanded by the company.
Frequently Asked Questions