Cover Your Health in 5 mins
Compare Premium.
Buy Now.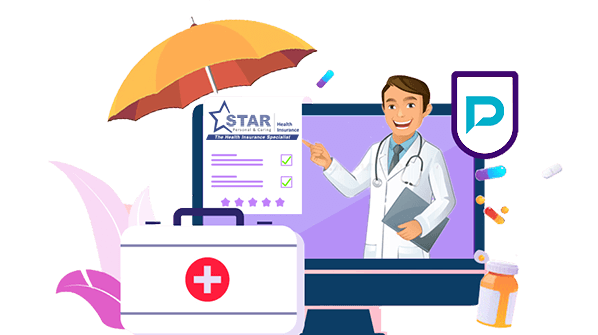 Compare

Individual Health Insurance Plans
Star Cardiac Care Health Insurance Plan
Star Cardiac Care Plan is a health insurance plan presented by Star Health Insurance Company, which is specially designed for people who have undergone treatments for cardiac ailments. To offer them relief from the financial burden of the expenses arising out of the surgeries or treatments for cardiac diseases and hazards. In India, the medical treatments of cardiovascular needs are expensive. The plan is flexible enough to give you the choice to build the plan according to your convenience and it also provides coverage for accidental injuries and non-cardiac treatments. Apart from these, this policy also covers multiple claims for various heart conditions, though these claims are subject to the sum insured.
Parameters
Details
Entry age

Minimum – 10 years

Maximum – 65 years

Who can buy this plan

The people who have undergone any of the following:

Percutaneous Transluminal Coronary Angioplasty (PTCA) or Coronary Artery Bypass Graft (CABG)within 7 years period prior to proposal or
Atrial Septal Defect (ASD) or Ventricular Septal Defect (VSD) that has been corrected or
Patent Ductus Arteriosus (PDA) that has been treated or
RF Alation or RF Ablation is done to correct the underlying cardiac condition or
Had an Angiogram done but no intervention was medically found necessary

Renewal
Lifelong renewability
Sum insured options
Rs. 3 lakhs and Rs. 4 lakhs
Sum insured type
Individual
Plan options
Silver Plan and Gold Plan
Policy year
1, 2, and 3 years
Installment facility available

Premium can be paid Quarterly and Half-Yearly and also can be

paid Annually Biennial (once in 2 years) and Triennial (once in 3 years)

Waiting Periods for non-cardiac ailments

PED – 48 months
Specific diseases – 24 months
Initial waiting period – 30 days (except for accidents)
Star Cardiac Care Plan Details
As the plan has come up with a sack full of benefits and facilities, for your better understanding, the details of the Star Cardiac Care Plan have discussed in the below table.
Parameters
Key Highlights
Coverage

Hospitalization coverage for accidents and non-cardiac ailments.
Hospitalization coverage for cardiac ailments.
Cover for outpatient medical expenses.
Personal accidents cover for accidental death.

Room, boarding, and nursing Expenses are all-inclusive as provided by the hospital or nursing home
Maximum Rs. 5000 per day
Emergency ambulance charges
Up to Rs.750 per hospitalization and Rs.1500 per policy period
Pre-hospitalization expenses
For a period not exceeding 30 days prior to the date of hospitalization
Post-hospitalization expenses

For a period not exceeding 60 days after discharge from the hospital.
The amount payable shall not exceed the sum equivalent to 7% of the hospitalization expenses subject to a maximum of Rs.5000 per hospitalization.
For the purpose of calculation of the 7% only nursing expenses surgeon's or consultant's fees, diagnostic charges, and cost of drugs and medicines will be taken

Day Care Procedures
All day care procedures, surgeries, and treatments are covered that require less than 24 hours of hospitalization as per the policy terms.
Sub-limits for treatment of Cataract
Up to Rs.20,000 per hospitalization and Rs.30,000 for the entire policy period.
Co-Payment
10% of each and every claim made by the insured person whose age at the time of entry is 61 years and above. If your age is less than 61 years during the first inception of this policy then the co-payment condition will not be applicable.
Pre-acceptance medical screening
There is no requirement for pre-policy medical screening.
Cataract sub-limit
Up to Rs.20,000/- per hospitalization and Rs.30,000/- for the entire policy period.
General Terms Of Star Cardiac Care Plan
While the benefits and facilities of the Star Cardiac Care Plan might make you interested to buy this plan, you need to know about the general terms of the policy as well to avoid future problems and misunderstandings. here are the mentions of the general terms of the policy.
Tax Exemption Benefit – If the insured person pays the amount by any mode other than by cash for this insurance, then he/she is eligible for relief under Section 80D of the Income Tax Act.
Free Look Period – If the insured person wants to do a review of the terms and conditions of the policy, the insurer allows a free look period of 15 days from the date of receipt of the policy for that. In case the insured is not satisfied with the terms and conditions, he/she may seek cancellation of the policy and in such an event the Company may allow a refund of the premium paid after adjusting the cost of pre-medical screening, stamp duty charges and proportionate risk premium for the period concerned provided no claim has been made until such cancellation. Remember, the free look Period is not applicable at the time of renewal of the policy.
Grace Period For Renewal – 30 days from the date of expiry of the policy. It has to be remembered, that the renewal of premium, terms, and conditions are subject to change with prior approval from IRDAI.
Revision Of Sum Insured – This plan offers you the option to reduce or enhance the sum insured, which is permissible at the time of renewal and is subject to the approval of the Company.
Exclusions of Star Cardiac Care Plan
Though Star Cardiac Care Plan has offered a wide range of benefits and advantages, it also has come up with certain exclusions for which it does not provide coverage. For an insured person, it is very important to have a clear concept of the exclusions of the policy to avoid future complexities. So, for your better understanding, here are the general exclusions of this plan.
Any medical expenses arise due to self-inflicted injury, suicide, or suicide attempts, the policy will not take any responsibility for that.
Costs incurred due to hazardous activities, adventurous games such as para-gliding, rock-climbing, scuba diving, etc. the insured person will not receive any compensation.
Any diagnostic expenses, which are not related or not incidental to the current diagnosis and treatment are excluded.
Any Expenses related to any admission primarily for enforced bed rest and not for receiving treatment will fall under the category of exclusions.
If any expenses arise due to any treatment including surgical management to change characteristics of the body to those of the
the opposite sex will not be compensated by the plan.
Any kind of cosmetic surgery or plastic surgery will not be covered.
If you receive any kind of medical treatment, which is unauthorized or unrecognized, the expenses for your treatment will not be reimbursed.
If you are in rehabilitation or under treatment because of drug, alcohol, or any kind of unprescribed intoxicating substance consumption, the incurred expenses for the same will fall under the exclusions.
Expenses related to the treatment for correction of eyesight due to refractive error less than 7. 5 dioptres are not covered.
If you receive the treatments for sterility and infertility, that cost will not be included.
Medical treatment expenses traceable to childbirth, including complicated deliveries and cesarean sections incurred during hospitalization) except ectopic pregnancy will not be covered by the policy.
Injury or disease directly or indirectly caused by or arising from or attributable to war, invasion, an act of a foreign enemy, or warlike operations are not covered.
Premium Calculation Of Star Cardiac Care Plan
When you seek to buy the Star Cardiac Care Plan, first you need to know about the details of premium calculation to maintain the transparency of the policy. So, for your better understanding, here, an example is given below.
Mr. Ray a 36-year-old businessman has bought Star Cardiac Care Plan for himself. Let us find out, for different sum insured options how much premiums he has to pay.
Plan type
Age
Policy term
Insurance cover
Payment option
Premium amount (Including tax)
Gold Plan
36 years
2 years
Rs. 3 lakhs
Full payment
Rs. 42,793
Rs. 4 lakhs
Rs. 48,907
Frequently Asked Questions