Cover Your Health in 5 mins
Compare Premium.
Buy Now.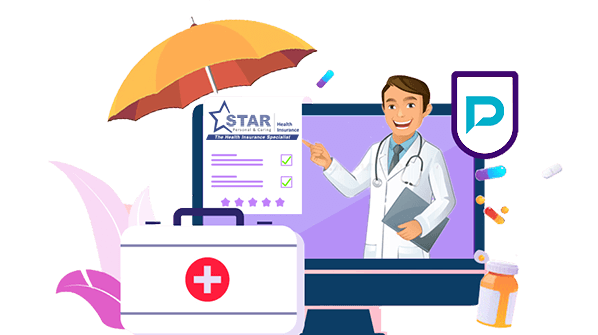 Compare

Individual Health Insurance Plans
Star Health Critical Illness Multipay Insurance Policy
Financial confidence is very crucial while you are fighting back a critical illness. Hence, Star Health Insurance Company is presenting the Star Critical Illness Multipay Insurance Policy, a critical illness policy providing lump sum benefits on the diagnosis of Critical illnesses related to Cancer, Heart, Brain & Nervous Systems, and Major Organ & Other Conditions as listed in the 4 group categories. The distinct features and benefits offered by the policy make it the right protection to overcome the financial impact caused by any critical illness. To know more about this policy, have a look at the following mentions.
Age at entry

Minimum – 18 years

Maximum – 65 years

Proposers should be aged 18 years and above.

Policy year
1, 2, and 3 years
Policy type
Individual basis
Sum insured options

Minimum – Rs. 5 lakhs

Maximum – Rs. 25 lakhs

Installment facility

Premium can be paid Quarterly, Half-yearly. Premium can also be paid Annually, Biennial (Once in 2 years), and Triennial (Once in 3 years). For the installment mode of payment, the loading applied for each Instalment option is provided below:

Quarterly: 3%

Half Yearly: 2%
Key Highlights of Star Critical Illness Multipay Insurance Policy
The policy offers a sack full of benefits and facilities. Some of the important mentions are as follows.
Lump Sum Benefit:
If during the period stated in the Policy Schedule, the insured person shall be diagnosed with any Major Disease/s specified in the table given here under, the Company will pay to the Insured Person a lump sum not exceeding the sum insured.
Star Wellness Program:
This program intends to promote, incentivize and reward Insured Persons' healthy lifestyles through various wellness activities. The wellness activities are designed to help the Insured person earn wellness reward points which will be tracked and monitored by the company. The wellness points earned by the Insured Person(s) under the wellness program can be utilized to get discounts on premiums. This Wellness Program is enabled and administered online through the Star Wellness Platform (digital platform).
Pre-acceptance Medical Screening:
No medical examination is required where the person proposed for insurance is up to and inclusive of 50 years of age. Medical Examination is required where the person proposed for insurance is above 50 years of age and for those who declare adverse medical history in the proposal form.
Tax Benefits:
Payment of premium by any mode other than cash for this insurance is eligible for relief under Section 80D of the Income Tax Act 1961.
General Exclusions of Star Critical Illness Multipay Insurance Policy
Each policy comes up with certain exclusions for which it does not offer any benefit. To avoid future complications and claim denial, the general exclusions of Star Critical Illness Multipay Insurance Policy are as below.
Any Illness, sickness, or disease other than those specified as Critical Illnesses under this Policy.
Any Critical Illness caused due to treatment for, Alcoholism, drug or substance abuse, or any addictive condition and consequences thereof.
Narcotics used by the Insured Person unless taken as prescribed by a registered Medical Practitioner.
Any Critical Illness caused due to intentional self-injury, suicide, or attempted suicide, whether the person is medically sane or insane.
Any Critical Illness, caused by or arising from or attributable to a foreign invasion, act of foreign enemies, hostilities, warlike operations (whether war be declared or not or while performing duties in the armed forces of any country during war or at peacetime), civil war, public defense, rebellion, revolution, insurrection, military, or usurped power.
Any Critical Illness caused by ionizing radiation or contamination by radioactivity from any nuclear fuel (explosive or hazardous form) or from any nuclear waste from the combustion of nuclear fuel, nuclear, chemical, or biological attack.
Congenital External Anomalies, inherited disorders, or any complications or conditions arising from, including any developmental conditions of the Insured.
Any Critical Illness caused by any treatment necessitated due to participation as a professional in hazardous or adventure sport.
Participation by the Insured Person in any flying activity, except as a bona fide, fare-paying passenger of a recognized airline on regular routes and on a scheduled timetable.
Any Critical Illness, caused by medical treatment traceable to childbirth (including complicated deliveries and cesarean sections incurred during hospitalization) except ectopic pregnancy. Any Critical Illness due to miscarriages (unless due to an accident) and lawful medical termination of pregnancy during the policy period.
Any Critical Illness caused by any unproven/ experimental treatment, service, and supplies for or in connection with any treatment. Unproven/ experimental treatments are treatments, procedures, or supplies that lack significant medical documentation to support their effectiveness.
Any Critical Illness based on certification/diagnosis/treatment from persons not registered as Medical Practitioners or from a Medical Practitioner who is practicing outside the discipline that he/ she is licensed for.
Any Critical Illness caused due to any treatment, including surgical management, to change characteristics of the body to those of the opposite sex.
Buying Process of Star Critical Illness Multipay Insurance Policy
One can buy this policy by following the below easy steps.
Go to the official website of the company.
On the top of the homepage, there will be the Plans tab. Select the Health option under that tab and click on the All Plans options.
Multiple policies will appear. Find the Star Critical Illness Multipay Insurance Policy and click on that.
On the landing page, there will be the Buy Now option on the right side of the page.
Click on that. Provide the necessary details, such as name, and contact details, and submit.
After that, one needs to provide other policy-related required information such as family size, sum insured option, policy year, etc. Put all the details correctly in the right place.
Once all the details are put in, on the basis of the given data, the premium amount for the policy will be displayed.
Check the details again carefully. If satisfied, pay the premium amount by choosing the most convenient option of payment available with the insurer.
Upon successful payment, the company will send a notification regarding the same to the registered email ID and/or phone number.
Claim Process of Star Critical Illness Multipay Insurance Policy
Under Star Critical Illness Multipay Insurance Policy, one can avail of both cashless and reimbursement claims. Here lie the steps of each process.
Cashless Claim Settlement Process:
One can avail of the benefit of a cashless claim if you have taken medical treatments in any network hospital of the company.
At the time of a medical emergency, intimate the insurer as early as possible and inform the hospital authority and submit a copy of your health identity card.
You can download the pre-authorization form from the company's official website. Submit the duly filled and signed form.
Once this form is submitted, the further verification process will be started on behalf of the company.
If it is required, the company may assign a field doctor to evaluate the situation.
If the claim is accepted, the company will pay for the bills.
Reimbursement Claim Settlement Process:
If the insured has taken medical treatments in any non-network hospital, then he/she can claim reimbursement settlement.
In case of any medical eventuality, inform your insurer at least within 24 hours of the occurrence.
Upon the completion of the treatment, submit all the required documents like hospital and medical bills, discharge certificates, and original necessary documents to the insurer.
Submit the duly filled and signed claim form.
The company will start the process and verify the provided information.
If approved, you will be notified and paid the amount of reimbursement.
Required Documents For Claim Settlement:
Duly filled and signed claim form.
Original copy of the policy.
Original bills, receipts, and certificates received from the hospital.
The company assigned a field doctor's report (if any).
Treating doctor/surgeon/ medical practitioner's bills/certificates.
Self-declaration/FIR/ MLC in case of an accident.
Any other document as demanded by the company.
Premium Illustration Of Star Critical Illness Multipay Insurance Policy
For a better understanding, here is an example. Amit (aged 36) and Arun (aged 30) opted to buy Star Critical Illness Multipay Insurance Policy. Below are the premium details they are required to pay.
| | | | |
| --- | --- | --- | --- |
| Age | Policy term | Sum insured amount | Premium amount, Including GST |
| 36 years | 1 year | Rs. 20 lakhs | Rs. 9204 |
| 30 years | 1 year | Rs. 25 lakhs | Rs. 11505 |
Frequently Asked Questions