Cover Your Health in 5 mins
Compare Premium.
Buy Now.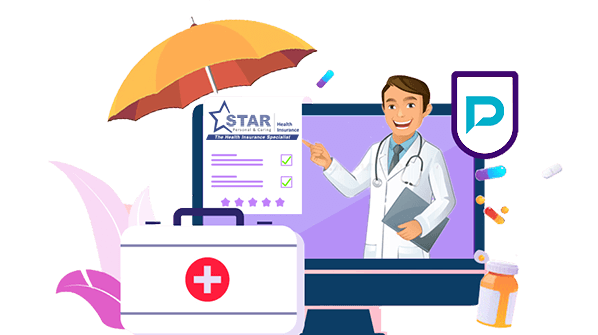 Compare

Individual Health Insurance Plans
Star Health Insurance Customer Care
Star Health and Allied Insurance Co Ltd is an Indian multinational health insurance company headquartered in Chennai. It began its operations in 2006 as India's first standalone Health Insurance provider. Star Health Insurance offers innovative services and products in the health, personal accident, and overseas & domestic travel insurance aligned with the needs of the Indian Market, directly as well as through various channels like agents, brokers, and online. It offers a wide range of customer-centric health insurance solutions that cater to the varied needs of the customers. Star Health is also prominently into bancassurance, having long-standing relationships with various banks.
Currently, the company has 14500+ employees, 6 lakhs licensed and registered agents, and more than 830 branch offices spread all over the country. Understanding the financial hardships people may face during emergencies, Star Health has been extending cashless treatment facilities in its wide network of hospitals. With more than 14,000 Network Hospitals spread across the country, Star Health ensures the quality of healthcare services to its customers. The company's customer service is open 24×7 to help the consumers, as the company keeps the customer experience at its top priority level.
Different Ways To Connect With Star Health Insurance Customer Care
There are several ways in which you can connect to the company's customer care service. Choose any of the following options to avail of the customer service facilities of Star Health.
Phone number

For buying (Toll-free) – 18004252255

For renewal (Toll-free) – 18001024477

Senior citizen claim – 04440020888

Grievance care

04443664600

For senior citizens – 04469007500

Email ID

support@starhealth.in

Virtual chat assistant
Chat with the company's digital assistant "Twinkle", by visiting the official website of the company.
WhatsApp service
+91 95976 52225 ((Only for WhatsApp, do not call on this number)
Fax
044-28260062
Social media

Facebook – https://www.facebook.com/StarHealth/

YouTube – https://www.youtube.com/user/StarhealthInsurance

LinkedIn – https://www.linkedin.com/company/star-health-and-allied-insurance-co–ltd/

Twitter – https://twitter.com/starhealthins

Instagram – https://www.instagram.com/starhealth.insurance/
Important Branches With Contact Details of Star Health Insurance Customer Care
The company has more than 840 official branches spread all over the country to make the customer experience better. Among these, a few important branches and their contact details are mentioned in the following table.
| | | | |
| --- | --- | --- | --- |
| State name | Region | Official address | contact details |
| Mumbai | Maharashtra | 349 Business Point, Unit No.204 / 205,2nd Floor, Near Sai Service, Western Express Highway, Andheri (E), Mumbai -400069. | 022-42563641 / 42563640 |
| Delhi | New Delhi | C-2, Third Floor, New Krishna Park, Vikas Puri, Near Janakpuri West Metro Station, Janakpuri, Delhi 110018 | 011 – 46763300 – 14 |
| Rajasthan | Jaipur | SR – 3A, Arihant Plaza, First Floor, Commercial plot, F-Block, Amrapali Nagar, Vaishali Nagar, Jaipur, Rajasthan – 302021 | 1414236302/03/08 |
| Uttar Pradesh | Meerut | 2nd floor, PP Plaza, Mangal Pandey Nagar, Meerut, Uttar Pradesh -250001 | 0121- 4059940 / 41 |
| West Bengal | Darjeeling | 1st floor, SATURNS, Sevoke Road, SMC ward no. XIII, PO, and PS – Siliguri, Dist – Darjeeling 734001, West Bengal | 0353-2642987/88, 0353-2642894 |
| Bihar | Patna | 302, 3rd Floor, I. G. Complex, West Boring Canal Road, In front of Medicana, PATNA-800013 | 9798227741, 08298932222 |
| Punjab | Jalandhar | 3rd floor, Nirmal complex, EH-198, CIVIL LINES, G.T. ROAD, JALANDHAR, PUNJAB -146001 | 0181- 4606268 / 4606369 |
| Kerala | Pathanamthitta | Panthalodil Building, St.Peters Jn, Pathanamthitta, Kerala -689645 | 0468-2324111 |
| Tamil Nadu | Kovilpatti | 17E-1, Sockan Urani Street, Kovilpatti – 628501, Thoothukudi District, Tamil Nadu. | 04632-290900 |
| Karnataka | Bengaluru | 2nd & 3rd Floor, (Above IDBI Bank), No.184/82, Dr. Rajkumar Road, Joganahalli, Rajajinagar 2nd Block, Bangalore -560010 | 080- 40874040 DIR 41636311/17 |
| Tripura | Agartala | Netaji Chowmohani, N S Road, Agartala, Tripura – 799001 | 0381-2382371, 2382381 |
| Gujarat | Rajkot | Office No. 411 to 414, The City Centre, Old Amrapali Cinema, Raiya Road, Nr. Race Course, Ring Road, Rajkot – 360001 | 0281-2460845 / 46,0281-2460847 |
| Odisha | Cuttack | Plot No. 1677(P)/1678(P), Holding No.608,2nd Floor, Gajanan Complex, (Dolmundai), PO Buxi Bazaar, Cuttack – 753001 | 0671-2413401/02/03/04/05 |
| Andhra Pradesh | Prakasham | H.NO. 5/1/12, RAJA PANAGAL ROADREVENUE WARD NO.7, ONGOLE TOWN, PRAKASHAM (DISTRICT), ANDHRA PRADESH-523001. | 08592-231777 |
| Sikkim | East Sikkim | 2nd floor, Hotel Hungry Jack Plaza, NH-10, Gangtok, East Sikkim – 737101 | 7605043039 |
How Can Star Health Insurance Customer Care Help You?
Customer care is an important aspect of an insurance company as it helps consumers resolve their problems in several ways. Therefore, the customer care service of Star Health Insurance Company can help a client in the following possible ways. Have a look.
To Buy a Policy:
If a policy-seeker wants to buy a product from Star Health and he/she is facing a problem while doing that, that person can contact the company's customer care service. they will solve the problem smoothly.
To Renew a Policy:
Renewing a policy is an important aspect of keeping the policy active, and most of the popular insurers have come up with an online renewal process. However, if an individual faces any issues while renewing the policy, whether offline or online, the company's customer care service comes into the scene and makes the process easier.
To File a Claim:
Filing a claim is not only an important part of the insurance policy, but also it involves a complex process. Often the insured people need help from the company to know the entire process. This help comes directly from the customer care service of the company. apart from that, if anyone wants to track the claim, or wants to know the status of the claim, in that case also, customer care helps to complete the procedure.
For General Inquiry:
If anyone needs any information related to the insurance product or any other detail that involves the company, he/she should head to the customer care of Star Health. They are experienced and knowledgeable enough to resolve the query.
To Register or To Log in:
To avail of all the online facilities offered by the company, one needs to register with the insurer and then create an online customer portal. While doing this process, if anyone faces any glitches, he/she should directly contact the company's customer care service.
To Update:
If anyone changes the postal address or his/her contact details, the insurer needs to be informed. Either one can do this online or take the help of the company's customer service to do the update. In the same way, one can take the help of the customer care service to update his/her existing policy as well.
To Manage The Policy:
One needs to keep a tap on his/her policy. Therefore, if there is any query related to the existing policy, the payouts of the policy, the status of the policy, the grievance service, etc., the customer care service of Star Health will always be there beside their customers.
To Avoid Frauds:
The insurance industry is not immune to fraud. Often it happens that someone calls the customer, introduces him/her as the agent of the company, and offers an attractive discount on the premiums. In that case, the customers get easily attracted and fall into these fake people's trap. To avoid this type of unfortunate event, one can directly call the company's customer care and enquire about the related issue to check the validity.
Frequently Asked Questions