Cover Your Health in 5 mins
Compare Premium.
Buy Now.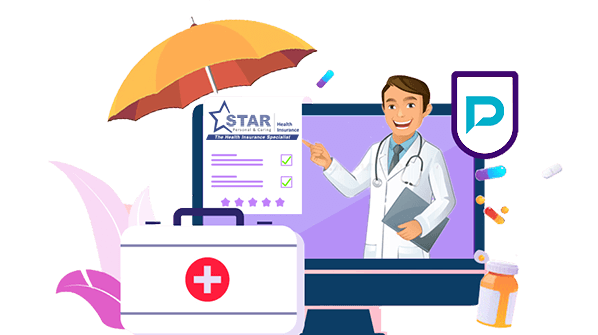 Compare

Individual Health Insurance Plans
Star Family Health Optima Plan
The Star Health Optima Plan is a super saver plan that offers affordable coverage for the complete family, including spouses and dependent children between the ages of 16 days and 25. Indian residents between the ages of 18 and 65 may purchase this policy. The health plan may be extended for as long as the member remains healthy after turning 65. Every year without a claim is rewarded with a free health checkup under this coverage. For each full exhaustion, the plan automatically restores the money insured three times at 100%.
Additionally, Star Health Optima provides extensive coverage, including pre-hospitalization and post-hospitalization, domiciliary hospitalization, donor expenditures for organ donation, coverage for newborn babies from the 16th day, and coverage for hundreds of daycare operations. By spending a little bit more, policyholders can obtain the additional sum insured.
Read on to know more about the Star Health Optima Plan's eligibility, benefits, inclusions, exclusions, premium illustration, and more.
Here is the eligibility criteria for Star Health Optima Plan
| | |
| --- | --- |
| Parameters | Details |
| Age | Minimum- 18 Years, Maximum- 65 Years |
| Sum Insured Options | Rs.3,00,000/-, Rs.4,00,000/-, Rs.5,00,000/-, Rs.10,00,000/-, Rs.15,00,000/-, Rs.20,00,000/-,  Rs.25,00,000/- |
| Coverage | Proposer, spouse, and dependent children (defined as children who are financially reliant on their parents) ranging in age from 16 days to 25 years are all included. |
Features & Benefits of Star Health Optima Plan
The following are the salient features and benefits of Star Health Optima Plan. 
You always have full cover irrespective of the disease
Nothing amusing is going on. You may file a claim for the whole amount up to the sum covered, regardless of the ailment you are currently dealing with, if your insurer hasn't expressly indicated they won't cover a certain illness. The feared disease-wise sub-limits are not imposed by this strategy.
Covered pre- and post-hospitalization expenses
No need to worry if the doctor has to do several diagnostic tests before or after admitting you to the hospital. You are supported by the insurer. For a fairly acceptable period—60 days before you are hospitalized and 90 days following discharge—they will pay this sum in full. By the way, this also covers the price of the medication.
Some Restoration Benefit
If you are hospitalized once again to attempt to treat a new issue, even after you have already claimed a portion of the cover on one occasion, you will have 100% of the cover returned. By the way, it was the same year.
Day Care treatments covered
The insurance will also reimburse these expenses if you stay in the hospital for fewer than 24 hours instead of having minor surgery. Consider minor operations, chemotherapy, or dialysis.
Bonus for staying healthy and avoiding insurance claims
If you don't file any claims during the first year, your total insured rises by 25%. However, you only receive this lavish advantage for the first year. After that, it will increase by 10% annually until your bonus cover equals 100% of the amount covered. Consequently, if you begin with a cover of 100. It will then continue to expand until it reaches 200.
Free Health Checkups every year
The insurance will pay for the expense of a full body checkup if you intend to do so annually to ensure that you are in excellent working shape.
Comprehensive coverage even if you have to stay in a home hospital
Even if you need to be hospitalized at home because of an illness or the hospital is overcrowded, the insurer will cover the charges. This is referred to as a policy with domiciliary cover in insurance jargon.
Emergency domestic medical evacuation
The expense of an emergency medical evacuation to move the insured from one hospital to another would be covered by the policy if the insured needs to switch hospitals. This expense would be covered within certain parameters. Depending on the value insured selected, the coverage limit ranges from 5000 to 10,000 Indian rupees.
Additional insurance coverage against traffic accidents
The total insured under the policy would be enhanced by 25% of the basic sum insured for additional claims in the event of hospitalization following a road traffic accident. The most that could be raised would be 5 lakhs of Indian rupees.
Cumulative bonus
The sum insured will grow by 25% in the following policy year if you select a sum insured of INR 3 lakhs or more and you don't file a claim in the first policy year. After that, you would receive a no-claim bonus of a 10% rise in the insured amount for each year without a claim. The most that could be increased would not exceed 100% of the basic sum insured.
What Does the Star Health Optima Plan Cover?
Here are the things covered under Star Health Optima Plan cover.
Pre-Hospitalization
Payment is made for pre-hospitalization medical costs incurred up to 60 days before the date of admission.
Post-hospitalization
Payment is due for post-hospitalization medical costs incurred up to 90 days after the date of hospital discharge.
Day Care Procedures
Everyday care treatment is included.
Installment Facility available
Premium payments are accepted quarterly and biannually. Additionally, premiums may be paid annually for installment payments.
Pre-Acceptance Medical Screening
All individuals above the age of 50 and those who disclose a problematic medical history on the proposal form must go through pre-acceptance medical screening at the centers authorized by the company.
Domiciliary Hospitalization
Coverage for medical care (including AYUSH) for sickness, disease, or injury that would typically require care and treatment at a hospital but is instead received while confined at home for a duration longer than three days.
Organ Donor Expenses
Payments for organ transplants where the insured person is the recipient. The most that can be paid under this heading is 10% of the insured amount, or Rs. 1 lakh, whichever is less, provided that the claim for transplantation is valid and the insured amount is available. Donor screening costs are not reimbursed.
Coverage for Newborn Baby
If the mother is covered by the policy for a continuous period of 12 months without a break, the newborn baby's coverage begins on the 16th day after birth and lasts until the policy's expiration date. It is subject to a limit of 10% of the sum insured or Rs. 50,000, whichever is less, and it is also subject to the availability of the sum insured.
Automatic Restoration of Sum Insured

Upon reaching the limit of coverage that was established during the policy period, the Sum Insured shall automatically be restored immediately.

During the term of the policy, such Automatic Restoration is accessible three times, at 100% each time. Only once the first restoration has run its course can the subsequent one operates.

Recharge Benefit:
Additional indemnity up to the amounts mentioned in the table below would be awarded once for the remaining policy duration if the limit of coverage under the policy is exhausted or exceeds during the policy period.
What are the Things Not Excluded Under Star Health Optima Plan?
All medical care received by the insured person for illnesses, diseases, or illnesses within the first 30 days of the policy's start date.
Exclusion of specific disorders from the first two policy years, including varicose veins, prolapse of an intervertebral disc, cataracts, replacement surgery for knee and/or joint, hysterectomy for menorrhagia or fibromyoma, and varicose ulcers. Some of them are protected in accident-related situations.
Exclusion of a few conditions from the first policy year, including benign prostate hypertrophy, hydrocele, hernia, congenital internal disease/defects, fistula in the anus, sinusitis, and similar disorders.
If certain costs are made but they are simply diagnostic in nature and no ailment or disease is proven to exist.
Costs of alternative medicine treatments
The treatment of any congenital illness, outward deformities, or anomalies
Calculate Premium For Family Health Optima Policy
Let's take an example to understand!
A man, named Mr. Suresh Kamal, looking to protect his family against rising medical costs so he can save his children and fulfill his dreams. After getting many suggestions from friends and searching on the internet, he stumbled upon the Star Health Optima Plan and found it a great deal of investment to protect against medical emergencies. Mr. Kamal, then, decided to safeguard his family with this plan.
Here's what he will get under different circumstances.
| | | | | | |
| --- | --- | --- | --- | --- | --- |
| Coverage | Age of the Insurer | No. of Children | Parents Covered (Myself) | Health Insurance Cover | Premium (Rs.) |
| Myself | 30 Years Old | 2 | 50 years old | Rs. 5 Lakhs | Rs. 27, 489 |
| Myself | 30 Years Old | 2 | 50 years old | Rs. 10 lakhs | Rs. 34, 362 |
Frequently Asked Questions