Cover Your Health in 5 mins
Compare Premium.
Buy Now.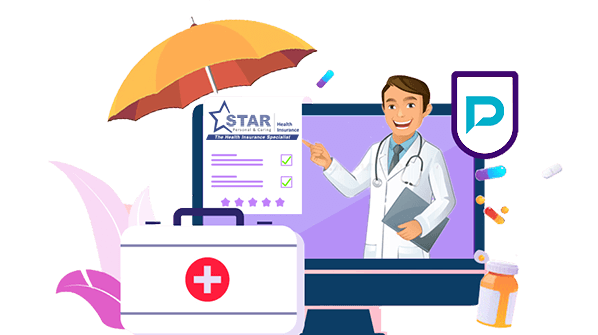 Compare

Individual Health Insurance Plans
Star Health Assure Insurance Policy
Star Health Assure Insurance Policy, which covers hospitalization costs on an individual and floater basis due to illness or accident, is infused with many cutting-edge features and broader benefits. The inclusion of up to 9 family members under the family floater, Automatic Restoration of Sum Insured for an unlimited number of times during the policy year, wellness discounts of up to 20%, and a Sum Insured option up to Rs. 2 Crore make this policy essential for addressing future medical unforeseen circumstances.
It serves as a safeguard for healthcare and savings, enabling you to lead a happy and fulfilling life with your family. You can get fantastic features with Star Health's Assure Plan to meet every healthcare need for you and your family. There are two varieties available: Individual sum insured and Floater sum insured.
Here are the eligibility criteria for the Star Health Assure Insurance Policy.
Parameters
Details
Age

For Floater Sum Insured

For Adults – Minimum – 18 years & Maximum – Up to 75 years

· For Dependent Children – Minimum – 16 days & Maximum – Up to 17 years

· In the case of dependent children, at the time of renewal when they become 18 yrs of age, such children will be considered

as an Adult and he/she can continue under floater sum insured till he/she gets married.

Individual Sum Insured

· Minimum – 91 days and Maximum up to 75 years.

· For Children – Provided Good Health declaration, Pediatrician Opinion, and the proposal should route through our

Central Medical Underwriting Team.

Policy Term
One year / Two years / Three years
Sum Insured Options
Rs.5,00,000/-, Rs.10,00,000/-, Rs.15,00,000/-, Rs.20,00,000/-, Rs.25,00,000/-, Rs.50,00,000/-, Rs75,00,000/-, Rs.1,00,00,000/- and Rs.2,00,00,000/-
Renewability:
Lifetime
Installment Facility
Premium can be paid in Quarterly and Half-yearly Installments.
Maximum Family Size Covered under Floater Sum Insured
: 6 Adults + 3 Children (6 Adults = Self + Spouse + Parents + Parents-in-law) however the family size can be 9 Adults if children covered under floater sum insured are above 17 years of age
What are the key features and benefits of Star Health Assure Insurance Policy?
Listed below are the features and benefits of considering the Star Health Assure Insurance Policy.
Air Ambulance: The insured person(s) is/are eligible for reimbursement of expenses incurred towards the cost of air ambulance service up to 10% of the sum insured per policy year, subject to an admissible hospitalization claim.
Pre-hospitalization Expenses: Health care costs incurred up to 60 days before the insured person is admitted to the hospital.
Post-Hospitalization Expenses: These are health-related costs incurred within 180 days of the insured person's hospital discharge.
Domiciliary Hospitalisation: Coverage for medical care (including AYUSH) for a period longer than three days for an illness, disease, or injury that, under normal circumstances, would require care and treatment at a hospital but is instead received while confined at home on the advice of the attending medical practitioner.
Home Care Treatment: Only for the conditions listed in the policy's terms and conditions that, under normal circumstances, would call for care and treatment at a hospital but are received at home, up to 10% of the sum insured, up to a maximum of Rs. 5 lakhs, will be paid for treatment received by the insured person at home.
Treatment for Chronic Severe Refractory Asthma: If recommended by the treating Medical Practitioner (Pulmonologist), In-patient hospitalization, Day Care treatment, Home Care treatment, or Out-patient treatment expenses incurred for treatment of Chronic Severe Refractory Asthma by Advanced Medicine are payable up to 10% of sum insured not exceeding Rs. 5 lakhs per policy period per policy year.
Compassionate Travel: The Company will reimburse the transportation costs by air incurred up to Rs. 10,000 for one immediate family member (other than the travel companion) for travel towards the place where the hospital is located if the insured person is hospitalized for a life-threatening emergency at a location other than his usual place of residence as recorded in the policy, provided the claim for hospitalization is admissible under the policy.
Shared Accommodation: If the insured person stays in a shared lodging during an in-patient hospital stay, Rs. 1,000 will be due for each continuous and successful period of 24 hours of stay in such a shared lodging.
AYUSH Treatment: Up to the amount insured, medical costs for inpatient hospitalization incurred during treatment under the Ayurvedic, Unani, Siddha, and Homoeopathic systems of medicine in an AYUSH Hospital are payable.
Co-payment: This policy requires a 10% co-payment of every claim amount for new and renewed policies for insured people who are 61 years of age or older.
What are the Exclusions Under Star Health Assure Insurance Policy?
The insured person's costs for any expenses incurred in connection with or relating to; shall not be reimbursed by the Company under this policy;
For a 3-year policy term, expenses for the treatment of a pre-existing condition (PED) and its immediate complications are not covered until 30 months have passed continuously since the first policy with the insurer began. Depending on whether the insured selects a 1- or 2-year policy term.
Valid for both a one-year and a two-year policy term Treatment costs for pre-existing conditions (PED) and their direct complications are excluded from coverage for the first 36 months following the start of the first policy with the insurer.
If the amount insured is increased, the exclusion will reapply to the new amount insured.
If the insured person meets the portability requirements of the current IRDAI (Health Insurance) Regulations and maintains continuous coverage without a break, the waiting period will be shortened to the extent of prior coverage.
Ailment or disease brought on by or aggravated by nuclear weapons or materials.
The costs associated with Enhanced External Counter Pulsation Therapy and related treatments, Chelation Therapy, Hyperbaric Oxygen Therapy, Rotational Field Quantum Magnetic Resonance Therapy, VAX-D, Low-Level Laser Therapy, Photodynamic Therapy, and other treatments that are comparable to those listed in this exclusion.
Unusual, unproven, and experimental treatments.
Chondrocyte implantation, platelet-rich plasma procedures, autologous derived stromal vascular fraction, and intra-articular injection therapy.
Biologicals, unless they are given intravenously when hospitalization is necessary and clinically indicated.
Immunisation or vaccination (except post-bite care and therapeutic medical care).
How to Revive Your Star Health Assure Insurance Policy?
Ordinarily, the policy will be renewed unless there is evidence of fraud or misrepresentation by the insured person.
The Company will make an effort to provide renewal notices. The Company is not required to provide any kind of notice for renewal, though.
Renewal cannot be rejected because the insured person filed a claim in a prior policy year or claims.
Before the end of the policy period, the Company must receive the request for renewal and the necessary premium.
The policy will expire at the end of its term and can be renewed within the Grace Period of 30 days to continue receiving benefits without a break in coverage.
The grace period does not provide coverage.
On renewals based on individual claims experience, no loading shall be applied.
Sample Premium Illustration Of Star Health Assure Insurance Policy
Mr. Kumar is currently working as an IT software developer looking to protect the health of his wife and family members. He made a pre-planned budget and wise decision regarding choosing the sum insured options. After conducting extensive research, he chose the Star Health Assure insurance plan. Therefore, here is a sample premium illustration of the Star Health Assure insurance policy:
Age (in Years)
Relation
Sum Insured
Policy Term
Family Size
Zone
Premium Excl. GST (Rs.)
45% Discount for Deductible Opted Rs.50,000/- (Rs.)
Total Premium Excl. GST (Rs.)
45
Self (Primary member)
Rs.10,00,000
1 Year
2 Adults+2 Children
A
27,767
12,495
15,272
40
Spouse
17
Child 1
15
Child 2
How To Buy Star Health Assure Insurance Policy?
For purchasing the policy, follow the below-mentioned steps:
Visit the official website of Star Health Insurance.
Hover your mouse on the "Plans" banner and then click on "View All" under the "Health" Tab.
A page will emerge displaying all the health insurance plans. Then, you will need to locate the "Star Health Assure Insurance Policy" by scrolling down the list. After that, press "View Plan".
The next page will display all the information related to the plan. Just read it carefully and then press the "Get A Quote" button after entering your name, mobile number, and pin code.
Now enter your contact details, including your mobile number and email address, and then click "Next".
Provide basic information on the next page, including policy type, date of birth, and policy term, and then click Next".
Now choose your insurance cover for which the premium amount details will be displayed below. Also, you can choose your payment option, either EMI or full payment. Then, click on the blue-colored "Buy Now" tab.
The next page will ask you to either log in using the details like email Id/mobile number and password.
Make payment either via credit/debit card/net banking and the policy detail will be sent to the registered mobile number or email address.
Steps for Claim Settlement of Your Star Health Assure Insurance Policy
Cashless Claim:
Approach the insurance counter at a hospital in the network. You can notify us by calling 1800 425 2255 or 1800 102 4477, or you can send an email to support@starhealth.in.
Present your Star Health ID card at the hospital reception to be identified.
Submit pre-admission investigations and doctor's consultation papers to the hospital.
Network hospitals will confirm your identity and send Star Health a properly completed pre-authorization form.
Before processing the claim by the terms and conditions, their doctors verify all of the submitted documentation.
After discharge, the hospital will send the claim paperwork to the company and the authorized amount will be settled directly to the hospital.
An assigned field doctor may visit the patient at the hospital if necessary.
Reimbursement Process:
When the insured notifies the hospital in advance of the treatment, pays the hospital directly for the costs, and then submits a claim for reimbursement of those costs within 15 days of the discharge date. Here's the process-
Within 24 hours of being admitted to the hospital, all claims must be intimated. Both network hospitals and non-network hospitals offer reimbursement services.
Seek medical attention, pay all debts, and submit a compensation claim.
Send the claim paperwork to the company within 15 days of the discharge date.
Mention your policy number and inform Star Health of your hospitalization to receive the claim form.
Subject to the terms and conditions of the policy, they resolve the claim.
Renewal Process Of Star Health Assure Insurance Policy
Follow these steps in order to renew your Star Health Assure insurance policy:
Firstly, visit the home page of Star Insurance.
Click "Renew" on the top banner.
Enter your policy number and date of birth, and then press "Submit".
Your details of the policy will be displayed on the screen. After that, you can use any listed payment mode to complete your premium payment.
Once you are done with the above steps, your policy will be successfully renewed and the associated details will be sent to the registered contact details.
Frequently Asked Questions