Cover Your Health in 5 mins
Compare Premium.
Buy Now.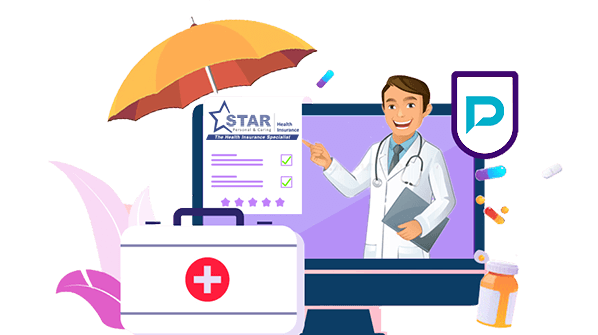 Compare

Individual Health Insurance Plans
Due to the modern and fast lifestyle, we all are exposed to different types of health hazards, and we cannot take our health lightly. When it is the time of medical emergency, we cannot delay. Otherwise, it can be life-threatening. But the skyrocketing medical expenses have also put a financial on our shoulders. When the situation is this complex, health insurance policies come to our rescue. And when it comes to health insurance policies, Star Health Insurance Company is worth mentioning because of its customer-dedicated variety of health plans and consumer-friendly approach. The company has come up with a beneficial medical plan, Star Health Gain Insurance Policy, that promises to keep you and your family protected against different types of health risks and thus provides mental peace and financial relief. This policy is flexible enough to allow you to customize the policy according to your convenience. To know more about this policy, have a look at the following mentions.
Parameters
Descriptions
Minimum entry age

Dependent child – 91 days

Adult – 18 years

Maximum entry age

Dependent child – 25 years

Adult – 65 years

Renewal
Lifelong renewability
Policy year
1 year
Policy type
Individual Policy and Family Floater Policy
Sum insured options
Rs. 1 lakh, Rs. 2 lakhs, Rs. 3 lakhs, Rs. 4 lakhs, and Rs. 5 lakhs
Premium options

Option 1 – Rs. 15000

Option 2 – Rs. 20000

Option 3 – Rs. 25000

Option 4 – Rs. 30000

Grace period
30 days
Free look period
15 days
Waiting period

Pre-existing diseases – 48 months

Specified ailments and procedures – 24 months

Initial – 30 days, except for the accidental injuries
Inclusions Under Star Health Gain Insurance Policy
This policy has come up with a sack full of benefits and facilities that ensure the protection and security of you and your family. The following table gives you a detailed picture of what you will get with this policy. Have a look.
Parameters
Details
In-patient hospitalization
Room, Boarding, and Nursing Expenses are all-inclusive as provided by the Hospital / Nursing Home
Up to 1% of the sum insured per day
Surgeon, Anaesthetist, Medical Practitioner, Consultants, Specialist fee, Anaesthesia, Blood, Oxygen, Operation Theatre charges, ICU charges, diagnostic materials, Cost of Pacemaker, and other similar expenses, Cost of medicines, drugs
Covered, up to a certain limit
Emergency Ambulance charges for transporting the patient to the hospital.
Covered up to a sum of Rs.750 per hospitalization and an overall limit of Rs.1500/- per policy period
Day care procedures
All day care procedures are covered
Modern and advanced treatments
Covered, up to a certain limit
Pre-hospitalization medical expenses
Medical expenses incurred up to 30 days prior to the date of admission to the hospital are payable.
Post-hospitalization medical expenses
Medical expenses incurred up to 60 days after discharge from the hospital are payable.
Outpatient expenses
Factors
The premium option and Sum Insured Option shall be deciding outpatient benefit level.
What will be reimbursed
Medical expenses incurred in the network facility shall be reimbursed. There is no waiting period or co-pay applicable.
Benefit
Unutilized benefits in a policy year can be carried forward to the immediately succeeding renewal year. No further carry-over is permitted.
What are the key features of Star Health Gain Insurance Policy?
Apart from the above benefits and facilities, this policy has come up with a bundle of special advantages that have made the policy unique and popular among consumers. And the mentions of those advantages are as followings.
Co-payment:
This is applicable only for in-patient hospitalization. This policy is subject to a co-payment of 20% of every claim amount for fresh as well as renewal policies for insured persons whose age at the time of entry is 61 years and above.
Limits of cataract:
Expenses incurred on treatment of Cataract is subject to the limits as per the following table:
Sum insured
Limits per eye
Limits per policy period
Rs. 1 lakh, and Rs. 2 lakhs
Up to Rs. 12000 per eye, per policy period
Rs. 3 lakhs
Up to Rs. 25000
Up to Rs. 35000
Rs. 4 lakhs
Up to Rs. 30000
Up to Rs. 45000
Rs. 5 lakhs
Up to Rs. 40000
Up to Rs. 60000
Cashless hospitalization:
This facility is available with the company. More than 13000 network hospitals of the company are spread all over the country.
Tax Exemption Benefit:
With this plan, you are eligible to avail of tax exemption benefits. Amount paid by any mode other than by cash for this insurance is eligible for relief under Section 80D of the Income Tax Act.
Cancellation:
The policyholder may cancel this policy by giving 15 days' written notice and in such an event, the Company shall refund the premium for the unexpired policy period as detailed below:
| | |
| --- | --- |
| Period on risk | Rate of premium to be retained |
| Up to 1 month | 25% of the annual premium |
| Exceeding one month and up to 3 months | 40% of the annual premium |
| Exceeding 3 months and up to 6 months | 60% of the annual premium |
| Exceeding 6 months and up to 9 months | 80% of the annual premium |
| Exceeding 9 months | Full annual premium |
Exclusions of the Star Health Gain Insurance Policy
Understanding a plan entirely is not completed if you do not go through the exclusions of it thoroughly. Therefore, to avoid future complications, and to provide you with a clearer picture of the policy, here are the general exclusions of Star Health Gain Insurance Policy:
If you raise any claim against any ailment or procedure that is still within its waiting period, the company will not approve your claim.
If there is any kind of breach of law with criminal intent, the company will not reimburse the claim amount.
Expenses related to any admission primarily for diagnostics and evaluation purposes only are excluded.
Any diagnostic expenses which are not related or not incidental to the current diagnosis and treatment are excluded.
Expenses related to any admission primarily for enforced bed rest and not for receiving treatment will not be reimbursed.
Expenses related to any treatment, including surgical management, to change characteristics of the body to those of the opposite sex are excluded from the policy.
Expenses for cosmetic or plastic surgery or any treatment to change appearance unless for reconstruction following an Accident, burn(s), or Cancer or as part of medically necessary treatment, will be permanently excluded from the policy.
If you take part in any hazardous activities, or adventurous sports such as scuba diving, mountaineering, paragliding, etc., and receive injury from that, the company will not be liable for that.
If any injury is incurred due to the consumption of drugs, alcohol, or any other intoxicating substances, the company will not reimburse for the medical expenses.
If you receive any treatment which is not recognized, or unproven, that will also fall under the category of exclusions.
Treatments received in health hydros, nature cure clinics, spas, or similar establishments, or private beds registered as a nursing home attached to such establishments or where admission is arranged wholly or partly for domestic reasons, are not covered by the policy.
Dietary supplements and substances that can be purchased without a prescription, including but not limited to Vitamins, minerals, and organic substances unless prescribed by a medical practitioner as part of a hospitalization claim or day care procedure will be excluded as well.
Maternity expenses, costs related to sterility, and infertility will not be covered by the policy.
The cost of dental treatment or surgery unless necessitated due to accidental injuries and requiring hospitalization will not be paid by the company.
Hospital registration charges, admission charges, record charges, telephone charges, and other charges have to be borne by the policyholder only.
Any hospitalizations which are not Medically Necessary will not be covered.
Premium Calculation of Star Health Gain Insurance Policy
Once you get to know about the inclusions and exclusions of the policy, the next important thing is to know how much premium amount you have to pay to purchase the policy. Therefore, to offer you a better idea of the plan here is an example.
Suppose, Mr. Nayak, a 36-year-old, Kolkata-based businessman, bought Star Health Gain Insurance Policy for himself. Not, let us find out how much premium amount he has to pay to avail of the benefits of the policy for the given criteria.
| | |
| --- | --- |
| Parameters | Credentials |
| Age | 36 years |
| Policy type | Individual |
| Premium option excluding tax | Option 2 – Rs. 20000 |
| Sum insured | Rs. 4 lakhs |
| Gross premium | Rs. 20000 |
| Total premium | Rs. 23600 |
Now, the same Mr. Nayak wants to include his wife under the same policy. The credentials and the criteria will certainly change. Therefore, now we have to find out the premium value for the given data.
| | |
| --- | --- |
| Parameters | Credentials |
| Age | Self – 36 years, Spouse – 34 years |
| Policy type | Family floater |
| Covered members | Self, and spouse |
| A premium option, excluding tax | Option 3 – Rs. 25000 |
| Sum insured | Rs. 5 lakhs |
| Gross premium | Rs. 25000 |
| Total premium | Rs. 29500 |
Frequently Asked Questions