Cover Your Health in 5 mins
Compare Premium.
Buy Now.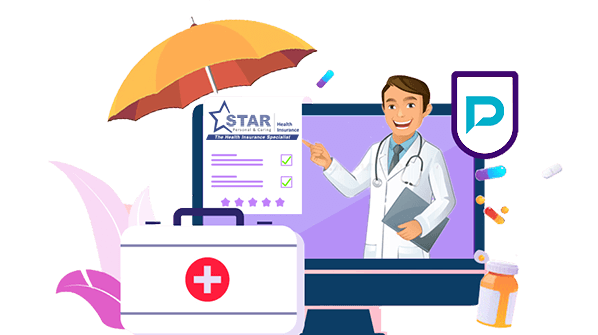 Compare

Individual Health Insurance Plans
Star Health Insurance Renewal
If you have Star health insurance and its expiration date is knocking on the door, then you should renew it to continue receiving the benefits that come along with the plan. The company has primarily structured a simple process for its customers to renew their health policies on time. Keeping convenience in mind, Star Health gives a variety of payment choices, which makes renewing the health insurance coverage much easier for a customer.
What Are The Benefits of Renewing a Star Health Insurance Policy?
Before you decide to renew the Star health insurance policy, check out the benefits of policy renewal.
There are no upper limits (Capping) on hospital room renting and the policyholder can enjoy hospital financial benefits on single standard air-conditioned rooms.
All aspects of the daycare facilities during the treatment are covered
The cost of health checkups for every year is covered (in case, there is no claim)
Receive floater health insurance at competitive rates.
The policy covers on-demand dental and ophthalmic procedures 
You can expect to receive an increase of a 100% sum insured on claim free renewals 
Air ambulance facilities alongside second medical options are offered.
There is no demand for pre-insurance medical test
The policy covers the pre-existing diseases from the second year 
Receive medical consultation in the network hospitals as an outpatient. 
There is a guarantee of lifetime renewal offered.
Online Renewal Process of Star Health Insurance
Like it's easy to purchase health insurance from Star Health, it's similarly convienent to renew it. All you have to do is sit on your couch and follow the steps provided below to continue with the renewal process.
Visit the official website of Star Health Insurance and click on the 'Renewals'.
Enter policy number and date of birth and click on 'Renew Now'.
Your premium payment details will flash on your screen. Pay the amount as per the desired payment option.
Once the payment is made, you will receive renewal confirmation on your registered e-mail.
Is there a grace period offered in Star health insurance renewal?
Yes, Star health insurance does offer a grace period of 30 days to the policyholders so that they can make the renewal payment easily even after the due date. The grace period of 30 days is offered to ensure that every client continues to enjoy the benefits uninterruptedly.