Cover Your Health in 5 mins
Compare Premium.
Buy Now.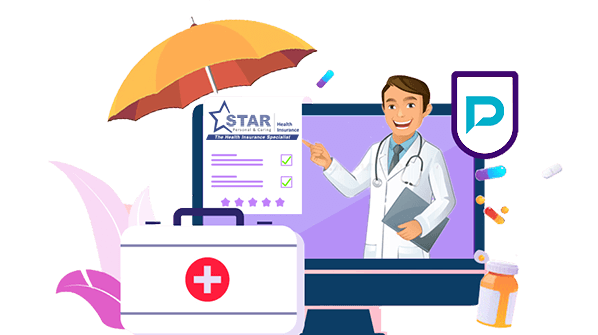 Compare

Individual Health Insurance Plans
Star Health Special Care Insurance Policy
For children with autism spectrum disorder, Star Special Care offers a cost-effective indemnity-based medical insurance plan. Children with autism have different and unique needs, which are met by the Star Health and Allied Insurance Company's plan. Parents can give their autistic child the best medical care available without worrying about cost, thanks to this unique health insurance for autism.
Although the plan has sub-limits for specific procedures and/or treatments, it still provides the policyholders with a lot of advantages. Pre-medical examinations, post-hospitalization expenses, coverage for an emergency ambulance, and other benefits are not necessary.
Here are the eligibility criteria for your Star Special Care Policy.
Parameters
Details
Age

Minimum- 3 Years

Maximum- 25 Years

Sum Insured
Rs.3, 3,00,000
Daycare Treatments
All daycare treatments
Emergency Ambulance charges
A sum of Rs.750/- per hospitalization and Rs.1500/- per policy period
Co-Pay
20%
What are the Features & Benefits of the Star Special Care Policy?
Here are the key features and benefits of the Star Special Care Policy. 
In-Patient Hospitalisation
Hospitalization costs for stays longer than 24 hours are covered.
Post-hospitalization
Up to 7% of the hospitalization expenses or actuals are covered for post-hospitalization medical costs incurred within 60 days of the hospital's discharge.
Room Rent
Up to Rs. 5,000 is covered per day for lodging, boarding, and nursing costs incurred during in-patient hospitalization.
Shared Accommodation
The insured person's expenses for staying in a shared residence are covered up to Rs. 500 per day, up to a maximum of Rs. 2,000 per hospitalization, and Rs. 10,000 per policy period.
Emergency Ambulance
Up to Rs. 750 per hospitalization and Rs. 1500 per policy period, private ambulance transportation costs for insured individuals are covered.
Day Care Procedures
Due to technological advancements, medical treatments and surgical procedures that call for less than 24 hours in the hospital are covered.
Co-Payment
For new and renewed policies, this policy is subject to a co-payment of 20% of the total claim amount.
Modern Treatment
To the extent allowed by the limits, costs associated with modern treatments like robotic surgery and oral chemotherapy are reimbursed.
Sub-Limits
There are sub-limits on the policy for particular procedures and treatments.
Free Look Period
The Free Look Period shall only apply to new individual health insurance policies; it shall not apply to renewals or when a policy is ported or moved. Following receipt of the policy document, the insured person has fifteen days to review the terms and conditions and return the document if they are not satisfactory.
Portability
According to IRDAI portability guidelines, the insured person will have the possibility to transfer the policy to other insurers by applying to such insurer to port the entire policy along with all of the family members, if any, at least 45 days before, but not earlier than 60 days from the policy renewal date.
Are There Any Exclusions Under the Star Special Care Policy?
By this policy, the Company shall have no obligation to pay any expenses of any kind incurred by the Insured in connection with or in respect of;
Until the end of 48 months of continuous coverage following the date of the first policy's inception, costs associated with the treatment of a pre-existing disease (PED) and its direct complications shall be excluded.
Costs associated with any form of treatment, including surgical intervention, to change physical characteristics to those of the opposite sex.
Costs associated with cosmetic or plastic surgery, as well as any other procedure intended to alter the appearance, unless necessary for reconstruction following an accident, burn (s), or cancer, or if it is part of a medically necessary procedure to eliminate a direct or immediate threat to the insured's health.
Costs associated with any medical care required as a result of a professional athlete's participation in risky or adventure sports, such as skydiving, deep-sea diving, hand gliding, parachuting, rock climbing, mountaineering, rafting, auto racing, horse racing, or scuba diving.
Medical costs directly related to or resulting from any insured person breaking the law with criminal intent or attempting to do so.
Alcoholism, drug or substance abuse treatment, as well as any related consequences.
Dietary supplements and substances that are available over the counter, such as vitamins, minerals, and organic compounds, unless a doctor has prescribed them as part of a hospitalization claim or daycare procedure.
Sample Premium Illustration of Star Special Care Insurance Policy
Here is a sample premium illustration of Mr. Ramit Lohia, who is working as a Quality Analyst at Accenture and Mr. Ankush, a student. Let's take a look at the premium amount that both will need to pay for the Star Special Care Insurance policy:
| | | | | |
| --- | --- | --- | --- | --- |
| Age | Policy Type | Policy Term | Health Insurance Cover | Premium Amount |
| 23 Years | Individual | 1 Year | Rs. 3 Lakhs | Rs. 7, 169 |
| 13 Years | Individual | 1 Year | Rs. 3 Lakhs | Rs. 6, 284 |
How To Buy Star Special Care Insurance Policy?
If you want to buy the Star Special Care Insurance policy, follow the below-mentioned steps:
Visit the official website of Star Health Insurance.
Hover your mouse on the "Plans" banner and then click on "View All" under the "Health" Tab.
A page will emerge displaying all the health insurance plans. Then, you will need to locate the "Star Special Care Policy". After that, press "View Plan".
The next page will display all the information related to the plan. Just read it carefully and then press the "Get A Quote" button after entering your name, mobile number, and pin code.
Now enter your contact details, including your name, mobile number, and email address, and then click "Next".
Provide basic information on the next page, including date of birth, Policy Type, Policy Term, and, then click Next".
Now choose your health insurance coverage for which the premium amount details will be displayed below. Also, you will get the premium amount at the bottom. Then, click on "Buy Now"
After that, you will need to enter your user ID/mobile number and then password to continue.
Make payment either via credit/debit card/net banking and the policy detail will be sent to the registered mobile number or email address.
What Is The Claim Procedure for Star Special Care Policy?
Cashless Claim:
In a network hospital, approach the insurance desk. Contact us by phone at 1800 425 2255 or 1800 102 4477, or by email at support@starhealth.in.
To be recognised, present your Star Health ID card at the hospital reception.
Submit to the hospital the results of any pre-admission investigations and medical consultation paperwork.
Network hospitals will verify your identity and mail a properly filled-out pre-authorization form to Star Health.
Before processing the claim in accordance with the terms and conditions, their doctors review all of the supporting documentation.
Following discharge, the hospital will submit the claim documentation to the business, and the approved sum will be paid directly to the hospital.
If necessary, a field doctor assigned to the case may pay the patient a visit to the hospital.
Reimbursement Process:
when the insured makes advance arrangements with the hospital for the treatment, pays the hospital's expenses up front, and then submits a claim for reimbursement of those expenses within 15 days of the patient's discharge.
All claims must be intimated within 24 hours of hospital admission. Reimbursement services are provided by hospitals in both networks and out-of-networks.
Get medical help, settle all debts, and file a claim for compensation.
Within 15 days of the discharge date, send the claim documentation to the company.
To receive the claim form, mention your policy number and let Star Health know you were hospitalized.
Renewal Process Of Star Special Care Insurance Policy
Planning to renew your Star Special Care Insurance Plan? If so, listed below are the steps to renew the policy in just 2 minutes.
Firstly, visit the home page of Star Insurance.
Select "Renew" from the menu at the top of the page.
Click "Submit" after entering your policy number and birthdate.
The screen will show the specifics of your policy. Then, you can choose from a variety of payment methods to pay the balance of your premium.
After completing the aforementioned steps, your policy will be successfully renewed, and the necessary information will be sent to the contact information you provided.
Frequently Asked Questions