Cover Your Health in 5 mins
Compare Premium.
Buy Now.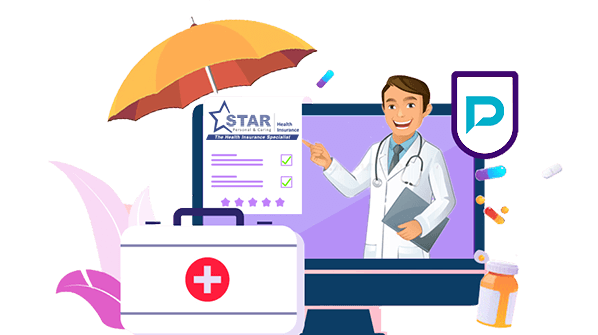 Compare

Individual Health Insurance Plans
Star Super Surplus Top-up Policy
Star Super Surplus – Top-up Policy is a traditional top-up health insurance plan offered by Star Health Insurance Company to provide its customers with a wider range of health insurance benefits to protect them from different types of health hazards, diseases, ailments, and health conditions. A top-up health insurance plan works as a supplement to your regular health insurance cover, by adding additional coverage to your existing health insurance policy. The plan can be bought either for self or family members and to get the coverage on a larger scale, one can opt for the Gold Plan of this policy. Along with the basic covers of a traditional health insurance policy, this plan has come up with different unique benefits and facilities to cater to the varied needs of the individuals.
Parameters
Eligibility details
Minimum entry age

Adult – 18 years

Dependent child – 91 days

Maximum entry age

Adult – 65 years

Dependent child – 25 years

Who can purchase
Family – Self, Spouse, and economically dependent children
Policy year
1 year and 2 years
Renewal
Lifelong
Policy type
Individual and family floater
Policy variants
Silver Plan and Gold Plan
Pre-acceptance Medical Screening (both Silver and Gold Plans)
No Pre-acceptance Medical Screening is required.
Sum insured
From Rs. 5 lakhs to Rs. 1 crore
Installment Facility available

Premium can be paid Quarterly and Half-yearly, and also

Annually and Biennially (Once in 2 years).

Long Term Discount
If the entire premium applicable for two years is paid in advance, the discount available is 5%
Free look period
15 days
Details of Star Super Surplus – Top-up Policy
This policy has come up with a sack full of benefits and facilities to offer you maximum coverage against different medical conditions. For your better understanding, the details of the plan are discussed in the below table.
Parameters
Details
Room
Room, Boarding, Nursing Expenses as provided by the Hospital / Nursing Home subject to a maximum of Rs.4,000/- per day for Silver Plan.
Hospitalization coverage
Anesthesia, Blood, Oxygen, Operation Theatre charges, ICU Charges, Surgical Appliances, Medicines and Drugs, Diagnostic Materials and X-rays, Cost of Pacemaker, and similar expenses. Surgeon, Anesthetist, Medical Practitioner, Consultants, Specialist Fees.
Pre-hospitalization expenses
Up to 30 days for Silver Plan and up to 60 days for Gold Plan
Post-hospitalization expenses
Up to 60 days for Silver Plan and up to 90 days for Gold Plan
Coverage for Modern Treatments
Available, expenses are subject to the limits.
Emergency ambulance charges
Available only with the Gold Plan, and that is up to Rs.3,000/- per policy period for transportation of the insured person to the hospital
Air Ambulance expenses

Up to 10% of the sum insured per policy period. Applicable for sum

insured option of Rs.7 lacs and above for the Gold Plan only.

The facility for obtaining E-Medical Opinion
Available with the Gold Plan only
Delivery expenses

Delivery including Delivery by Caesarean section (including

pre-natal, post-natal expenses, and lawful medical termination of pregnancy) up to Rs.50,000/- per policy period, subject to a maximum of 2 deliveries in the entire life time.

Organ donor expenses
Available, if the insured person is the recipient

Recharge Benefit (If the sum insured is exhausted or exceeded during the policy period, the additional indemnity would be

provided once for the remaining policy period)

Defined limit
Recharge limit
Rs. 3 lakhs
Rs. 50,000
Rs. 5 lakhs
Rs. 75,000
Rs. 10 lakhs
Rs. 1 lakh
Rs. 15 lakhs and above
Rs. 2.5 lakhs
Wellness services
Available through mobile app and customer portal
Waiver of Deductible
Available and subject to the terms and conditions of the policy
Premium Calculation of Star Super Surplus – Top-up Policy
When you want to buy a policy, it is important to know about the premium amount that you need to pay for the given details as it helps you to plan the financial expenses and to understand the worth of the policy. So, for your better understanding of Star Super Surplus – Top-up Policy, here is an example of the premium calculation.
Mr. Jaidka a 36-years-old businessman has bought Star Super Surplus – Top-up Policy for himself. Let us find out, how much premium he has to pay for different sum insured options for the given details.
Age
Policy type
Plan type
Policy term
Deductibles
Payment option
Insurance cover
Premium amount including tax
36 years
Individual
Gold Plan
2 years
Rs. 10 lakhs
Full payment
Rs. 15 lakhs
Rs. 4614
Rs. 20 lakhs
Rs. 5534
Rs. 25 lakhs
Rs. 6360
General Exclusions of Star Super Surplus – Top-up Policy
Though this plan acts as a cushion to your existing health insurance policy and has come up with a wide range of benefits and facilities, it also has some exclusions for which it does not pay the compensation. When you are buying an insurance plan, it is very important to know about its exclusions too to avoid future complexities. So, for your better understanding, here are the general exclusions of Star Super Surplus – Top-up Policy, below:
If any injury or ailments happen due to war, war-like situations, riots, public outrage, civil war, biological war, etc., this plan does not offer coverage for that.
Any self-inflicted injury, suicide, or suicide attempt will not be covered by the policy.
If the insured person avails of walkers or wheelchairs, the cost of that will fall under the category of exclusions.
Any expenses arising out of the treatments for weight loss or weight management, the policy will not cover.
The medical expenses incurred due to cosmetic surgery, or plastic surgery unless subjected to an accident will not be covered by the plan.
If the insured person takes part in hazardous activities or adventurous sports such as scuba diving, rock climbing, para-gliding, etc., the company will not take responsibility for that.
Expenses related to change of gender treatments and sexually transmitted diseases are also not covered under this policy.
 If the insured person receives any kind of treatment that is unauthorized, illegal, or unrecognized, he/she will not get compensation for that.
Treatments of injuries that occurred due to the consumption of illegal drugs, alcohol, or any kind of other intoxicating substances will not be covered.
Any treatment received before the date of the waiting period will also fall under the category of exclusions.
Frequently Asked Questions
Here's the list of the frequently asked questions related to the Star Super Surplus – Top-up Policy: