Cover Your Health in 5 mins
Compare Premium.
Buy Now.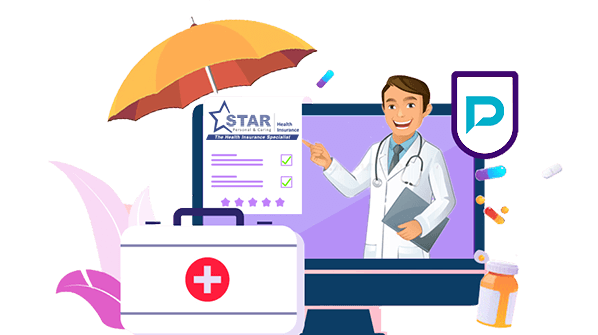 Compare

Individual Health Insurance Plans
Star Health Women Care Insurance Policy
Star Women Care Insurance is a woman-centric health cover specifically designed to fulfill the healthcare needs of women at any stage of their lives, relieving them of the financial burden of rising medical expenses. This comprehensive and autonomous plan comes with a host of features, such as mid-term inclusion, no pre-acceptance medical screening, and so on.
In addition to regular hospitalization, the coverage covers hospitalization for children, prenatal and postnatal deliveries, several medical consultations, preventive health checkups, and voluntary sterilization. Keep reading to know about the plan's eligibility conditions, features, benefits, and various other details!
Parameters
Details
Minimum & Maximum Entry Age

Individual Sum Insured: 18 To 75 Years (Only Females)
Floater Sum Insured: 18 To 75 Years (At Least One Adult Member Should Be Female In The Family)
Dependent Children: 91 Days To 25 Years

Policy Term
1/2/3 Years
Sum Insured Options

Rs. 5,00,000/-, Rs. 10,00,000/-, Rs. 15,00,000/-, Rs .20,00,000/-

, Rs. 25,00,000/-, Rs. 50,00,000/- and Rs. 1,00,00,000/-

Coverage Type
Individual & Floater
Why Should One Choose Star Women Care Insurance Policy?
Since the plan is packed with some of the most unique features and benefits, it's an ideal choice for a woman. Some of these features and benefits are discussed below:
Long-Term Discount: In case an individual chooses a 2- or 3-year premium, he/she will get a 10% and 11.25% discount respectively.
No Pre-Acceptance Medical Screening: Female applicants for the plan are not required to have a pre-acceptance medical examination.
Instalment Facility: The premiums for the plan can be paid quarterly, half-yearly, annually, biennially, and triennially. There will be loading for the payment mode as described below and the annual premium will be subject to this loading:
Quarterly: 3%
Half-Yearly: 2%
Mid-Term Inclusion: The newlywed spouse, infant, and/or legally adopted child may be covered by the policy for an extra cost. The waiting periods will start to apply on the day that new joiners are included.
Automatic Restoration Of Sum Insured: The sum insured will be automatically restored once by 100%, subject to the following conditions:
The automatic restoration will occur immediately upon partial or complete utilization of the coverage limit.
During the policy period, all claims for subsequent hospitalizations may be paid using this Restored Sum Insured.
The company's aggregate liability in any one claim during any insurance year shall not exceed the amount of coverage.
The restored sum insured that has not been used cannot be carried over.
Cumulative Bonus: From the second year on, the insured would be eligible to receive a bonus equal to 20% of the expiring sum insured for each claim-free year of insurance. The maximum bonus permitted may not exceed 100%.
Preventive Health Check-Up: Under the terms of this policy, the insured will also be qualified for an annual preventive health checkup.
Wellness Benefits: By awarding wellness points to the insured for adopting healthy behaviors through a variety of wellness activities, the Star Wellness Benefit encourages a healthy lifestyle. The discount on the premium will increase as the wellness points do.
Extensive Maternity Benefits: Up to the limits specified in the policy clause, delivery costs, including those associated with normal and cesarean sections (both pre-natal and post-natal), and other wide range of maternity-related expenses are covered under the policy.
Lump Sum On Diagnosis Of Cancer: If the insured individual has cancer for the first time, the company will pay the amount they choose for a lump sum. This benefit comes in the form of an optional cover that can be availed of by paying some extra premium amount.
Portability Option: According to IRDAI portability guidelines, the insured person will have the option to port the policy to other insurers along with all of the family members, if any, at least 45 days before, but not earlier than 60 days from the policy renewal date.
Sample Premium Illustration Of Star Women Care Insurance Policy
Before purchasing any policy, it is vital to have an estimate of the premium amount. This helps the individuals to make a pre-planned budget and wise decision regarding choosing the sum insured options. Therefore, here is a sample premium illustration of the Star Women Care Insurance policy:
Name
Age
Gender
Policy Type
Policy Term
Sum Insured
Total Premium Amount
Ms. Anita
30 Years
Female (Adult)
Individual
1 Year
Rs. 5 Lakhs
Rs. 9,399
Mrs. Sunita
32 Years
Female (Adult)
Floater Basis
3 Years
Rs. 50 Lakhs
Rs. 1,37,500
Mr. Suresh (Sunita's Husband – Eldest Member)
35 Years
Male (Adult)
Mr. Ankit (Son)
7 Years
Male (Child)
Ms. Sushma (Daughter)
12 Years
Female (Child)
Mrs. Anita (Widowed)
49 Years
Female (Adult)
Floater Basis
2 Years
Rs. 25 Lakhs
Rs. 65,030
Ms. Simran
18 Years
Female (Child)
Coverage Details Of Star Women Care Insurance
The policy provides coverage for the following expenses:
Coverage
Status
In-Patient Hospitalisation
Covered
Pre-Hospitalisation
60 Days
Post-Hospitalisation
90 Days
Room Rent

For SI Rs. 5 Lakhs: Up To 1% Of SI
For SI Rs. 10/15/20/25 Lakhs: Any Room (Except Suite)
For SI Rs. 50/100 Lakhs: Any Room

Road Ambulance
Covered
Air Ambulance
Up To 10% Of SI
Modern Treatment
Covered
AYUSH Treatment
Covered Up To SI
Day Care Procedures
Covered
Star Mother Cover
Covers the costs of a single private A/C room for the mother's hospital stay if the covered person is a child under the age of 12, so long as the child is receiving ICU care and there is a valid hospitalization claim.
Shared Accommodation
Covered
Rehabilitation & Pain Management
Covered
Organ Donor Expenses
Covered
In Utero Fetal Surgery/Repair
Covered
Voluntary Sterilisation Expenses
Covered
Miscarriage Due To Accident
Covered
Coverage For Non-Medical Items
Covered
Outpatient Consultations
Covered
Exclusions Under Star Women Care Insurance Policy
The plan does not cover the following expenses:
Non-accidental miscarriages
Price of dietary supplements and substances
Congenital external anomalies
Sterility and infertility (in the case of assisted reproduction treatment, it is covered)
Treatments related to obesity and weight control
Cosmetic or plastic surgery
Treatment of alcoholism or drug addiction
Change of gender treatments
Waiting Periods For Star Women Care Insurance
Now Let's take a look at the waiting periods applicable to the plan!
Category
Waiting Period
Pre-Existing Diseases
24 Months
Specific Illness Waiting Period
24 Months
Delivery Expenses

For SI Of Rs. 5 & 10 Lakhs: 24 Months

For SI Of Rs. 15 Lakhs & Above: 12 Months

Assisted Reproduction Treatment
36 Months
Ante Natal Care

For SI Of Rs. 5 & 10 Lakhs: 24 Months

For SI Of Rs. 15 Lakhs & Above: 12 Months

In Utero Fetal Surgery/Repair

For SI Of Rs. 5 & 10 Lakhs: 24 Months

For SI Of Rs. 15 Lakhs & Above: 12 Months

Miscarriage Due To Accident

For SI Of Rs. 5 & 10 Lakhs: 24 Months

For SI Of Rs. 15 Lakhs & Above: 12 Months

Bariatric Surgery
24 Months
Voluntary Sterilization
24 Months
Cancer Cover
180 Days
Purchasing Process Of Star Women Care Insurance Policy
For purchasing the policy, follow the below-mentioned steps:
Visit the official website of Star Health Insurance.
Hover your mouse on the "Plans" banner and then click on "View All".
A page will emerge displaying all the health insurance plans. Look for Star Women Care Insurance and then press "View Plan".
The next page will display all the information related to the plan. Just read it carefully and then press the "Get A Quote" button after entering your name, mobile number, and pin code.
Now enter your contact details, including your mobile number and email address, and then click "Next".
Provide basic information on the next page, including policy type, date of birth, and policy term, and then click Next".
Now choose your sum assured amount and the payment option, after which the premium amount details will be displayed below. Just click on the blue-colored "Buy Now" tab.
The next page will ask you to either log in (if you are an existing customer) or register (if you are a new customer). Enter all the details and log in to your profile.
Make payment by any of the provided methods and the policy detail will be sent to the registered mobile number or email address.
Claim Process Of Star Women Care Insurance
There are two types of claims that can be raised against this policy. They are as follows:
CASHLESS CLAIM:
Visit the insurance desk at a network hospital. In case of planned hospitalization, intimation should be done 24 hours before the admission; whereas, in case of emergency hospitalization, the company should be notified 24 hours after admission. One can also file a claim with the help of the official website of the company. You can also notify the company by calling 1800 425 2255 or 1800 102 4477, or you can send an email to support@starhealth.in.
Present your Star Health ID card for identification purposes at the hospital reception.
Submit to the medical centre pre-admission inquiries and medical consultation records.
Your identity will be confirmed by network hospitals, who will then send a duly completed pre-authorization form to Star Health.
Before processing the claim in accordance with the terms and conditions, the company's doctors verify all of the given documentation. If necessary, a field doctor assigned to the case may visit the patient at the hospital.
Following discharge, the hospital will submit the claim paperwork to the insurer, and the company will pay the hospital the authorized sum. Simply put, all the medical expenses are cleared directly with the hospital by the insurance provider.
REIMBURSEMENT CLAIM:
Reimbursement claim services for the plan are available for both network hospitals and non-network hospitals. Let's check out the procedure for the same!
Receive medical care from any suitable hospital, pay all hospital bills after discharge, and gather all original records of the care received and the costs incurred.
Submit a reimbursement request.
Within 15 days of the date of discharge, send the claim form and supporting documentation to the firm. The claim form must be completed and sent to the nearby insurance office together with any necessary original documentation.
The insurance company would then review the claim, the supporting paperwork, and the out-of-pocket costs. After that, the costs would be reimbursed.
Renewal Process Of Star Women Care Insurance
To renew the Star Women Care policy, one needs to adhere to the following steps:
Go to the home page of Star Insurance.
Click "Renew" on the top banner.
Enter your policy number and date of birth, and then press "Submit".
Your details of the policy will be displayed on the screen. After that, you can use any listed payment mode to complete your premium payment.
Once you are done with the above steps, your policy will be successfully renewed and the associated details will be sent to the registered contact details.
Frequently Asked Questions