Cover Your Health in 5 mins
Compare Premium.
Buy Now.
* Subject To Underwriting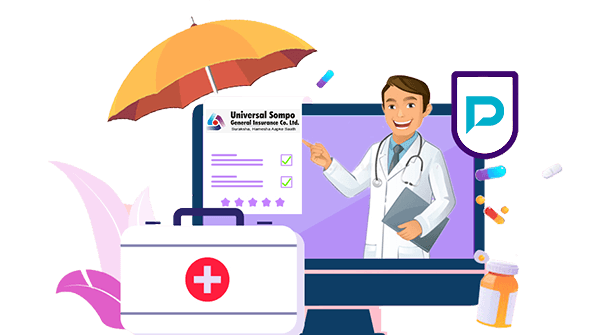 Compare

Individual Health Insurance Plans
Universal Sompo Complete Healthcare Insurance
Universal Sompo Complete Healthcare Insurance policy is a comprehensive plan that offers the insured medical protection while they are being treated in a hospital. The plan offers a sum insured amount ranging from Rs 1 lakh to Rs 50 lakh. It also comes with seven sub-types – Basic, Essential, Privilege, Plus, Premier, Executive, and Digi-Pro.
Complete Healthcare Insurance by Universal Sompo offers thorough plans that cover hospital-related medical expenses. Following the medical advice of a properly licensed medical practitioner, if one or more insured person(s) are required to be hospitalized during the term of the policy for treatment of an illness or injury at a hospital or daycare center, the company will reimburse expenses related to the Coverages & Sum Insured. Additionally, there are family and individual floater options available for the policy.
Read on to learn more about the Universal Sompo Complete Healthcare Insurance Plan's eligibility criteria, coverage details, features & benefits, exclusions, buying process, claim process, renewal steps, and more.
Here are the eligibility criteria for the Complete Healthcare Policy by Universal Sompo.
Parameters
Details
Age

Entry Age of the Proposer-Minimum 18 years – Maximum 75 years

Entry Age of the dependent children – Minimum 91 days– Maximum 25 years

Members Covered
Up to 6 members
Policy Period
1, 2, or 3 years
Renewability
Lifelong
Sum Insured
Up to 50 Lacs
Policy Type
Individual / Family Floater
Here are the coverage details for the Universal Sompo Complete Healthcare Policy.
| | |
| --- | --- |
| Parameters | Details |
| Pre-Hospitalization | 30 days |
| Post-Hospitalization | 60 Days |
| Cumulative Bonus | Cumulative Bonus of 10% of the Sum Insured will be applicable for every claim |
| Maternity Allowed age group | 18 – 45 years |
| Restore Benefit | Covered up to 100% of BASE SI |
| Out-Patient Dental Waiting Period modification | Waiting period of 36 months applicable to Outpatient Dental Treatment is modified to 24 months |
| Direct Policy Discount | 15% discount |
| Loyalty Discount | 5% discount |
| Employee Discount | 15% |
| Donor Discount | 2.5% |
Benefits of Buying Universal Sompo Complete Healthcare Insurance
Here is the list of the key features and benefits of the Complete Healthcare Insurance Policy by Universal Sompo.
When an insured person needs to be admitted as an inpatient to a hospital during the policy period due to a disease, illness, or injury, the policy will pay the associated hospitalisation costs. Payable medical costs would be those directly associated with the hospital stay.
It is agreed that a Restore Sum Insured (equal to 100% of the Base Sum Insured) will be automatically available for the specific Policy Year if the base Sum Insured and No Claim Bonus (if any) are depleted as a result of claims made and paid during the Policy Year or made during the Policy Year and accepted by the company as payable.
If the insured person stays in the hospital for a minimum of 10 consecutive days, a lump sum payment as shown in the policy schedule is due.
The medical costs incurred by an insured person for receiving treatment at home when a hospital stay would have been necessary. In the event of a hospitalization at home, the policy will also pay for pre- and post-hospitalization costs.
The cost of the insured person's ambulance transportation from one hospital to the closest hospital that is willing to admit them and offer the required medical care is covered by the insurance. If a hospital where the insured person is located cannot satisfactorily provide these medical services, transportation may be ordered if necessary by a medical professional.
The Medical Expenses incurred within 30 days of the Insured Person's hospitalisation date will be reimbursed.
The Medical Expenses incurred within 60 days of the Insured Person's hospital discharge date will be covered.
Up to the limits outlined below by the plan of the insured person who was covered during the prior policy year, the policy will cover the cost of a preventive health check-up.
The company will pay you the Sum Insured as stated in your Policy Schedule if you choose to use this option and are diagnosed with one of the covered Critical Illnesses or undergo one of the covered Surgical Procedures for the first time in your life.
The Free Look Period shall only apply to new individual health insurance policies; it shall not apply to renewals or when a policy is ported or moved. Following receipt of the policy document, the insured person has fifteen (15) days to review the terms and conditions and return the document if they are not satisfactory.
Existing policyholders holding any retail policy of the company are eligible for a 5% discount on the applicable premium. When this proposed policy was introduced, the previous one shouldn't have gone into effect.
Discount on the applicable premium if more than two family members are insured under the same policy on an individual sum insured basis. Both purchasing a new policy and renewing an existing one are eligible for this discount.
Exclusions Of Universal Sompo Complete Healthcare Insurance Policy
Listed below are the things not covered under the Universal Sompo Complete Healthcare Policy.
Costs associated with receiving care from a hospital, a doctor, or any other provider that has been specifically excluded by the insurer and announced on its website or communicated to policyholders are not admissible. However, expenses up to the point of stabilization are payable after an accident or in life-threatening situations, but not the entire claim.
Treatments received in health hydros, nature cure clinics, spas, or comparable facilities, or private beds registered as nursing homes attached to those facilities, or admission arranged entirely or partially for domestic purposes.
Vitamins, minerals, and organic substances are just a few examples of dietary supplements and substances that are available without a prescription unless a doctor has prescribed them as part of a hospitalisation claim or daycare procedure.
Expenses for any treatment that hasn't been proven effective, as well as services and supplies used in conjunction with treatments. Unproven treatments are those that do not have a substantial body of medical evidence to support their efficacy.
Costs associated with cosmetic or plastic surgery, as well as any other procedure intended to alter the appearance, unless necessary for reconstruction following an accident, burn (s), cancer, or as part of a medical procedure to eliminate a direct or immediate threat to the insured's health. This must be authorised as a medical necessity by the attending medical professional.
The cost of any medical care required as a result of a professional athlete's participation in risky or adventure sports, such as skydiving, deep-sea diving, hand gliding, motor racing, mountaineering, rafting, parachuting, rock climbing, and others.
The waiting period would be shortened to the extent of prior coverage if the insured person had uninterrupted coverage as defined by the portability norms of the then-current IRDAI (Health Insurance) Regulations.
During the policy period, expenses for miscarriage and the related legal medical termination of pregnancy.
Expenses associated with any form of treatment, including surgical intervention, to change a person's physical characteristics to those of the other sex.
War (whether declared or not), invasions, hostilities, civil war, uprisings, revolutions, insurrections, mutinies, military or usurped power, as well as all types of seizure, capture, arrest, restraint, and detention.
The policyholder is not eligible to receive coverage for certain ICD codes about the existing diseases that the insured disclosed and that are listed in the policy schedule (with the insured's consent).
Any costs associated with OPD care.
Treatment received outside of India's borders
Premium Calculation Of Universal Sompo Complete Healthcare Insurance
Let's employ Mr. Milind Gaba, a resident of Mumbai and the manager of a Co-works business center. He was looking to purchase a complete healthcare plan because medical costs are rising and he wanted to be protected from high medical costs while also saving money. He considered many options before settling on the Complete Healthcare Insurance Plan by Universal Sompo.
| | | | | |
| --- | --- | --- | --- | --- |
| Age | Sum Insured | Add-on Covers | Co-Payment | Premium Amount |
| 30 Years | Rs. 5 Lacs | No | 10% | Rs. 5, 425 per Annum |
| 30 Years | Rs. 20 Lacs | Extension Under Pre-Hospitalization | No | Rs. 13122 Per Annum |
How to Buy the Universal Sompo Complete Healthcare Insurance Plan?
Contrary to popular belief, most health insurance plans cover more than just hospital expenses. Subject to the pre-specified limit and duration, the majority of health insurance policies typically provide coverage for both pre-and post-hospitalization costs.
These can include the cost of an ambulance, transportation, a hospital stay, medical expenses, procedure costs, recovery-related post-procedure care costs, etc. The primary purpose of a health insurance plan like the Universal Sompo Complete Healthcare Insurance Policy is to provide you with financial protection in the event of a medical emergency brought on by illnesses, accidents, or hospitalisation.
If you are looking to buy the Universal Sompo Complete Healthcare Insurance Policy, listed below are the steps to follow.
Go to the official website of Universal Sompo General Insurance.
On the top, you will see the "Products" section. Simply take your cursor over it and locate "Complete Healthcare Insurance" under "Health Insurance". Click on it.
Once you click on it, the plan page will be opened. After that, you will see a box under the" Buy Now" tab, asking you to enter your name, gender, mobile number, email ID, date of birth, ID type, ID number, and the person you want to insure. After entering all the details, click on "Get a Quote".
Then, an OTP will be sent to the number you just entered. Enter it in the blanks to proceed with the buying process.
After that, you will see the total premium amount that you need to pay in the bottom left corner along with the policy details. Also, on the same page, you will see the add-on covers, sum insured, and co-payment options. You can adjust or choose them whenever you want.
In the next step, click on the "Continue" button in the bottom right corner.
Then, subsequently, you will need to recheck your name, gender, date of birth, and other details. On the same page, you will need to enter your residence address along with your PIN code and Delhi. Furthermore, you need to enter your weight and height. You also need to enter the nominee details.
Once you have successfully entered all the details, click on "Save & Continue".
You can make the payment using your credit/debit card, Net Banking, EMI, or UPI on the payment page that opens after you click it. Pick the strategy that works best for you. After that, click "Proceed to Pay".
The final step will involve sending you a message and the policy documents via email and your registered mobile number.
How to File a Claim for the Complete Healthcare Insurance Plan by Universal Sompo?
It's crucial to submit your claim on time if you want to guarantee you get the coverage you're entitled to. Your chances of having your claim approved increase if you do it on time. Insurance companies have deadlines by which claims must be submitted, and if you miss the deadline, your claim may be rejected.
Although the procedures and documentation can seem complicated and lengthy, it is crucial to understand them in advance. Here is a breakdown of how to submit a health insurance claim for your convenience.
Cashless Claim Process:
It is a planned hospitalisation if you have a date set for a particular procedure or treatment and are aware of the hospitalisation beforehand. In such a situation, the following procedures must be followed:
Notify the insurance company at least five days before the treatment, the insurance company must receive the cashless claim form via email or letter.
The insurer will notify the hospital and send you a confirmation letter once they have received your cashless claim form. A confirmation letter for a cashless claim is valid for seven days after it has been issued.
Hand the letter in. You must turn in the health card and confirmation letter on the day of admission.
Your task here is complete. Your insurance company will pay the hospital directly for the medical expenses.
Reimbursement Claim Process:
You must pay the hospital bills in full at the time of admission if the insurer does not offer a cashless claim option or if the hospital is not one of their network hospitals. The insurance company will later pay you back for the medical expenses.
The following steps must be followed when filing a claim for reimbursement:
Verify the accuracy of the information before signing the document. This is crucial because any inconsistency here could affect the claim procedure.
Here is a comprehensive list of the documents that may be required:
Duly filled and signed Claim form
Insurance Card or Policy Copy
Medical Certificate signed by the doctor
Pathological reports like X-ray reports
Original Bills and receipts
Investigation report, if any
FIR / MLC Copy (in case of an accidental claim)
NEFT Details to credit Claim Settlement
Duly Filled CKYC Form if the Claimed amount is above Rs 1L.
Some of the documents mentioned above might not be accessible right away, and you might need to return a few days later to pick them up.
Depending on your insurer's procedures, you can submit all of these documents as soon as you are discharged to the insurer or the designated TPA.
How To Renew the Universal Sompo Complete Healthcare Insurance Policy?
The goal of purchasing a health insurance policy is to have your family's and your own medical needs covered. By making on-time premium payments, this is ensured. You never know when you'll have a sudden medical need. If you don't renew your insurance, you won't be able to file a claim for any jarring medical expenses that might unforeseenly arrive at your door. The steps you can take to renew your Complete Healthcare Insurance Policy by Universal Sompo before it expires are outlined below.
If you are looking to buy the Universal Sompo Complete Healthcare Insurance plan, listed below are the steps to follow.
Visit the Universal Sompo General Insurance website.
You can find the "Products" section at the top. You only need to hover your mouse over it to find "Complete Health Insurance" under "Health Insurance". Just click it.
It will open the plan page once you click on it. You must enter your policy number, mobile number, email address, date of birth, ID type, and ID number after clicking the "Renew Now" tab.
Click "Continue" once you've finished filling out all the information.
The details of your policy are on the page after this one. You will then need to pay the premium to renew your policy again.
Once the payment has been received, a notification will be sent to your registered email address and mobile number.
Frequently Asked Questions
When a plan is cancelled, your insurance coverage ends as of the cancellation date. Additionally, the premium will be reimbursed by short-term cancellation rates.
The number of claims that may be filed during the term of a policy is unrestricted. Claims are acceptable up to the policy's maximum insured sum.
Yes, the Universal Sompo Complete Healthcare Policy does pay for inpatient care received at an AYUSH hospital.