Cover Your Health in 5 mins
Compare Premium.
Buy Now.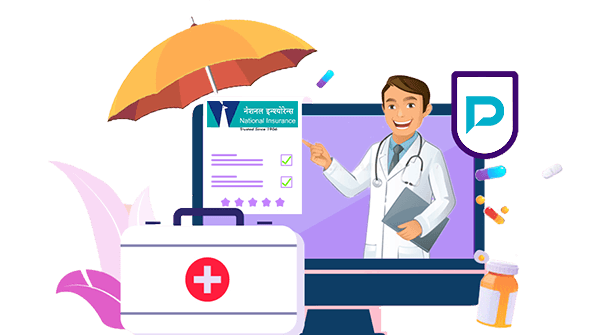 Compare

Individual Health Insurance Plans
National Health Insurance Customer Care
National Insurance Company Ltd. (NIC) is one of the oldest insurance companies in India which has 1998 offices around India and its headquarters is in Kolkata. The business is India's second-largest general insurer. To meet the specific needs of each individual, family, or corporate client, NIC offers a variety of insurance plans, including those for automobiles, health care, and personal items, among others.
The very effective customer service team of NIC, the second-largest general insurance company, makes sure that no client questions or complaints go unanswered or unsolved. Prospective and current customers can get in touch with National Health Insurance through a variety of customer service channels. The toll-free number, email address, and locations of a handful of the insurer's branch offices around India are all listed on this page.
How To Contact National Health Insurance Customer Care?
Customers can call, email, or visit the National Health Insurance location that is closest to them to get in touch with customer service.
Parameters
Details
Call
18003450330, 033-68110000, 033-25370070, 040-27700011
Email

For Customer Portal related queries

Customer.portal@nic.co.in

For any other queries:

Customer.support@nic.co.in

Head Office
Address: 3, Middleton Street, Prafulla Chandra Sen Sarani, Kolkata, West Bengal, 700071.
Social Media Handles

Facebook:

https://www.facebook.com/Nationalinsuranceindia/

Twitter:

https://twitter.com/niclofficial

YouTube:

https://www.youtube.com/channel/UClKFySN35XeILBnYrxCPGCg

Fax.
Fax: 22831740
Website
https://nationalinsurance.nic.co.in/
National Health Insurance Company Branches & Their Address
Though there are multiple branches of National Health Insurance, the following table represents some of the popular branches in top cities. If you want to more about locations, visit this link today! Check out the following table to get the contact details of National Insurance Company branches in top cities:
| | |
| --- | --- |
| Branch Location | Branch Address |
| Delhi | Hemkunt Tower, 6, Rajendra Place ,110008, Delhi |
| Delhi | B-18, 1st-floor community center ,110058, Delhi |
| Goa | Office No. 101 to 107, A Wing, 1st Floor, Reliance Trends Center, Next to Grace Church, VV Road,403601, Goa |
| Andaman & Nicobar Island | :1st Floor, Raj Complex Opp. Dbrait, Polytechnic College Dollygunj, Port Blair,744103, Andaman and Nicobar Islands |
| Arunachal Pradesh | G Extension, Naharlagun, Naharlagun, Dist: Papumpare ,791110, Arunachal Pradesh |
| Bihar | Mohanpur Road, Near Hero Honda Agency, Samastipur,848101, Bihar |
| Chandigarh | :S C O 133-135, Sector-17-C, Chandigarh, Chandigarh U.T. ,160017, Chandigarh |
| Gujarat | Plot 278, Sector 16, 4, 5 G H Road, Gandhinagar, Gujarat,382016, Gujarat |
| Gurgaon | Tarachand Complex, Opposite Plot No 85, Near P S Udyog Vihar, Dundahera,122016, Haryana |
| Himachal Pradesh | : Moulkhut, Baijnath Road, Palampur, Dist: Kangra, Himachal Pradesh,176061, Himachal Pradesh |
| Jammu & Kashmir | Old Road, Leh, Dist: Leh (Ladakh), Jammu and Kashmir,194101, Jammu and Kashmir |
| Jharkhand | Nataraj Mansion, Bye Pass Road, Chas,827013, Jharkhand |
| Karnataka | : First Floor, Opp Range Forest Office, Bus stand Road, Gokak,591307, Karnataka |
| Kerala | 1st Floor, Vetteel Chambers, M G Road, Ravipuram,682016, Kerala |
| Maharashtra | Firdos Chambers, Wardha Road, Ramdaspeth, Nagpur, Maharashtra,440012, Maharashtra |
| Manipur | Singjamei, Samurou ,795008, Manipur |
| Meghalaya | Main Road, Borbhuin, Byrnihat, Dist – Ri Bhoi ,793101, Meghalaya |
| Nagaland | Dhobinala Police Point, Dimapur. Nagaland ,797112, Nagaland |
| Odisha | Zila School Road,756001, Orissa |
| Punjab | 103, Lawrence Road, Amritsar, Punjab,143001, Punjab |
| Rajasthan | Near Alok Cinema, Churu, Rajasthan,331001, Rajasthan |
| Sikkim | National Highway 10,737101, Sikkim |
| Tamil Nadu | Ist Floor, Murugesa Naicker Complex, No.66 Greames Road,600006, Tamil Nadu |
| Uttar Pradesh | 141, 142, Hapur Road, Navyug Market,201001, Uttar Pradesh |
| Uttarakhand | 7A Astley Hall Dehradun,248001, Uttaranchal |
How Can National Health Insurance Customer Care Help You?
The customer service representatives of National Health Insurance can assist current or potential clients with the following:
Answering queries from the customer
Lodging a health insurance claim
Resolving customer's grievances
Tracking the claim status
Finding nearby network hospitals
Changing the policy details