Renew in just 5 mins.
No Inspection.
No Paper Work
* Subject To Underwriting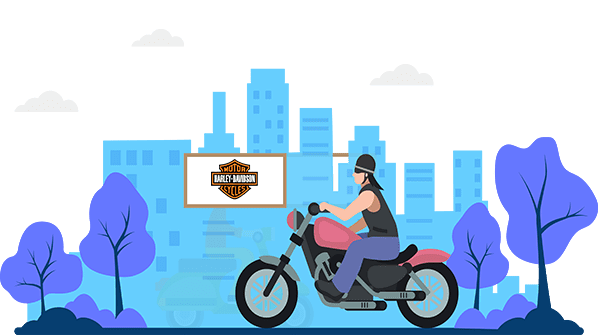 Compare

Bike Insurance Plans
Harley Davidson Bike Insurance
Harley-Davidson India is based in Gurgaon and began functioning in August 2009. It allotted its foremost dealership in July 2010 and as of now has 29 dealership services across India. In 2020 Harley-Davidson and Hero MotoCorp announced their partnership for the Indian market. Hero MotoCorp will sell and service Harley-Davidson motorcycles.
The Harley Davidson luxury bike takes its owner on a powerful quest of exciting escapades and is ideal for a rider who is looking for the thrill of speed and freedom but also seeks security that his bike comes with the surety of sturdy heavy modern machinery, novel design and the guarantee of safe performance.
A Quick Look At Harley Davidson
| | |
| --- | --- |
| Existence in India | 2009 |
| Headquarters | Gurgaon, Haryana, India |
| Key people | Sajeev Rajasekharan (Managing Director) |
| Products | Motorcycles |
| Parent company | Harley-Davidson USA |
Five Popular Harley Davidson Bikes
| | | | | |
| --- | --- | --- | --- | --- |
| Model and variant | Ex-showroom price (approx.) | Mileage (approx.) | Maximum Speed (approx.) | Color options |
| Harley Davidson Iron 883. | Rs. 10.11 Lakh | 20 km/l | 170 km/h | Silver flux, rawhide denim, rugged gold, and denim |
| Harley Davidson Forty Eight | Rs. 11.75 Lakh | 16.4 to 20 km/l | 177 km/h | Vivid black, wicked red and denim |
| Harley Davidson Fat Boy 114 | Rs. 20.90 Lakh | 25.7 kmpl on highways. | 175 km/h | Deadwood green, black jack metallic, vivid black, two-tone gray metallic, and vivid black |
| Harley Davidson Fat Bob | Rs. 16.75 Lakh | 15 to 20.27 km/l | 175km/h | Deadwood green denim, vivid black, and billiard red |
| Harley Davidson Pan America 1250 | Rs. 16.90 – 19.99 Lakh | 18 Km/l | 200km/h | Gauntlet gray metallic, vivid black, Baja orange wash white pearl, and deadwood green |
Key Inclusions Of Harley Davidson Bike Insurance Plans
When you purchase bike insurance for your Harley Davidson, you get protection from expenditure when your vehicle is involved in an accident. These are the inclusions in your plan:
You are safeguarded against calamities by nature like flooding, cyclones, storms, and earthquakes that result in damage to your vehicle.

Bike insurance protects your bike when impairment is done due to fire, thievery, riots, and vandalism.

Not just during disasters, bike insurance provides the mandatory third-party liability cover, which pays the costs for damages, or any injury incurred by the third party due to an accident caused by your vehicle.

It entitles you to avail of discounts such as an NCB or No Claim Bonus and zero depreciation, reducing the subsequent premiums.

It makes the claim procedure easy and prompt and available round-the-clock
Harley Davidson Insurance Plan Comes With Certain Exclusions
When you purchase a bike insurance plan, there is no protective cover for:
Accident damages caused by speeding and breach of traffic regulations.
Riding another person's bike especially by a minor
Not possessing a legitimate driving license
Absence of the mandatory protective helmet
Trespassing across the geographical boundaries of India
Driving in an intoxicated state
 Damage resulting from wearing of bike components due to normal use of the bike over a period, and poor maintenance
The mechanical and electrical fault of any part of the bike
The Insurance policy will not shield against losses incurred in riots, terrorism, war, or being subjected to radioactive or nuclear emissions.
Use of the bike for commercial purposes without the knowledge of the insurance provider results in forfeiting the insurance privilege.
There is no protection after the expiry of the insurance policy.
Get all-around protection for your bike with these set of add-ons that are available when you purchase comprehensive insurance.
Zero Depreciation – Safeguards against deduction in the claim amount expected due to wear and tear of the vehicle parts over time.
Roadside Assistance – This add-on provides support in case of a sudden bike breakdown. It takes care of matters such as towing to a workshop, battery jump-start, tire damage, etc.
Lost or damaged key replacement: During such a situation, the insurer covers you with a spare key promptly.
 Engine Protection – Cover for the repair of the vehicle's engine against severe damages particularly water ingression. This add-on is highly recommended in flood-prone regions.
Consumables Protection – Cover for indemnifying the price of usable parts such as screws, washers, brake oil, grease, etc.
Passenger Assistance – Is for the safety of the pillion rider in case of an accident resulting in disability or death.
Daily Allowance – The insurance provides a daily allowance to the insured for the period that the motorbike is in the workshop for repairs.
NCB – You can claim a No Claim Bonus for previous years even if a claim has been filed for the current policy year.
Return to Invoice Safeguard – With this cover, you get compensation for the original invoice price of the bike in case of total wreckage or theft.
Categories Of Insurance Policies For Harley-Davidson Two Wheeler
Third-party liability only bike insurance: This is compulsory according to the New Motor Vehicles Act, 1988, this basic plan caters only to problems occurring due to death or injury to a third party or damage to their property as a consequence of a collision with your bike. Damage to your own bike is not safeguarded.
Comprehensive bike insurance: This optional plan comprises a mandatory third-party cover and also insures your own vehicle against natural and manmade disasters. It entitles the policyholder to get extra protection for the bike with add-ons.
The Comparison Of Both Plans At A Glance
Third-party liability only bike insurance
Comprehensive/standard bike insurance

 Compulsory under the Motor Vehicles Act, 1988

Shields you against injury/harm caused by your bike to the third-party vehicle driver or property

This plan does not bear the financial burden for any impairment of your own bike

Does not offer personal accident cover for the rider in case of an accident

Provides limited coverage so the premium is lower

Not compulsory but strongly recommended

Your bike will be protected against manmade and natural calamities

Provides own mishap cover for the owner or rider in an accident

Includes third-party liability protection

A wide range of add-ons available

Premium is higher due to add-ons and all-round protection
Need Of Bike Insurance For Your Harley Davidson
Under the Motor Vehicles Act of 1988, every two-wheeler on the road must necessarily be insured. Anyone discovered riding a bike without valid two-wheeler insurance is likely to bear a fine of Rs. 2,000 and in extreme situations go into lock up for three months.
The Government of India has taken this stringent decision because quite a high percentage of two-wheeler owners do not possess legitimate insurance, or they drive around with a policy that has expired. And the poor state of roads and the state of driving amplifies the likelihood of accidents that can cause severe harm to vehicles and cause injury and even death of the victims. The load of unexpected costs can be staggering. These issues can be promptly dealt with if the vehicle is insured. Circumstances are erratic and for this reason, one needs to have a bike insurance policy.
Importance Of Comparing Bike Insurance Online
You are very particular about market surveys when you intend to invest in a new bike. Naturally, you do not want to regret making the wrong choice. Similarly, you must be attentive when you buy a bike insurance policy, checking all the pros and cons and options and then selecting the policy that suits you the best. This ensures you don't have any regrets in the long run. Hence, a prospective policy buyer must check and compare bike insurance plans and policies before purchasing the right one.
Some features worthy of comparison between insurers are:
Preview dependability and steadfastness of the organization
A thorough study of the terms and conditions
Discounts
Claim process
Affordable premiums
Why You Should Purchase Your Harley Davidson Insurance Policy Through Probus?
Buying a bike insurance policy may be an intimidating experience. As a buyer, you may find it difficult to understand the finer points and the terms and conditions of different plans. The fear of ending up buying an unsuitable plan which may not give you value for the hefty premium you pay lurks in your mind. And so, what you need is a reliable and informed guide to give you wise suggestions and sound advice at every step of your bike insurance policy journey. Probus has a dependable, trustworthy, and professional team that provides the best assistance from start to finish.
Assistance in the selection of the best insurance plan for you 
The Probus team of experts is always ready to offer absolutely free and up-to-date, balanced estimation and advice to clarify doubts of prospective customers and help them to purchase a policy
The Probus Claims Support Team (IRDA certified) offers clients assistance with claims
Probus offers valuable information on discounts and tips on how to save on premiums
The Probus online insurance premium calculator is absolutely free and user-friendly for comparing insurance plans.
Probus sends timely reminders to its registered clients for policy renewals, discount offers, etc.
Probus is conscious about guarding customer privacy and judiciously ensures impenetrable security.
Probus Offers Assistance To Renew Your Harley Davidson Bike Insurance Policy
It is important to renew your Harley Davidson bike insurance well on time to get the paramount renewal discounts and benefits. Probus makes sure that its clients are given every advantage. No more anxiety over forgotten policy renewal dates, tedious paperwork and even recovery of an expired policy within the stipulated grace period
It takes just a few minutes to renew your bike Insurance policy online on the Probus portal. Here's what you have to do:
Visit the Probus website
Select 'renew' then 'motor insurance policy'
Create any changes in your personal data or policy details as required
Pay online premium through a secure gateway
Your policy is renewed right away, and a soft copy is sent within seconds to your registered email address where it remains safe.
Premium Calculation For Your Harley Davidson Bike
A premium calculator is an online tool that's straightforwardly available to potential insurance policy buyers. On providing details of the bike make, variant, city, and year of registration and selecting wanted IDV and added extras, the calculator shows the intended premium on the screen within seconds. This is useful to the buyer in selecting a suitable bike insurance plan.
| | | | | | | |
| --- | --- | --- | --- | --- | --- | --- |
| Model and variant | Ex-showroom price (approx.) | CC | City/pin code | Date of registration | IDV(Rs) | Yearly Premium without taxes (Rs) |
| Harley Davidson Iron 883 | Rs. 10.11 Lakh | 883cc | Delhi | 2020 | 380649 | 4649 |
| Harley Davidson Forty Eight | Rs. 11.75 Lakh | 1202cc | Delhi | 2020 | 588200 | 8289 |
| Harley Davidson Fat Boy 114 | Rs. 20.90 Lakh | 1450cc | Delhi | 2020 | 1019320 | 12449 |
| Harley Davidson Fat Boy FLFB | Rs. 16.75 Lakh | 1745cc | Delhi | 2021 | 1016643 | 18399 |
| Harley Davidson Pan America 1250 | Rs. 16.90 – 19.99 Lakh | 1252cc | Delhi | 2021 | 1,149,200 | 9497 |
*Disclaimer: The insurer used for this calculation is HDFC Ergo Two-Wheeler Insurance. The place of registration used to calculate these premiums is New Delhi, the year of purchase used is and the own damage cover is for 1 year and the third party cover is for five years. Based on your specifics, the rates may vary.
Frequently Asked Questions
Most frequent questions and answers about Harley Davidson two wheeler insurance