Renew in just 5 mins.
No Inspection.
No Paper Work
* Subject To Underwriting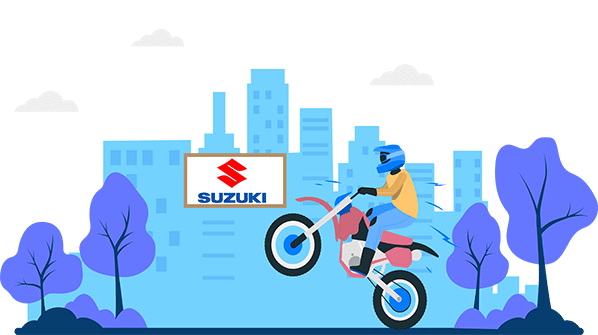 Compare

Bike Insurance Plans
Suzuki is a Japanese company with a global reach and has its headquarters in Hamamatsu, Japan. While the brand is well-known for its bikes, the company also manufactures four-wheelers, ATVs, engines, and outboard motors for marine engines. The company has over 10 subsidiaries. 
The Indian subsidiary of the company is Maruti Suzuki. The Government of India established this corporation in 1981. Today, Maruti Suzuki is one of the leaders in the automobile market. Apart from Suzuki's hold on the passenger car market, the company is also known for producing some exceptional bike models under Suzuki Motorcycle India Pvt Ltd.
A Quick Look At The Maruti Suzuki Brand
| | |
| --- | --- |
| Entered Indian market in | 1981 |
| Maruti Suzuki Products | Trucks, commercial vehicles, automobiles, automotive parts |
| Suzuki Motorcycle founded in | 2006 |
| Manufacturing plant | Gurugram, Haryana, India |
| No, of Employees | 3000 |
| Annual capacity | 5,40,000 units |
| Suzuki Motorcycle products | Motorcycles, scooters, sports bikes, ATVs |
Top 5 Best Selling Bikes of Suzuki
Suzuki has been in the bike market for a while. Here are their top 5 performing bikes in the current Indian market:
Suzuki Hayabusa – The Hayabusa has always been a status symbol for bike lovers. That's why the model has done immensely well over the years and continues to entice those with an adventurous spirit.
Suzuki Gixxer – The Gixxer has a unique oil cooling system, which makes it a stylish bike without the usual cooling systems in place. The sleek and sharp design makes it attractive to the everyday bike enthusiast.
Suzuki Intruder – Affordable yet stylish, the Intruder is a cruiser-style motorcycle. It's got the looks and power, which makes it a sought-after option.
Suzuki V-Storm – The perfect bike for an impromptu road trip, the V-Storm holds its own against other models in the market. The adjustable windscreen, dual disc brakes in the front, and overall cool design are why the model performs well.
Suzuki RM-Z250 – This unique model from Suzuki is lightweight but just as powerful. Popular with motocross racers, this is a bike perfect for off-road adventures.
Suzuki Bike Insurance Policy: Inclusions And Exclusions
A bike proves to be an easy way of commuting from point A to point B. And with the number of vehicles increasing on the road, the chances of getting into an accident increase as well. In case of such an unfortunate event, or in the event of an earthquake or man-made disaster, you and your bike need to be safe. Hence, you need a bike insurance policy.
Inclusions
If you think insurance sounds complicated, here's a simplified approach. The following aspects are covered under a good Suzuki bike insurance policy: 
Any damage caused due to natural calamities such as a landslide, earthquake, flood, etc., is covered under the policy. 
Damage caused by your bike to a third person, or some property is also covered under your bike insurance policy. 
If you need to repair or even replace a part of your bike, an insurance policy will help you do that without burning a hole in your pocket. 
If you get injured during an accident while on your bike, or if the pillion rider is injured, a bike insurance policy offers financial assistance for the resulting hospital expenses. 
Exclusions
However, the other side of the coin includes the following events that are not covered under your Suzuki Bike Insurance policy: 
 If you are driving after drinking, and an accident occurs, your policy will not cover the resulting damages. 
If you ride without an insurance policy or with a lapsed insurance policy, the damages will not be covered by your insurance policy.
If you drive your bike without a valid license and get into an accident, the insurance policy will not pay for the damages. 
Damage caused due to war is not covered by the policy. 
Damage caused due to everyday use of the bike is not covered by the policy.
Add-Ons To Make Your Suzuki Bike Insurance Policy Better
Zero Depreciation: An automobile depreciates in value due to regular wear and tear. With this particular add-on, you are guaranteed to get full value for your bike should you need to file a claim.
Roadside Assistance: If your bike suffers some sort of mechanical failure, this add-on will ensure that you get help right on the road.
Return To Invoice: With this add-on, you get almost the same value for your Suzuki bike as mentioned in your purchase invoice. Now isn't that a great deal?
Third-Party Vs Comprehensive: Which Plan Will Suit Your Needs?
When purchasing your Suzuki Bike Insurance plan, the first and foremost choice will be between the type of insurance policy. Is it a third party or is it comprehensive for your bike? The decision will depend on a lot of factors. Here is a summary of what both policies cover. 
Third-party bike insurance: Under this type of Suzuki bike insurance policy, you are safe in case of an accident or collision that results in damage to a third person or property. This is the most basic type of insurance you need to safely operate your bike on the road. 
Comprehensive bike insurance: Comprehensive bike insurance will require a little extra research. This particular insurance plan allows you to opt-in for more coverage. An average comprehensive plan will cover damage due to accidents, fire, natural disasters, along with third-party liability. You can also choose to have certain add-ons to make your policy work better for you and your Suzuki bike.
Reasons Why You Need Suzuki Bike Insurance
Everyone with a Suzuki Bike needs an iron-clad Suzuki bike insurance policy. Firstly, you are protecting yourself in case of an accident. Secondly, you are protecting your bike, which is one of the biggest financial investments you will make in your life. 
If you are still not convinced, consider this: The insurance purchase process is now cashless, comes with round the clock online support, and a ton of discounts and benefits. Now, are you ready to purchase your Suzuki bike insurance? 
What You Get When You Compare Bike Insurance Plans Online?
Wouldn't it be simpler to go to an insurance agent's office and get them to explain the different plans to you? Well no. Here's a better alternative. Browse and compare insurance plans online from the comfort of your home, office, or vehicle, or even when you are on vacation. Why online?
Quick and efficient process: The entire process of comparing insurance plans is quick because everything is just a click away. Simply enter details about your bike and every policy available will be listed in front of you.
Cost-efficient process: No extra fees, no hidden fees, just you and the insurance policy. You pay for the policy you are getting and for nothing else. Browsing online is easy on your pocket.
Instant reviews: Gone are the days when you needed to ask everyone in the family about the insurance policy you intend to buy. Now, real people like you leave reviews online about insurance policies. This makes it easy for you to make a decision then and there.
How To Compare Suzuki Bike Insurance Plans Online? 
If you have decided to purchase your Suzuki bike insurance online, begin by checking the types of plans on offer. Choose either third party or comprehensive based on your requirements. Next, review the minor details of the insurance plan you have chosen. Here are some questions you should find answers to – what is covered, what is not, what are the add-ons, etc.
Then, it is time to see the premium you will be paying. If this works for you, make sure to check all available add-ons and see if this policy is the right fit for you. 
Head To Probus Your First Choice To Buy Suzuki Bike Insurance
Why make Probus your leading option, here's why:
2 x 7 help: Come what may, the team will help you find the right insurance policy for your bike, renew it, or just answer any question you might have about your insurance plan.
Effortless claims assistance: Claims can be daunting. The team will help you navigate the process and make it easy and quick for you.
Renew immediately: Renewing your Suzuki bike insurance policy on the portal is easy because you can do it within minutes.
Secure payment: All your information is secure. The online payment gateways are protected to make sure customers feel safe while entering their details.
How To Renew Your Suzuki Bike Insurance Plan On Probus?
Renewing your Suzuki bike insurance policy on Probus is easy. Follow these simple steps and you will be done in no time: 
Step 1: Head to the Probus website and choose policy renewal
Step 2: Enter details about your previous policy, your bike, etc.
Step 3: Check the insurance plan in front of you to make sure it is right. 
Step 4: Claim discounts if you are eligible.
Step 5: Make the payment online via our secure portal.
Step 6: Your policy is in your inbox
Suzuki Two Wheeler Insurance Price (Smaple Premium)
| | | | | |
| --- | --- | --- | --- | --- |
| Suzuki Models | Third party  | Comprehensive  | Idv | Ex showroom price  |
| Suzuki Hayabusa 1340 CC | Rs. 13,568 | Rs. 23,002 | Rs.7,95,445 | Rs.11,36,350 |
| Suzuki Gixxer SF 155 cc | Rs.2,522 | Rs.3,380 | Rs.53,830 | Rs.76,900 |
| Suzuki Intruder ABS 150 CC | Rs.2,150 | Rs.3,147 | Rs.65,867 | Rs.94,095 |
| Suzuki V-Storm 1000 1037 CC | Rs.15,862 | Rs. 27,326 | Rs.9,71,057 | Rs.13,87,225 |
| Suzuki RMX 450Z 449CC | Rs.15,753 | Rs. 22,350 | Rs.5,50,158 | Rs.7,85,940 |
*Disclaimer: The insurer used for this calculation is ICICI Lombard Two-Wheeler Insurance. The year of purchase used is 2018 and the place of registration is Chennai, Tamil Nadu. Based on your specifics, the rates may vary.
Frequently Asked Questions
Most frequent questions and answers about on suzuki bike insurance
Yes, if you have a valid bike insurance policy and you don't want to pay out of pocket, you can file a claim to pay for the damages if they are covered by your insurance policy.
Yes, third party offers basic coverage while comprehensive offers extra coverage and allows add-ons.
Yes, you can get most models insured, however, it is always best to check with your insurance provider.