Renew in just 5 mins.
No Inspection.
No Paper Work
* Subject To Underwriting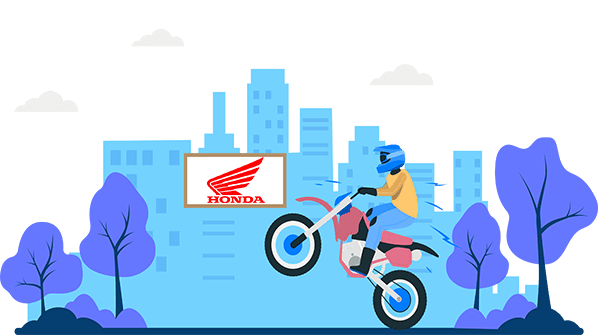 Compare

Bike Insurance Plans
Honda Motorcycle and Scooter India Pvt Ltd is a 100% subsidiary of Honda Motor Company Ltd, Japan, which began operations in India in 2001 at Manesar, Haryana. 
It is one of the youngest and the 2nd largest two-wheeler company in the Indian two-wheeler market, providing high-quality products and services to over 48 million happy Indian customers.
Honda's cheapest bike in India is Honda Dio and the most expensive one is the Honda Gold Wing. India's most popular models are the Activa 6G, Shine, Sp 125, Hornet, Unicorn, etc. Honda also sells high-end motorcycles such as the Hness CB350, CBR650R, and Gold Wing.
Quick Look At Honda Motorcycle And Scooter India Pvt Ltd
| | |
| --- | --- |
| Brand Name | Honda Motorcycle and Scooter India Pvt Ltd |
| Owned By | Honda Motor Co Ltd |
| Head Office (India) | Gurugram, Haryana, India |
| Registered Office | Gurugram, Haryana, India |
| Manufacturing Facility | Manesar, Tapukara, Narsapura, Vithalpur |
| Dealerships | 451 |
| Area Served | India |
| Vehicle Types | Motorcycles, Scooters |
Honda Activa 6G – Honda Activa 6G is powered by a 109.51cc engine that replaces the 5th Gen model with a host of updates, features, and design tweaks such as a Telescopic fork, a larger 12-inch front wheel, etc. This bike is offered in 4 variants – Activa 6G STD, Activa 6G 20th Year Anniversary Edition STD, and the top variant Activa 6G 20th Year Anniversary Edition DLX.
Honda Shine – With a 125cc engine, Honda Shine is the most popular commuter bike in India. With the two split monikers Shine and SP, the Shine caters to the cost-conscious buyers. This bike comes in four colors: Black, Geny Grey Metallic, Athletic Blue Metallic, and Rebel Red Metallic.
Honda Dio – The 110cc Honda Dio is the go-to scooter for young and cool collegegoers. This bike is available in 8 different colors and sports a digital speedometer, odometer, and trip meter. The engine generates a power of 7.76 PS @ 8000 rpm.
Honda SP 125 – The Honda SP 125 is equipped with a punchy and refined 125cc engine, tubeless tires, a digital speedometer and odometer, service due indicator, gear position indicator, combi brake system, and a 5-speed manual transmission.
Honda Hornet 2.0 – The 185cc Honda Hornet comes with a 4 Stroke SI Engine that generates a torque of 16.1 Nm @ 6000 rpm, 5-speed manual transmission, hazard switch, upside-down fork, alloy wheels, and dual disc brakes. A single-channel ABS, digital meters, service due indicator and an X-Shaped LED are some great features in this model.
Coverage Offered By The Best Two-Wheeler Insurance Plans
While the coverage offered by each insurance company may vary slightly, most have some common inclusions.
Natural disasters – floods, storms (thunderstorms, hailstorms, tempest), cyclones/hurricanes/typhoons, earthquakes, landslides, rockslides, etc.
In-transit damage – via air, road, inland waterway, elevator or lift
Malicious acts
Fire
Lightning
Self-ignition
Riots and strikes
Third-party, own-damage, and comprehensive cover – based on the type of policy you purchase
Cover Not Included in Honda Bike Insurance Policy
All insurance providers have some standard exclusions under which they do not settle a claim.
Driving without a valid license – can attract legal action
Breach of contract – e.g. using a private bike for commercial purposes
Driving while intoxicated – alcohol, drugs, and or other intoxicating substances – can attract legal action
Regular wear and tear due to use
Mechanical failure
Electrical failure
Riding the bike while not wearing a helmet
Own-damage expenses for third-party only policies
Top-Up Your Comprehensive Honda Insurance With Exciting Add-Ons
Add-ons, when chosen judiciously, can offer great benefits for your bike insurance policy. These can help you tailor your policy according to your needs.
Different companies offer different add-ons. But some of the common ones include:
Return To Invoice – Insurance companies outline insured declared value for any bike that they cover. This amount is disbursed by the insurance provider in case your bike is irretrievable damaged or stolen. The amount reduces with each year and is calculated based on the depreciating market value of the vehicle. With the return to invoice cover, you can protect the invoice value of your bike, which is what the insurance company will pay.
Roadside Assistance – Misfortune never knocks. You never know when you might get stranded in the middle of the road if your bike breaks down and needs emergency assistance. The roadside assistance add-on lets you access your insurance provider's emergency services. You can avail of the towing, mechanic, or fuel service with this cover.
Key Protection – In case your bike is retrieved after being stolen or you have lost your keys, the keys need to be replaced. This comes at a cost, which the insurance company covers under this add-on.
Zero Depreciation – If, while repairing your Honda bike, some spare parts need to be replaced, then the insurance company pays the depreciated value of the parts and you must cover the rest of the amount. However, with the zero or nil depreciation cover, the insurance company bridges the gap between the total and depreciated amounts.
Cost of Consumables – Any standard policy will not cover the cost of consumable items like engine oil, nuts and bolts, grease, distilled water, lubricant, and other similar items. The cost is usually borne by the policyholder. With the consumable add-on, the cost arising from replacing these items is covered.
Type of Two Wheeler Insurance Plans - Make Your Pick
Just like each person is different, each bike too is different and has varying requirements when it comes to insurance plans. All insurance companies offer the following types of plans that can be customized according to your requirements.
Comprehensive insurance – A comprehensive insurance policy offers protection against third-party liability and covers the cost of damage to the policyholder's bike. Comprehensive policies are great for those who wish to protect their two-wheelers from all risks.
Standalone own-damage cover – If you're already covered by a third-party liability policy and wish to extend your policy coverage, then you can go for a standalone own-damage cover. This plan covers the cost of damage to the policyholder's two-wheeler. So, if your bike has sustained damage and needs to be repaired, or is stolen, then this plan covers the costs.
Third-party liability-only policy – The Indian Motor Vehicle Act of 1988 makes it mandatory for all types of vehicles that use Indian roads to be protected by a third-party liability policy. If you're looking for the most basic of covers, then a third-party liability plan is best for you. This cover protects you from legal liability that may be brought upon when a third person, vehicle, or property is involved in a claim.
Difference Between Third-Party Liability Cover And Comprehensive Policy
The major differences between a comprehensive policy and a third-party liability cover are –
| | | |
| --- | --- | --- |
|   | Comprehensive Cover | Third-Party Liability Only |
| Benefits | Covers cost of damage to one's own vehicle plus protects the policyholder against legal liability against third-party involvement | Covers liability when a third party – person, vehicle, or property – is involved in a claim |
| Advantages | If policyholder's bike sustains damage, repair costs are covered as per policy agreement; financial liability arising from the involvement of a third party is covered; can be customized with add-ons | Covers financial liability towards a third party during a claim; covers owner-driver/policyholder against personal accident |
| Drawbacks | The amount of premium charged is higher | Cannot select add-ons; damage to policyholder's vehicle is not covered |
| Compulsory | No | Yes |
Why Buy Two Wheeler Insurance For Honda Bike?
Getting insurance for your Honda bike has several benefits and the best way to take advantage of it is to make sure that your bike is consistently covered.
By purchasing a bike insurance policy, you follow the letter of the law. The Indian Motor Vehicles Act makes it compulsory for your vehicle to be covered by at least a third-party liability policy.
Insurance companies have tie-ups with garages. When you purchase a certain company's policy, you get access to their network garages where you can avail of the cashless claims facility.
Network garages also ensure that high-quality and genuine parts are used in case any of your bike's parts need to be replaced.
Having a two-wheeler insurance policy protects you from costs that you may incur if your bike is damaged, and it covers your financial liability when a third party is involved in the claim.
At a time of emergency that involves your bike, you can get instant support and assistance from your insurance provider.
In this digital age, you can swiftly purchase your bike insurance policy online without hassle.
You can also take advantage of the insurance company's seamless claims process that has now become easier than ever.
Honda Bike Insurance – Why Should You Make A Comparison Online?
With the world entering the digital era, you're connected now more than ever. With information just a click away, getting the best price for your bike insurance policy is simple and quick. No more wandering from office to office for an insurance quote and then manually comparing them. By going online, you can:
Check out policies offered by multiple insurance companies
Compare details of the policy like inclusions, and exclusions
Compare coverage under different types of plans
Compare add-ons and their scope.
Easily get quotes from different insurance providers.
Compare quotes from the comfort of your home.
Get quick access to customer reviews in an instant.
Ready For A Purchase? Get Your Honda Bike Insurance Policy On Probus
Probus is dedicated to helping you get the best deal for your bike insurance needs. With Probus, you can take advantage of all the benefits it has to offer.
Easily check out policy terms lined out by different insurance companies.
Compare what is included and what is not.
In just a few clicks, receive quotes from various providers.
Compare quotes from different insurance companies to choose the best plan.
A host of add-ons to choose from.
Receive a copy of the policy document as soon as you pay the premium.
Buy and renew your policy online without any hassle
Take advantage of expert guidance with Probus while filing a claim
Quickly get in touch with Probus's customer care executives to answer any doubts and queries
Renew Your Honda Bike Insurance Policy On Probus In 6 Quick And Easy Steps
Probus makes it quick and easy for you to renew your existing or expired bike insurance policy.
Visit the Probus website
Click on renewal, then motor insurance policy, and select the insurer
Fill in your details and the details of your bike and previous policy.
Choose the type of plan you wish to renew and select any add-ons that you may want based on your requirement.
Receive quotes for your premium. Compare the quotes to decide which policy you would like to purchase.
Pay the premium amount and get the policy document in your email inbox.
Have Issues? Probus's Dedicated Claims-Filing Team Can Guide You
Claims can be tedious and confusing, especially if it's your first time. Having a team to guide you through the process can be extremely beneficial. With claims filing team, you get:
Counsel on the steps to filing an insurance claim
Guidance on the documents you need to file a claim
Guidance on whether you need to file an FIR
Directions to where the claim documents need to be sent
Counsel on the amount of time required for disbursal
Help with grievances faced while filing the claim
Answers to all your questions related to filing a claim
Factors That Affect Two wheeler Insurance Premium
A premium is an important step to getting your policy. It is the amount that you pay for a binding contract between you and the insurance provider. Each company will charge a different amount to each bike owner based on a number of factors. These include:
Make, model, and the variant of the bike
Fuel type
Age of the bike – registration date
Place where the bike was register
Your age
The area where you live
Whether or not you have filed a claim during your previous policy tenures
Anti-theft devices installed on the bike
The insured declared value of your bike
The type of cover you have chosen – comprehensive, own-damage, or third-party liability only
Add-ons
Sample Insurance Price For Honda Two Wheeler Models
Here are a few examples of the premium amount that you can expect for your Honda bike.
| | | | |
| --- | --- | --- | --- |
| Type | Variant | IDV | Estimated Premium |
| HONDA ACTIVA | 6G DLX SPECIAL EDITION | INR 62103 | INR 5005 |
| HONDA CB UNICORN DAZZLER | DLX | INR 62640 | INR 5011 |
| HONDA CBF STUNNER | SELF DISC ALLOY | INR 52302 | INR 4888 |
| HONDA AVIATOR | DLX 110 CC | INR 52753 | INR 4893 |
| HONDA CBR 150 R | DLX | INR 113595 | INR 5615 |
| HONDA CB SHINE | SELF DISC CBS LIMITED EDITION | INR 58808 | INR 4966 |

*Disclaimer: The insurer used for this calculation is Bajaj Finserv Two-Wheeler Insurance. The place of registration used to calculate these premiums is Vadodara and the year of registration is 2021. Based on your specifics, the rates may vary.
Frequently Asked Questions
Most frequent questions and answers about Honda two wheeler insurance