Renew in just 5 mins.
No Inspection.
No Paper Work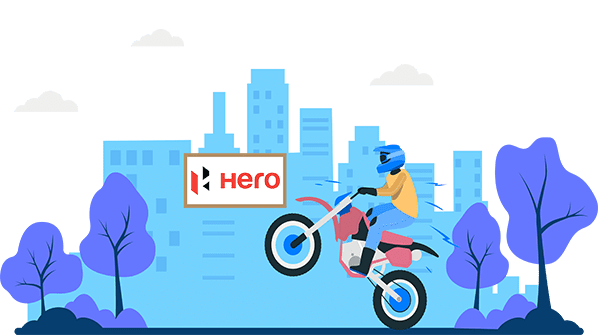 One of the largest two-wheeler manufacturers in the whole world is Honda. It was founded in the year 1999 and since then, it has managed to win the heart of people with their great service. Though it is one of the youngest two-wheeler companies, the high-quality engine, efficient tires and other features make it people's first choice. The amazing features of Honda are offered at a decent price which makes it even for attractive and approachable to the buyers. Honda makes all types of two-wheelers like bikes and scooters. Presently, there are about 768 dealers with about 1000 branches and 900 service centers of Honda present in India.
Bike Models by Honda Bikes
Motorcycles
Honda motorcycles are famous among the people due to their powerful engine that gives longtime service within a low budget. There are many motorcycles brought by Honda such as CBR 250R, X BLADE, CB Hornet 160R, CBO Unicorn160, CB Unicorn150, CB Shine SP, CB Shine, Livo, Dream Neo and CD110 Dream. Among these CBR 250R has 249.60cc and the engines in other models range from 109.19cc to 162.71cc.
Scooter
Honda scooters are lightweight and easy to handle. Some of them have a fan-cooled engine and some have an air-cooled engine in them. The Honda scooters Activa 5, GRAZIA, Dio, Aviator, Activa i, Activa 125 and Cliq are so effective and stylish that anybody will surely fall for them.
Super Bikes
Honda Super Bikes are really superbly efficient bikes that are perfect for long tours and racing on long roads. It will give your great performance with amazing comfort no matter how the condition of the road is. The models in this series are CB300R, CBR650R, CB1000R, CBR1000RR, Africa Twin and GOLD WING.
NAVI
NAVI is the new model from Honda with fan cooled and 4 stroke SI engine with an engine capacity of 109.19cc.
Honda Bike Insurance FAQs
Most frequent questions and answers about Honda Bike
1. Is it required to get my vehicle inspected after my Honda two-wheeler insurance expires?
No, it is not necessary to get your Honda bike inspected if your bike insurance expires. You can easily renew your insurance without any bike inspection.
2. Will I get NCB if I buy one second-hand Honda bike?
No. No-Claim Bonus is applicable only for the owner-driver of the insured Honda bike. If the first owner is provided with No-Claim Bonus in this insurance, the second owner will not get the NCB as the NCB is for the owner, not the bike.
3. Will an online insurance plan will be safe for a Honda bike?
Yes, the online policy is as valid and safe as the offline one. When you buy online insurance, you are provided with the following advantages-
Free and easy to use the platform to make a comparison of the quotes and the coverage choices
A forever-ready customer care team to help with any problem and queries
Fast and trustworthy service
Quick services on the claims and claim related matters
4. Which insurance plan is the better- one-year plan or long-term plan?
The multiple-year insurance plan will be more beneficial than a single year plan because of a few reasons-
No need to get tensed thinking of the yearly renewal process.
Keeps the insured secure from the non-renewable risks.
The owner can get around 20% to 40% discount on the premium and also on the third-party insulation premium
If someone gets 25% No-Claim Bonus, this is applicable on all the premium of 3 years. But if you go for a single year bike insurance plan, the 25% No-Claim Bonus is applicable only on one claim.
5. How comprehensive bike insurance and third-party insurance are different from each other?
The third-party insurance provides coverage only on the damages caused to a third person or property because of the insured Honda bike.
But the comprehensive bike insurance provides coverage on the damage or harm caused to the owner's bike and also to the third person or property. This plan is the best choice if you want coverage on damages caused by natural calamities or incidents like theft.