Renew in just 5 mins.
No Inspection.
No Paper Work
* Subject To Underwriting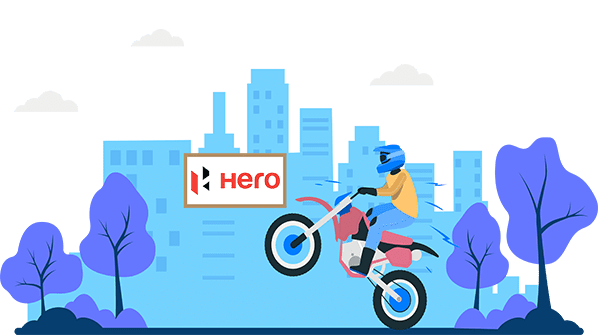 Compare

Bike Insurance Plans
Hero MotoCorp, formerly known as Hero Honda, is a global leader in the design and development of technologically innovative two-wheelers for its consumers worldwide. Headquartered in Delhi, the company owns one of the largest two-wheeler markets as it has a little less than half of the total market share in the domestic motorcycle market. With millions of delighted clients across Asia, Africa, and South and Central America, it has established a strong foothold in these regions while catering to the customers of different segments. 
Hero MotoCorp now has 11 two-wheeler models in its portfolio, including the Hero Splendor Plus, Hero Passion Pro, Hero XPulse 200, Hero Xtreme 160R, Hero Destiny 125, and others, with the Hero XPulse 200 being the most expensive at roughly Rs. 1.55 lakh (depending on the city). When purchasing a new Hero bike, you must not forget to purchase the right two-wheeler insurance plan. According to the Motor Vehicles Act of 1988, getting a basic bike insurance plan is not only required to ride a bike on Indian roads, but it also provides adequate coverage in the event of an accident.
Top 5 Bike Models of Hero Bike
Here's the list of the top 5 hero bike models. Let's discuss them in detail!
1. XTREME 200S: The Xtreme 200S is an improved version of the Hero 200R, which was the company's first premium 200cc motorcycle. The Xtreme 200S features a completely computerized console with Bluetooth connectivity. The Xtreme 200S boasts a dynamic look with lines cut to capture attention and is powered by a 200cc single-cylinder air-cooled engine. It sports 276mm front disc brakes for greater on-road traction and handling. The bike will cost you over a lakh rupee.
2. XTREME 160R BS6: The Hero Xtreme 160R is equipped with a 160cc BS6 engine that produces 15 horsepower and 14 Nm of torque, offering a powerful pick up that vows to turn heads around. The Hero Xtreme 160R has anti-lock brakes on both the front disc and rear drum brakes. The gasoline tank size on this Xtreme 160R bike is 12 gallons and it weighs 138.5 kg. A radical-looking headlamp, a massive fuel tank, and an elongated and sporty-looking tail section are all part of the motorcycle's distinctive appearance.
3. XPULSE 200T: Just like its off-road-spec counterpart, the XPulse 200, this expertly designed Hero XPulse 200T BS6 has an oil-cooled engine rather than an air-cooled unit like its predecessor. The motorcycle is equipped with an LED headlamp and a Bluetooth-enabled instrument cluster with turn-by-turn navigation, and the aesthetics that make it a masterpiece in its segment. For comparison, the BS4 version produced slightly more power (18.1bhp at 8,000rpm and 17.1Nm at 6,500rpm). 
4. XPULSE 200 4V: The Hero XPulse 200 4V, an exceptionally designed bike from Hero MotoCorp, introduces four-valve technology to the entry-level adventure motorcycle, including a handful of other improvements. The four-valve head on the 199.6 cc oil-cooled single-cylinder engine produces a mindblowing18.8 horsepower at 8,500 rpm and 17.35 Nm of peak torque at 6,500 rpm. The two-valve version of the same engine, on the other hand, produced 17.8 bhp and 16.45 Nm of peak torque.
5. XPULSE 200 BS6: The bike is backed by a BS6-compliant 199.6cc fuel-injected air/oil-cooled engine that produces 18.08PS at 8500rpm and 16.45Nm at 6500rpm, allowing the rider to superior riding comfort while enjoying speed at its best. This is a 0.3PS and 0.65Nm decrease over the BS4 model. It is still equipped with a 5-speed transmission. The same 37mm telescopic forks and an adjustable rear monoshock are used as foundations. The bike has big petal discs that measure 276mm in front and 220mm at the back, giving you maximum control on the road.
Hero Two Wheeler Insurance Sample Premiums
Following are the premium values of 4 Hero bikes that the customers have to pay on buying two-wheeler insurance against them.
| | | | |
| --- | --- | --- | --- |
| Name of the Bike Model | Year of Registration | IDV (Insured Declared Value) | Estimated Bike Insurance Premium Per Year |
| XPulse 200 T | 2021 | Rs. 60,800 | Rs. 327 |
| XTREME 200S | 2020 | Rs. 57,267 | Rs. 822 |
| CBZ- Xtreme (Electric Start) | 2021 | Rs. 41,182 | Rs. 211 |
| GLAMOUR – I3S Electric Start Disc Brake Cast Wheels (125 CC) | 2018 | Rs. 28,656 | Rs. 796 |
Benefits of Buying Insurance for your Hero Bikes
Here's the list of the reasons to buy insurance for your bike:
1. Insured Bike damage -There's no denying that repairing and maintaining a motorcycle after a mishap is an expensive chore that might drain your bank to an unprecedented scale. If your covered bike is partially damaged in an accident, you can expect to be reimbursed for your repair costs. You can claim the vehicle's Insured Declared Value (IDV) if it has been damaged beyond repair. The scenario could only be feasible if your vehicle is covered under a comprehensive insurance plan. 
2. Rider's Injuries – A complete insurance coverage will cover the medical expenditures of a two-wheeler rider who is injured in an accident. As a result, comprehensive coverage acts as a financial safety that would offer you maximum protection in case of unforeseeable calamities.
3. Apply for Financial Aid to Repair Your Own Bike Damages –If you get comprehensive Hero bike insurance coverage, you can receive financial assistance to cover damages to your bike caused by accidents or road incidents. These policies cover both third-party and personal harm. For those who don't know, the comprehensive insurance policy would cover the damage caused by loss, thefts, natural disasters, explosions, fire, and other possible events in case of accidents. 
4. Disability or Death – If the driver suffers a temporary or permanent disability as a result of an accident, then the insurance policy would offer complete protection to him/her. One of the biggest reasons to consider the insurance plan is that it can even cover the death of the biker. In such cases, the medical costs are typically considered and when the policy offers financial help might bring some relief to the unfortunate's dependents.
5. Third-Party Liability – Since the two-wheeler insurance plan protects third parties against property loss, choosing one is incredibly important. It also provides coverage for third-party injuries or even death.
What Are The Types of Two-wheeler Coverages For Hero Bikes?
Here are the two types of coverage under Hero two-wheeler insurance:
1. Comprehensive two-wheeler insurance:
As the title implies, this policy provides full 360-degree coverage for not only your bike but also you and any third-party concerns. This kind of insurance policy can be defined as the insurance plan that covers own-damage coverage for the insured bike, personal accident coverage, third-party liability, and other expenses to the driver. Furthermore, by supplying a list of unique add-ons with your insurance, you can acquire customized coverage against certain circumstances. Zero Depreciation Coverage, Roadside Service Coverage, and other popular add-ons are available.
2. Third-party two-wheeler insurance
The Motor Vehicles Act of India mandates that a motorcycle be insured for any liability that may emerge as a result of any losses incurred by external parties as a result of an accident caused by the insured motorcycle. Third-party bike insurance is the common name for this type of policy. Any injury or death to the third party or any potential damage to the vehicle of the third party would be covered under the insurance plan if the insured bike causes an accident.
What's Included and Excluded in Hero's Two Wheeler Insurance?
Let's discuss the inclusions and exclusions of the Hero bike insurance policy:
1. Legal Third-Party Liability: This coverage covers any physical injury to a third party that occurs as a result of an accident. Even if the accident causes damage to third-party property, it is covered by a comprehensive insurance policy.
2. Man-Made & Natural Calamity: This covers damage caused by man-made events including crashes, strikes, and other hostile acts. In fact, some insurers include it as part of the damage done to the motorcycle during transit, whether it's by air, water, or food. Fires, frost, cyclones, storms, earthquakes, and lightning are among the natural disasters described.
Regular wear and tear
The vehicle's general wear and tear
Depreciation
Consequential loss
Mechanical failure
Failure of the electrical system
Tread and tube damage (unless the vehicle is damaged)
Vehicles that aren't being used are in line with the rules of the road.
Damage caused by someone operating a vehicle without a valid driver's license.
Damage caused by a driver who is under the influence of drugs or alcohol.
Loss/damage as a result of war, rebellion, or nuclear threat
What are the Additional Covers Included in Hero Two wheeler Insurance?
Most of the insurance companies offer multiple add-ons under Hero Two-wheeler insurance. Some of the popular ones are given below.
1. Zero Depreciation Cover
Depreciation is a real phenomenon that occurs as time passes. The burden of responsibility of absorbing the cost of depreciation caused by a two-wheeler falls on the vehicle's owner by choice. A zero-depreciation policy relieves you of the burden of paying your vehicle's depreciation expenses, allowing you to claim a larger amount. Most insurers limit policyholders to two zero depreciation claims per policy year; however, certain insurers, enable policyholders to make unlimited zero depreciation claims.
2. Consumables Cover
Add-on Cover for Consumables in a Two-Wheeler Insurance covers all of a bike's consumables, including grease, screw, lubricants, bearings, filtration system, oil filter, brake oil, nut and bolt, and other items that aren't generally covered by a standard own-damage policy.
3. Roadside Assistance Cover
When you get trapped in the middle of a road or highway due to a technical breakdown or glitch in your two-wheeler, roadside help is included in your bike insurance policy. The optional cover covers you in the event of a flat tyre, battery drain, fuel delivery, towing, and on-site minor repairs, among other things.
4. Passenger Assistance Cover
The Passenger Cover add-on protects the pillion rider there too, which is something that standard health insurance plans don't often provide. It compensates the co-passenger in the event that the pillion rider is injured or killed in an accident.
5. Engine Safe Cover
This ad-on cover efficiently safeguards the policyholder/insured monetarily in the situation of a damaged engine or parts that need to be fixed. This engine protection plan is a must-have if you're residing in a flood-prone zone.
How Can You Buy Hero Two Wheeler Insurance?
Go to Probus' home page and click on the "2-Wheeler insurance".
You will then be directed to the "Compare Bike Insurance Plans" from wherein you need to enter your vehicle registration number.
After that, you will need to fill in all required information, and then select "Compare Quotes".
Finally, you will then get a list of insurance amount options.
Simply click on the one that suits your needs and budget. Then, make the payment online.
All the insurance information will be mailed to your registered address.
Offline Method
If you prefer to purchase the policy in person, you can contact Probus Insurance for assistance. Their experts will guide you through the steps and offer the best insurance coverage for your bike.
How To Get Claim Against Your Hero Two Wheeler Policy?
Are you concerned about filing a Hero bike insurance claim? Following these simple steps will make the process go hassle-free. Let's discuss them!
1. Get in touch with your two-wheeler insurance provider.
Make contact with your insurance carrier as soon as possible to file a claim. Failure to do so may cause issues in the claim procedure!
2. File a Police Report
You should register an FIR with the nearest police station if your two-wheeler has been stolen or has been involved in a major accident. It expedites the approval of your claim and is a requirement for starting the claim settlement procedure!
3. Damage Evaluation
In the event of an accident or accidental damage, you should get the damage assessed by an expert at a garage as soon as possible, preferably one authorized by your insurance carrier. You will be entitled to cashless perks at the garage as a result of this.
Settling Claim via Reimbursement
To begin the claim process, pay the service center. To ensure a speedy, painless, and streamlined claim settlement, fill out the necessary forms and send the essential documents.
Documents for Filing a Two Wheeler Insurance Claim
A comprehensive policy not only protects the third party financially from unintentional damage, injury, and death caused by the insured two-wheeler, but it also safeguards the insured bike. The following are the documents you will need to submit to complete your claim quickly and easily:
A completed and signed claim form
A copy of the vehicle's current registration certificate (R.C.)
A copy of a current driver's license (D.L)
A copy of the policy's first two pages
FIR for unintentional damage
The original repair bill, payment receipt, and evidence of release are all required.
Frequently Asked Questions
Most frequent questions and answers about Hero Bikes insurance