Renew in just 5 mins.
No Inspection.
No Paper Work
* Subject To Underwriting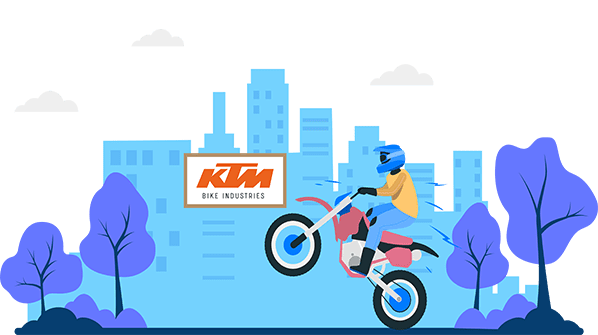 Compare

Bike Insurance Plans
A company whose roots date back as early as 1934, KTM AG was officially set up in Mattighofen, a town in Austria in 1992 to combine the utility of motorcycles with spectacular design and features. KTM stands for Kraftfahrzeuge Trunkenpolz Mattighofen. Specializing in off-road motorcycles, KTM has been the largest manufacturer of motorcycles in Europe for four consecutive years between 2012 and 2016. It is by far one of the most successful brands in motorsports.
| | |
| --- | --- |
| Characteristics | Specifications |
| Company Name | KTM Group |
| Headquarters | Mattighofen, Upper Austria, Austria |
| Year of Establishment | 1992 |
| Company Type | Public |
| Parent Company | KTM AG |
| CEO | Stefan Pierer |
| Number of Employees | 2,931+ |
KTM RC 390 – Available in only one color – white, the KTM RC 390 is a sports bike being relaunched by the KTM Group in India in 2021. The bike is powered by a 373cc BS6 engine, developing power of 43.5 ps and a torque of 36Nm. The fuel economy of the sports bike sits at around 28.4 km/liter, while the fuel tank capacity is 9.5 liters.
KTM RC 200 – The KTM RC 200 was launched in 2014 in India. It is available in only one color – black. The sports bike is powered by a 199cc BS6 engine, going up to a speed of 6 on the gearbox. The engine of the KTM RC 200 can develop a power of up to 25 ps and a torque of 19.2Nm. It beats the KTM RC 390 with a mileage of 35 km/liter. The fuel tank capacity is 9.5 liters.
KTM 200 Duke – The KTM 200 Duke was launched in January 2012 in India in three variants – orange, white, and black. This single-cylinder sports bike comes in a 199.5cc power and a four-stroke, spark-ignition liquid-cooled engine. You can take the gearbox up to a speed of 6, and the fuel tank capacity stands at 13.5 liters. The maximum speed of the motorbike is 142 km/hour, and the fuel economy is 35 km/liter.
KTM RC 125 – The KTM RC 125 is a racing motorcycle launched by the KTM group and was used in the 125cc class of Grand Prix motorcycle racing from 2003 to 2011. It comes with an impressive fuel economy of 41 km/liter and a fuel tank capacity of 9.5 liters. There are two variants of the model – one in black and the other in orange.
KTM 390 Duke – Assembled by Bajaj Auto and KTM Asia Motorcycle Manufacturing Inc, the KTM 390 Duke features a 373.2 cc displacement four-stroke, single-cylinder engine. The bike is light as a feather, with a total weight of 139 kgs, which makes it reach a top speed of up to 182 km/ hour. You're sure to have a thrilling ride on the KTM 390 Duke.
What Do The Two Wheeler Insurance Cover For KTM Bike?
Any KTM bike insurance by a good insurance company offers the following inclusions:
A third-party liability policy to indemnify against financial losses towards legal proceedings and/or repairs to a third party and their property because of your KTM motorcycle.
Covering the financial bearings that come along with accidental damages to your insured KTM motorcycle.
In case your insured KTM bike is stolen, the KTM bike insurance will cover that.
Cover for any damages due to natural calamities like earthquakes, storms, etc., to your insured KTM bike.
Covering for any add-ons opted for along with your KTM bike insurance plan.
If your KTM bike insurance policy has expired or is invalid, you will get no coverage.
There is no insurance cover for damages on the KTM bike if any traffic rules were violated during the damage.
There is no insurance cover for damages on the KTM bike if the rider was using the bike without a valid or active driving license during the damages.
The KTM bike insurance does not cover damages incurred if the rider was under the influence of any intoxicants like alcohol, drugs, etc.
For any other situations that are not included in the policy document.
Along with your KTM bike insurance policy, you can opt for the following add-on covers for extra protection:
Zero Depreciation Cover – This insurance cover helps you protect the insured value of your KTM bike by removing the bike's depreciation from the claim settlement amount.
Roadside Assistance Cover – In case of a sudden breakdown, you can call for emergency roadside assistance anytime and anywhere with this add-on insurance cover.
Key Protect Cover – If you lose or damage the keys of your KTM bike, this add-on cover will help cover the cost of a replacement key.
Personal Belongings Damage/Theft Cover – This insurance add-on cover protects you from financial losses incurred due to theft or damage to your personal belongings kept in the KTM bike.
Outstation Emergency Cover – With this insurance cover, you get financial protection of up to a fixed amount for any damages to your KTM bike during an outstation journey.
Bike Engine Protection Cover – This insurance add-on cover offers financial protection against any damages to your KTM bike engine.
Consumables Cover – This insurance add-on covers the cost of consumables for your KTM bike like engine oil, lubricants, etc.
Two Wheeler Insurance Plans Available For KTM Bikes
Depending on the extent of coverage, KTM bike insurance plans can be of two types:
Third-party Liability Policy – The third-party liability policy is the minimum compulsory requirement for any KTM bike to ply on Indian roads as per the Indian Motor Vehicles Act, 1988. This insurance policy covers any financial losses incurred due to damages to a third-party or their property because of your KTM bike. Damages to your KTM bike are not insured under this plan.
Comprehensive Cover – The comprehensive insurance policy cover is more elaborate than the third-party liability policy. This policy not only indemnifies you against financial losses and damages borne by a third party because of your KTM bike but also offers financial protection for damages or even theft of your bike. It covers damages caused to your KTM bike because of accidents, natural calamities, etc.
Third-Party Bike Insurance Vs Comprehensive Bike Insurance
The biggest difference between third-party bike insurance and comprehensive bike insurance is the coverage each offer. Let's compare the offering of each type of insurance plan to help you make a decision on which is the better plan for you.
| | |
| --- | --- |
| Comprehensive Insurance Policy | Third-Party Liability Policy |
| Offers all-around protection from damages caused to your KTM bike as well as any third party and their property because of your KTM bike. | Only insure against damages to a third party and their property due to your KTM bike. There is no coverage for damages incurred on your KTM bike. |
| With this policy, you can avail add-on covers like zero-depreciation cover, roadside assistance, consumable cover, etc. | With this policy, you can avail add-on covers like personal accident cover. |
| It is recommended to buy a comprehensive policy if you require complete coverage for your KTM bike, along with the available add-on covers. | It is recommended to buy a third-party liability policy if you use your KTM bike very rarely or the bike is very old. |
| More expensive because of the coverage | Less expensive than the comprehensive policy. |
How You Can Benefit From Bike Insurance?
There are several reasons insuring your KTM bike is a good idea:
It is compulsory by the law under the Indian Motor Vehicles Act, 1988.
It protects you from any third-party liability cost.
It covers damages on your KTM bike because of natural calamities like storms, earthquakes, landslides, etc.
Helps cover in case of unforeseen expenses caused by accidents, theft, etc.
Many Advantages Of Comparing Bike Insurance Online
Insuring your KTM bike with a trusted and reliable company is a crucial decision to make. Therefore, comparing policies offered by several insurers is always a wise thing to do before deciding on any one of them. Comparing bike insurances online can be beneficial because:
It is easy and convenient
You make a more informed decision about the policy you are buying
You get to learn about the inclusions, exclusions, add-ons, etc., of the policies offered by different vendors
It saves you from the risk of impulse buying
You can choose the offerings and the premium of the company that suits you
Know the terms and conditions offered by each insurer and compare against those of others to check for any red flags
You might come across offers and discounts
Factors That Consider before Buying Two Wheeler Insurance Policy
While comparing the insurance policies offered by different companies, these are the factors you need to consider:
Insurance coverage
Insured's declared value of your KTM bike
Premium
Add-ons offered
Claim process
Claim settlement ratio
Customer service facility
Garage network
Inclusions, exclusions, etc.
Deductibles
Benefits of Buying Two Wheeler Insurance From Probus
Making Probus your choice for your KTM bike insurance is a good idea for several reasons. Especially because your KTM bikes are meant for rough usage and off-roading, there is bound to be a lot of wear and tear and damages during usage. Probus aims to make your dream of owning and riding your KTM a safe and stress-free one. Here are some of the reasons Probus should be your first choice for bike insurance:
Compare different plans – Probus allows you to see the plans, offerings, and premiums of different insurers to help you make a well-informed decision for your KTM bike insurance.
Dedicated team of experts – The team of experts is always available on call, message, or email to help you with your insurance decisions and to clarify any doubts you may have regarding the policies and policy documents.
Free premium calculator – This is an online free tool on the Probus website which shows you a close approximation of the premium you can expect to pay each vendor.
Claim assistance team – The motivated team helps you with your claim assistance and ensures that everything works in a quicker and easier manner.
Quick, Easy And Hassle-Free Renewal Process With Probus
Renewing your KTM Bike Insurance online with Probus is super easy:
Login to our website and click on renew policy
Select the insurer
This will take you to the respective website. There you have to enter a few basic details like the existing policy number and registration number.
Check the No Claim Bonus you're eligible for
Select the value of your vehicle and any add-ons, if you wish
Review all the details and make changes if needed
Make the online payment
Within no time, you'll have your policy in your inbox
Claims Can Be Stressful - Importance Of A Claims Filing Team
The claims filing team is important while filing for a claim on your KTM bike insurance. And Probus will help you with claims assistance for bike insurance. Here's how: 
We help with all the necessary information regarding the filing of your insurance claim and answer any queries you may have.
You get full support in preparing the necessary documentation to file your claim. This minimizes the time and hassles of any further documents or information that may be needed by the insurer.
The claims assistance team is experienced in filing claim requests. So, they know the procedures and protocols thoroughly.
Simple Premium Calculation For Top KTM Bike Models
Understanding the premium on the insurance policy for different models and plans helps you make a more informed decision about which KTM bike to purchase as well as which policy to buy. With Probus' online premium calculator, you can compute the prices for various plans effortlessly.
| | | | | |
| --- | --- | --- | --- | --- |
| KTM Bike Model | Model Variant | Gold Premium (Rs.) | Platinum Premium (Rs.) | Silver Premium (Rs.) |
| KTM RC 390 | RC 390 BS VI | 21229 | 21901 | 19640 |
| KTM RC 200 | RC 200 | 11120 | 11628 | 9940 |
| KTM 200 Duke | Duke 200 | 10709 | 11152 | 9688 |
| KTM RC 125 | RC 125 | 8044 | 8481 | 7041 |
| KTM 390 Duke | Duke 390 BS VI | 21321 | 22006 | 19698 |
*Disclaimer: The insurer used for this calculation is Chola MS Two-Wheeler Insurance. The place of registration used to calculate these premiums is Bhubaneshwar, Orissa and the year of purchase used is 2020 for a new bike. The policy is 1 year own damage cover + 5 years third party cover. Based on your specifics, the rates may vary.
Frequently Asked Questions
Yes, absolutely! As per the Indian Motorcycle Act of the Indian Constitution, for any two-wheeler to ply legally on Indian roads there has to be third-party insurance on it compulsorily. The third-party insurance cover includes:
Any legal liability that arises from injury or death of a third party because of your KTM motorcycle.
Any legal liability that arises out of damages caused to the surrounding properties.
Buying your two-wheeler insurance for your KTM motorcycle is better because it offers a hoard of benefits
Quick and easy process
Minimal documentation
Instant renewal
Easy to access anytime and anywhere
Multiple payment options to pay the insurance premium