Renew in just 5 mins.
No Inspection.
No Paper Work
* Subject To Underwriting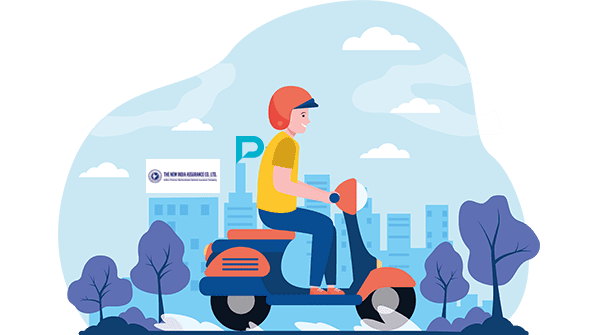 Compare

Bike Insurance Plans
Edelweiss Bike Insurance Policy Renewal
Edelweiss General Insurance offers beneficial and cost-effective bike insurance policies to individuals seeking to protect their vehicle against unforeseen circumstances. Its policies enable policyholders to take advantage of a broad range of coverage. A bike insurance policy does, however, have an expiration date that must be met to keep the policy in effect. Policyholders of Edelweiss General Insurance can renew their bike insurance quickly and easily.
Their two-wheeler insurance plan has been created to effortlessly provide the highest level of protection from unexpected roadside incidents. The network facilities have a quick turnaround time and offer cashless repair services to consumers. Additionally, the clients receive first-class treatment at their preferred workshops.
Read on to know more about the Edelweiss bike insurance policy renewal process.
How To Renew Edelweiss Bike Insurance Policy?
With Edelweiss General Insurance, renewing bike insurance coverage online is easy. The processes listed below should be followed by policyholders to renew their plans:
Step 1: Visit Edelweiss General Insurance's website and click on "Renewals" and then go to "Motor Insurance Renewal".
Step 2: Enter your registered mobile number and click on the proceed button.
Step 3: Go through your previous bike insurance policy details and confirm.
Step 4: Modify your bike insurance policy coverage with add-ons, if you want to.
Step 5: Make the required renewal fee payment. A confirmation message will be delivered to the registered email address if the policy renewal is successful.
By contacting 1800-12000, Edelweiss General Insurance's toll-free number, you can renew your bike insurance. The alternative method of renewing the coverage offline is by going to the local Edelweiss General Insurance office.
Benefits of Renewing Edelweiss Two-wheeler Insurance
Let us have a look at the benefits you can get by renewing your Edelweiss two-wheeler insurance plan on time. 
Staying Insured
If you don't renew your two-wheeler insurance coverage, you'll risk financial losses if something unexpected happens to your bike. Your bike is covered by comprehensive two-wheeler insurance coverage if it is destroyed in an accident or by natural disasters. Additionally, it protects your two-wheeler from theft. You can maintain your motorcycle coverage and continue using it by renewing your two-wheeler insurance.
Keeping the NCB Active
No Claim Bonus (NCB) is a progressive discount that insurance companies provide when renewing a policy (for five years). It is a discount given for safe driving and refraining from filing a claim throughout the policy. If you file a claim or don't renew your bike insurance policy within 90 days of the expiration date, your no-claim bonus will expire. A grace period of 90 days is offered to keep your NCB active.
Protection of Legal Interests
You should be aware that third-party insurance is required, which means the policy must cover liabilities resulting from damage or harm to a third party's person or property. You can fulfil your duties as a bike owner by renewing your insurance. In the event of an unexpected incident, the cover offers financial support.
No Fines or Penalties
According to Indian law, purchasing vehicle insurance coverage is a requirement. Therefore, you risk fines and penalties if you don't renew your two-wheeler insurance before it expires. Failure to purchase bike insurance carries a 2,000 rupee fine and/or possible jail time. You risk paying a fee or, worse, receiving sanctions if you don't have financial protection against bike-related obligations.
Save Time
The process of renewing bike insurance is no longer difficult. Online bike insurance renewal is a simple way to keep your coverage active without relying on agents or office visits. You can compare several options and select the best bike insurance protection.
Frequently Asked Questions