Renew in just 5 mins.
No Inspection.
No Paper Work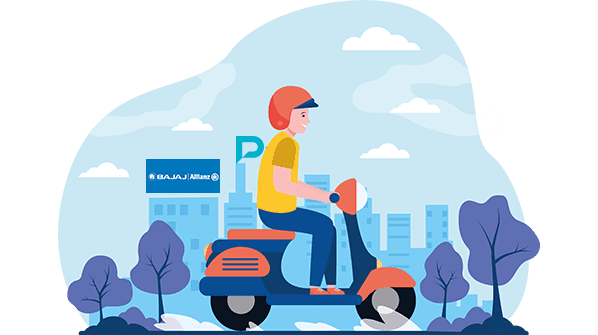 Compare

Bike Insurance Plans
Electric two-wheelers, often known as e-bikes, are expensive and come with a significant level of risk due to their inherent limits. They also have a lot of complicated technology, as well as electrical and mechanical parts, which could go down at any time. As with any other vehicle, having insurance can be a lifesaver in the event of an accident and allow you to ride without worry.
However, finding insurance companies that normally cover electric two-wheelers may be challenging. This isn't to say you shouldn't insure your e-bike. You will undoubtedly come across insurance options for your e-bike, which you may investigate and select the one that best matches your needs.
Read ahead to know more about electric bike insurance!
What Is An Electric Bike Insurance?
An Electric Bike Insurance is a type of insurance that provides coverage to electric bikes against third-party damages and losses, as well as own damages and losses caused by accidents, thefts, fire, natural calamities, and other risk factors. 
Although electric two-wheelers are still a relatively new concept in India, purchasing a bike insurance policy for your electric two-wheeler is similar to that of a traditional gasoline-powered bike. These stand-alone policies are tailored to bike owners and go above and beyond the coverage provided by a home or renters insurance policy.
Types Of Electric Bike Insurance Policies
If you want to get insurance coverage for your electric bike, you should be aware of the following two types of policies:
Third-Party Liability Insurance: This policy primarily protects the policyholder from any financial or legal obligations stemming from losses or damages to a third party or their property. It also covers the vehicle's owner.
Comprehensive Insurance: For your two-wheeler, a comprehensive insurance package will provide you with increased protection. This policy covers your own bike damage, injuries, and everything else that third-party insurance would cover.
Why Electric Bike Insurance Is Important?
Although there are a plethora of reasons why you should purchase electric bike insurance, some of them are discussed below:
Compulsory By Law: As per the Motor Vehicle Act 1988, it is mandatory for all bike owners to have two-wheeler insurance. If you would not abide by the law, you may be subjected to hefty fines or even be jailed in some cases. Therefore, having electric bike insurance is extremely important for complying with the law.
Financial Backup: In case your e-bike meets an accident, your electric bike insurance policy will cover your repairing or replacement costs. The plan will also cover third-party property damage, death, and injuries. We can say that your electric bike insurance policy will keep you financially secure at the time of unprecedented events.
Enhanced Protection With Add-Ons: Once you purchase electric bike insurance for your e-bike, you always have an option to choose add-ons for enhanced protection. The add-on facility can provide you with zero depreciation, roadside assistance, and various other benefits. You just have to pay an additional amount for your add-ons.
Budget-Friendly: Most of the electric bike models in India do not cross the speed of 60 km/h. The slower speed means the lower risk, and hence, e-bike insurance plans are less expensive than motor vehicles. 
Cashless Garage Facility: Most of the electric bike insurance providers offer cashless garage facilities to the policyholders. As a result, if you take your vehicle to one of the network garages for repairs, the cashless cover will cover the costs. This implies you won't have to pay any upfront costs.
Peace Of Mind: Purchasing an electric bike insurance policy will provide you peace of mind because it offers financial protection at the time of any unfortunate accidents. This means that you do not have to worry about the expenses that you might face at unprecedented times.
What's Covered Under Electric Bike Insurance?
The following things are covered under the electric bike insurance policy:
Third-Party Losses: An electric bike insurance provides coverage to the losses and damages caused to the third party in an unfortunate accident.
Road Accident: In case your bike meets a road accident, your electric bike insurance policy will provide coverage for the losses and damages caused to your bike.
Theft: In case your electric bike is stolen by someone, the insurance policy will also provide coverage for the same.
Fire: If your bike gets damaged due to an accidental fire or explosion, the insurance policy will provide coverage to it. If there is a total loss, then the compensation will be paid by the insurer as per the terms and conditions of the policy.
Natural Disaster: Damages caused due to cyclones, floods, earthquakes, and other natural calamities will be covered under the plan.
Personal Accident Cover: In case you get injured during an accident, the insurance policy will get you covered for the treatment expenses.
What's Not Covered Under Electric Bike Insurance?
An electric bike insurance policy doesn't cover the following things:
Riding Without License: In case the insurer finds out that the e-bike owner was driving without a valid license, the insurance company will not provide coverage to the policyholder.
Driving Under The Influence Of Alcohol Or Drug: In case the policyholder was driving his/her e-bike under the influence of alcohol or drug, the insurance company will not provide any type of coverage.
Consequential Damages: If the damages or losses caused to the e-bike are not directly happened in a natural calamity or road accident, the insurance policy will not provide coverage for it.
Own Damage With Third-Party Insurance: In case you only have third-party insurance instead of comprehensive insurance, the insurance policy will not provide coverage to the own damage caused.
Contributory Negligence: In case you caused intentional or negligent damage to your e-bike, the same will not be covered under the policy. For example, if you keep driving your bike in floods and damage has been caused due to it to your e-bike, then it will not be covered by your electric bike insurance policy.
Lapsed Policy: If you do not renew your e-bike insurance policy, the insurance provider will not cover the losses or damages caused after the lapse of the policy.
How To File A Claim Against Electric Bike Insurance?
In case you need to raise a claim against your electric bike insurance, you need to follow the below-mentioned steps:
Contact The Insurance Provider: Be it damage caused due to an accident or natural calamity, the very first step is to inform the insurance company about it. You can contact the insurer with the help of its website, calling number, or email address.
Keep Proofs & Documents Ready: Take pictures of the damages caused to your bike as this can be used as proof. Also, the insurer will require certain documents. Therefore, it is recommended to keep them ready and submit them along with the claim form.
Inspection: The insurance company will send an inspector in order to inspect the damage or loss caused to your bike. Once he/she is done with the inspection, the company will begin the claim process. In case you are found lying to the insurance company, you will be excluded from any type of coverage against the damage or loss caused to your e-bike.
Settling The Claim: Once the inspection is done, the insurance company will compensate for the expenses that occurred in the repairing or the replacement of the damaged part of your e-bike.
Frequently Asked Questions