Renew in just 5 mins.
No Inspection.
No Paper Work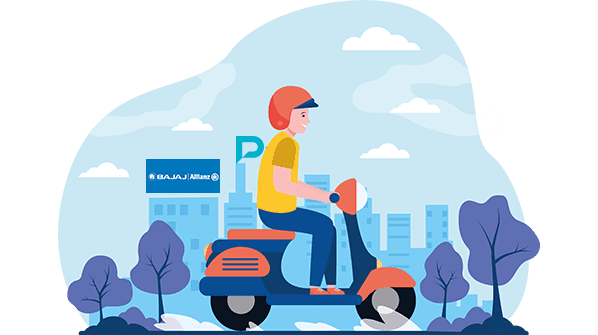 Compare

Bike Insurance Plans
HDFC ERGO Third-Party Two-Wheeler Insurance
There is nothing like the excitement of riding a bike! The feeling of freedom, thrill, and exhilaration offers a pleasurable experience for riders when they are out on the road.
To preserve this joy, HDFC ERGO offers Third-Party Two-Wheeler Insurance that allows policyholders to bid adieu to concerns about penalties, theft, or harm/damage on regular or leisurely road trips. The insurance product offers protection against third-party liabilities occurring due to damage, injury, or loss of the person or property.
Since it is mandatory in India to have at least third-party motor insurance, it becomes important to know more about HDFC ERGO Third-Party Two-Wheeler Insurance, which can be the best option for bike owners.
Benefits Of Purchasing HDFC ERGO Third-Party Two-Wheeler Insurance
The insurance offers various benefits and features that are discussed below:
Nominal Price:
Keeping in mind the skyrocketing insurance prices and daily expenses, HDFC ERGO has kept the premium amount of its third-party two-wheeler insurance quite nominal. One can purchase Third-Party Two-Wheeler Insurance from HDFC ERGO at the lowest price of Rs. 538.
Adequate Cashless Garage Network:
With over 1800 network garages across the nation, insurance holders can leverage cashless benefits without any worry. This means that the repair bills and other expenses are settled directly by HDFC ERGO, making the entire claim process seamless and transparent.
Door Step Two-Wheeler Repairs:
With this feature, as the name suggests, the policyholders can get their bikes repaired at their doorsteps. It eliminates the need to haul the two-wheeler around since the insurer can bring the service station to the policyholder's home.
Great ICR Ratio:
ICR serves as a benchmark for evaluating an insurer's effectiveness. In technical terms, it's the ratio of net premiums collected over the course of a fiscal year to net claims payments made by the insurer. The ratio should be between 50% to 100% and shows how easily and swiftly an insurer settles claims.
According to the most recent IRDAI data, HDFC ERGO's ICR for motor insurance claims during the fiscal year 2021–2022 was 74.66%. Since the ICR is not less than 50%, HDFC ERGO does not owe more money on premiums than it has paid out on motor claims. The ratio also shows that there is a maximum chance of getting claims filed.
Paperless Claim Settlement:
For settling its motor insurance claims, including third-party two-wheeler insurance, HDFC ERGO follows a proactive approach of digitizing the claim process. This primary allows easy and timely settlement of complicated claim processes, thus eliminating major hassles and struggles suffered by the policyholders during claim settlement.
Easy Purchase:
In case an individual seeks to buy Third-Party Two-Wheeler Insurance from HDFC ERGO, he/she can do so within just a few clicks. The persons need to visit the insurer's official website, enter their details, choose the third-party cover, and pay the premium. After this, the insurance will be issued instantly.
No Inspection Renewals:
In case the Third-Party Two-Wheeler Insurance by HDFC ERGO has expired, the policyholders can renew it without any inspection. They can choose this feature subject to some terms and conditions.
What's Covered Under HDFC ERGO Third-Party Two-Wheeler Insurance?
The insurance offers the following coverage benefits to its policyholders:
Mandatory Personal Accident Cover:
The Third-Party Two-Wheeler Insurance from HDFC ERGO includes a mandatory personal accident cover of INR 15 lacs to protect the insured and pillion riders from any medical emergencies that occur due to accidents.
Third-Party Property Damage:
When an insured two-wheeler is involved in property damage to a third party, HDFC ERGO will certainly cover the costs.
Injury To A Third Party:
The insurer will also pay for any medical expenses or other damages if a third party is hurt or even killed as a result of an insured two-wheeler.
What's Not Covered Under HDFC ERGO Third-Party Two-Wheeler Insurance?
The following expenses are not covered under the insurance product:
Illegal driving, such as driving without a valid license or under the influence of drugs or alcohol
War and nuclear risks and damages
Mechanical or electrical breakdown
Frequently Asked Questions