Renew in just 5 mins.
No Inspection.
No Paper Work
* Subject To Underwriting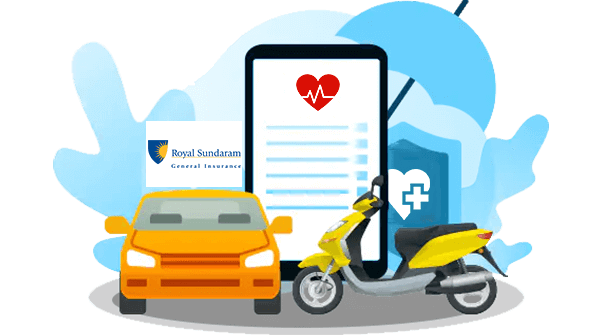 Compare

Bike Insurance Plans
Royal Sundaram Two-Wheeler Policy Renewal
Royal Sundaram is one of the most popular insurance companies that people prefer for their two-wheelers. It has multiple policies to safeguard the bikes and scooters of policyholders. Generally, owners get their bikes insured immediately after purchasing them. This ensures complete safety as they hit the road with total peace of mind.
However, buying an insurance policy for a two-wheeler means that the policyholder has to be responsible enough to pay the premiums regularly. Also, renewing the policy on time is mandatory. Often policyholders forget to renew their policies as per the stipulated time and then face severe consequences. Let's see what happens if a policyholder fails to renew his/her two-wheeler policy on time!
Why is a two-wheeler insurance policy renewal an absolute necessity?
In case a policyholder fails to renew their bike insurance policy on time, the insurance gets lapsed immediately. They won't get any coverage even if the bike meets an accident one day after the policy lapses. All the premiums that they have been paying till date will also go in vain. And the amount won't be refunded by the insurance company. It is, therefore, advisable that a two-wheeler insurance plan must always be renewed within the due date.
Here's How To Renew Royal Sundaram Two-Wheeler Policy Without any Fuss!
One can renew his/her bike or scooter insurance using two methods- online and offline.
Offline policy renewal: Those policyholders who wish to pursue the offline method can go to their nearest Royal Sundaram Insurance branch office. They have to inform the customer care executives about the renewal request. After following certain formalities and paying the premium, the policyholder gets a receipt, which mentions that the bike insurance plan has been renewed.
Online policy renewal: The online process is much easier. One can simply visit the website of Royal Sundaram General Insurance. Next, one can see the option of "Insta Renew" visible at the top. The policyholder is required to click on the same, and he/she will be redirected to a new page. Next, he/she can click on the first box on the left that says "2 wheeler" and click on a suitable option ( registered email id/ registered mobile number/policy number). He/she can make the payment after entering the required detail and generating the OTP. Online policy renewal is totally hassle-free and saves a lot of time as well.
What if the policyholder is unable to renew the Royal Sundaram Two-wheeler policy online?
In case the policyholder is not able to get his/her policy renewed online, there is the option to go offline. However, if it is not possible for the policyholder to visit the nearest branch office of Royal Sundaram, he/she can get in touch with the customer care executives over a phone call (1860 258 0000/1860 425 0000/1800 568 9999) and share the issues. Also, one can share his/her concern and drop a mail on Royal Sundaram's official email ID (customer.services@royalsundaram.in). Prompt action is taken by the Royal Sundaram customer support team, and the policy can then be renewed seamlessly.