Renew in just 5 mins.
No Inspection.
No Paper Work
* Subject To Underwriting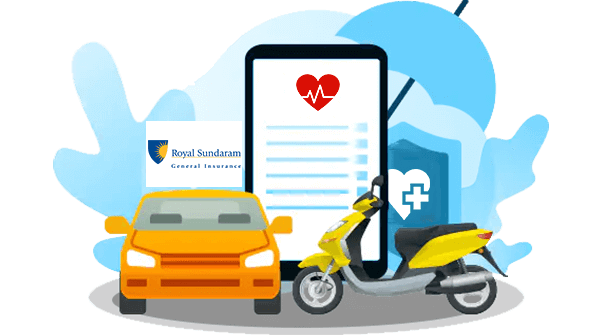 Compare

Bike Insurance Plans
Royal Sundaram Third-Party Two-Wheeler Insurance
With India's constant rise in traffic congestion, two-wheelers have become popular as they can let people zip through heavy traffic zones with ease. However, this mode of transportation is more vulnerable to the owner/driver or the passengers sitting behind (if any).
As reported by 'The Times of India' in 2022, nearly 44.5% of deaths caused due to accidents in the nation were involving two-wheelers. This percentage indicates the importance of two-wheeler insurance, regardless of their model or size. As per the Motor Vehicles Act, an individual must have at least a third-party bike insurance, like Royal Sundaram Third-Party Two-Wheeler Insurance; otherwise, it is considered an offense.
Similar to other third-party liability cover, the Third-Party Two-Wheeler Insurance from Royal Sundaram allows the policyholders to save money by forgoing the costs associated with compensating a third party for damage/injury brought on by their vehicle.
Keep reading to know more about the product!
Why Should One Choose Third-Party Two-Wheeler Insurance From Royal Sundaram?
Apart from being a mandatory insurance product, there are various reasons to buy Third-Party Two-Wheeler Insurance from Royal Sundaram. Some of them are discussed below:
Digital Processes:
First, the third-party two-wheeler insurance is easily available on the insurance provider's official website. Secondly, the provider has developed two potent mobile apps, the VIR App and M-CHATRA App, which are backed by powerful technology and networks. While 'VIR' app conducts two-wheeler inspection digitally within 20 minutes, 'M-CHANTRA' is a one-stop solution for all types of claim processes, insurance details, and various other requests.
Simplified Claim Process:
The insurance provider can be reached for a claim in multiple ways without any hassles. The provider ensures to fast-track claims in less than 5 days and process claim settlements within 10 working days.
Affordable Premiums:
As compared to other third-party two-wheeler insurance providers in India, Royal Sundaram manages to lower the premium amounts for its customers. This enables the policyholders to save a great deal of money, which they can use for other important purposes.
Minimal Documentation:
When purchasing Third-Party Two-Wheeler Insurance by Royal Sundaram, only one policy document will be issued, which will be valid for the entire policy period. This means that the policyholders don't have to struggle to take care of multiple papers.
One-Time Payment:
The insurance seekers can only make one-time payments, whether for buying the insurance or renewing it. The product can be bought or renewed for a period of two or three years.
Protection From Inflation:
Even if the third-party premium increases during the course of the policy period, the policyholders won't be required to pay any more premiums.
Trusted Garage Network:
The insurance provider has a trusted network of cashless garages across India, which can offer repair services to the policyholders. One can also receive priority and emergency services on demand.
What's Included Under Royal Sundaram Third-Party Two-Wheeler Insurance?
The Third-Party Two-Wheeler Insurance from Royal Sundaram covers the following expenses:
Third-Party Property Damage:
The insurance provides coverage for any damage to third-party property resulting from an accident or other incident involving the insured bike.
Third-Party Bodily Injury OR Loss Of Life:
Any bodily harm or loss of life to a third party caused by an insured bike is fully or partially covered by the Royal Sundaram Third Party Two-Wheeler Insurance. The amount of compensation is determined by the legal system.
Exclusions Under Royal Sundaram Third-Party Two-Wheeler Insurance
Certain expenses are not covered under the insurance. They are as follows:
Mechanical or electrical breakdown
Driving without a valid license proof
Normal wear and tear or aging of the two-wheeler
Driving under the influence of alcohol
Damages or losses would not be covered if the vehicle is operated outside the parameters and for purposes other than those that are specified
Frequently Asked Questions