Renew in just 5 mins.
No Inspection.
No Paper Work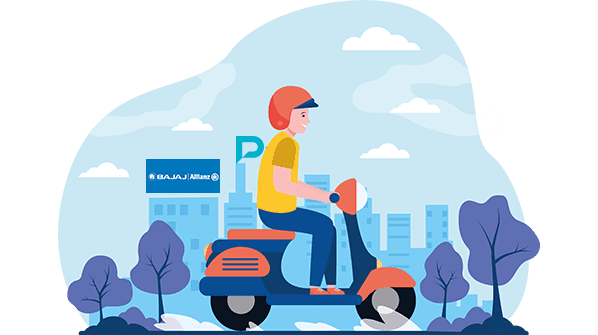 Compare

Bike Insurance Plans
Renew HDFC ERGO Bike Insurance Policy
HDFC ERGO understands the importance of insurance to the policyholders. As a result, it provides easy and convenient options to renew your HDFC ERGO two-wheeler. It's always a good idea to renew your two-wheeler insurance coverage a few days before it expires. The first insurance will continue to cover you for its entire term, and the new one will start as soon as it does. As the freshly purchased policy may take a few days to start, doing this will prevent you from having to spend your days without protection.
When the bike insurance policy's validity period is about to expire, you must renew the current policy to keep receiving the insurance benefits. The HDFC ERGO bike insurance can be renewed after the policy term or even after the current insurance policy has expired.
Read on to know more about the HDFC ERGO bike insurance policy renewal.
How To Renew HDFC ERGO Two-Wheeler Insurance Policy
Online:
The steps to renew your HDFC ERGO two-wheeler insurance policy online are as follows:
Step 1: Visit the official website of HDFC ERGO insurance.
Step 2: After that, find and click on the "renew" option on the home page without scrolling down.
Step 3: Then, you need to enter your policy number and ensure that there is no discrepancy in your form.
Step 4: To renew the policy, you will have to make a payment of renewal fees. You can pay fees via net banking, credit, or debit card, you can also use UPI or E-Wallets.
You will receive the two-wheeler insurance policy via WhatsApp or your registered email address.
Offline:
The procedures to simply renew your HDFC ERGO two-wheeler insurance policy offline are as follows:
Through Calls
You can also connect with the insurer via phone call or by booking an appointment with the insurance agent. Their toll-free number is 022-6234-6234 or 0120-6234-6234.
Through WhatsApp:
Now you can get in touch with us on WhatsApp at 8169500500. All you need to do is simply say "Hi" and you can easily choose your option to renew your policy.
Through Physical Visit:
All you need to do is simply visit your nearest HDFC Ergo branch and renew your policy to avoid expiry.
What Are The Potential Reasons to Renew Your HDFC ERGO Bike Insurance Policy?
Here is the list of the potential reasons to renew your HDFC ERGO two-wheeler insurance policy.
Prevents Penalty: As required by the Motor Vehicles Act, vehicle owners must obtain insurance to be able to lawfully operate a car on Indian highways. You risk fines and perhaps worse consequences if you don't have valid insurance papers. To avoid going without insurance and to ensure that you are always protected, it is advised that you renew your insurance policy a few days before it expires.
Add-on Covers: An insurance policy renewal is relatively comparable to buying a new one, with the exception that here you also obtain the advantages like NCB, among others. When you renew your insurance policy, you also have the option of purchasing any add-on coverage that you had not previously purchased. You can personalize your insurance policy by adding any add-on coverages that you deem appropriate for you. These covers can be brand-new covers, or you could stick with the current ones.
Round-the-Clock Emergency Assistance: HDFC ERGO makes sure you have all the support you need from them on your journey. Any type of emergency can be addressed by dialing their toll-free number, and assistance will be provided. You can contact them with questions about your HDFC ERGO insurance policy, request a renewal, or file a claim. Once the accident has occurred, you can even request roadside assistance.
No Claim Bonus: For not filing even one insurance claim during the tenure, you receive no claim bonus or further discounts. HDFC ERGO awards you a particular number of points for each unclaimed year. These discussions have led to the policy's final discount. By taking advantage of these discounts, you can significantly lower the amount of your insurance premium.
Frequently Asked Questions
A month before it expires, you can renew your HDFC ERGO two-wheeler insurance contract. To provide you extra time to renew your policy, your HDFC ERGO coverage offers protection even 90 days after the expiration of the last policy.
Even 90 days after the expiration of your last policy, your insurance policy will lapse if you don't renew it. As a result, you must purchase new insurance.
Yes, a significant portion of your insurance rate can be influenced by the RTO with which your car is registered. Living in a high-population area will inevitably result in higher insurance premium costs than living in a low-population area. The reason for this is that people are more at risk in larger cities.