Renew in just 5 mins.
No Inspection.
No Paper Work
* Subject To Underwriting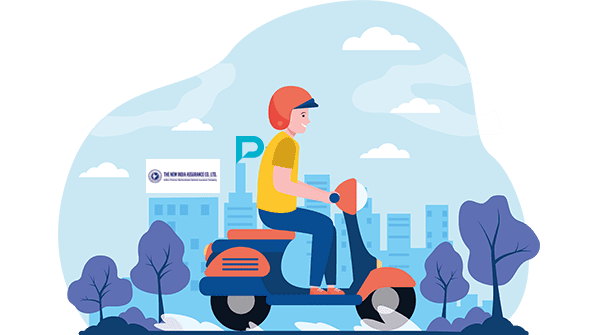 Compare

Bike Insurance Plans
Navi General Bike Insurance Policy Renewal
The Navi General Insurance company not only provides robust bike insurance policies but also enables its customers to renew them without any hassle. The company has created a simple and effective method for renewing bike insurance policies. 
Its active helpdesk support assists the policyholder throughout the entire process. To know about it in more detail, read further!
How To Renew Navi General Bike Insurance Policy?
The company functions on the core values that include trust and respect, customer first, innovation, passion to win, and agility. The entire process of renewing a bike insurance policy has been made highly simpler by the company. 
The policyholder just needs to call the company's toll-free number 1800 123 0004 from 8 AM to 8 PM. Alternatively, they can send an email along with their policy details to mycare@navi.com. Since the company follows a customer-centric approach, it will actively respond to the policyholder's request with utmost dedication and passion.
What Benefits Will You Lose If Your Navi General Bike Insurance Policy Isn't Renewed?
In case the policyholder fails to renew his/her Navi General bike insurance policy, he/she will miss out on the following benefits:
Robust Customer Support: The company's 24-hour customer support is available to assist policyholders if they have any questions about renewing their Navi General bike insurance policy. They can dial 1800 123 0004, and a customer service representative from the company will assist them in any manner possible.
Options To Choose Add-On Covers: While renewing the Navi General Two-Wheeler Insurance policy, the policyholders can choose add-on covers to increase the coverage. They can choose an add-on cover based on their requirements and available budget.
No Claim Bonus Is Preserved: When the customer renews his Navi General Two-Wheeler Insurance policy on time, he can keep the No Claim Bonus he has accrued and take advantage of discounts. The No Claim Bonus accumulates over time when the policyholder doesn't make any claims under their two-wheeler insurance policy.
Provides Legal & Financial Protection: Renewing the Navi General bike insurance policy enables the insured to lessen the associated financial and legal constraints as well as to be released from third-party liability.
Access To Cashless Services: The policyholder can only take advantage of cashless repair and replacement services in the company's network garages after maintaining the bike insurance policy in force.
Frequently Asked Questions
Yes. You can discontinue any add-on cover you wish while renewing your bike insurance policy.
Yes. You can easily change your policy term when renewing your Navi General bike insurance policy.
IDV is determined at policy renewal time. It depends on a variety of factors, such as the value of your bike, any add-on covers, the age of the bike, etc. Therefore, the IDV will change in light of these factors or parameters.