Renew in just 5 mins.
No Inspection.
No Paper Work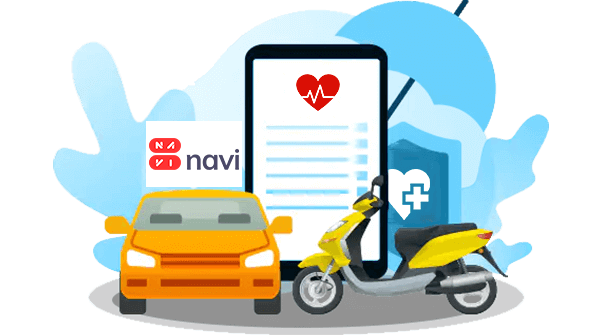 Compare

Car Insurance Plans
Navi General Insurance is a solely owned subsidiary of Navi Technologies. The company was founded on July 5, 2016, and began operations in November of the same year. Navi Insurance company offers a variety of insurance options, including car insurance, health insurance, travel insurance, and house insurance. By providing new solutions, state-of-the-art infrastructure, personalized offerings, and straightforward insurance procedures at reasonable costs, the company aims to empower and build confidence among its consumers.
The general insurance firm boasts of issuing a large number of policies and settling a significant number of claims. The organization has opened branches throughout India to provide customers with quick and simple insurance options.
Quick Facts About Navi Insurance
Here are the key highlights of Navi general insurance:
Incurred Claim Ratio
66.52 (2019-20)
Premium Underwritten
157.99 cr. (2019-20)
Solvency Ratio
3.35 (March 2020)
Corporate Address

Navi General Insurance Limited

Registered Office: Salarpuria Business Centre,

4th Floor, 93, 5th A Block,

Koramangala Industrial Layout,

Bengaluru, Karnataka – 560095

Contact Numbers

For Navi Health Insurance you can contact us on +91 81475 44555

For all other policies, you call us at our Toll-Free 1800 123 0004 or at 022-40943600

Email your queries to insurance.help@navi.com
Types of Plans Offered by Navi General
Here's the list of the insurance plans offered by Navi General to its customers. Let's discuss them in detail.
1. Navi Health Insurance Plans
The general insurance company's health insurance policies are meant to cover a variety of costs, including in-patient hospitalisation, surgical costs, childcare costs, critical illness costs, and so on. Navi's health insurance policy may be purchased using their dedicated app and includes a wide range of 20+ built-in features. Navi's health insurance comes with two sub-categories, i.e., Navi Cure and Arogya Sanjeevani Health Insurance Policy.
Navi Cure
This health insurance plan offers comprehensive health insurance that covers more than 20 health benefits including in-patient hospitalization, pre & post hospitalization expenses, COVID-19 hospitalization, domiciliary hospitalization, all day-care procedures, road ambulance cover, vector-borne disease cover and optional critical illness, maternity and new-born baby cover.
Arogya Sanjeevani Health Insurance Policy
IRDAI has mandated the Arogya Sanjeevani Policy, which is a standard health insurance product with minimum mandatory covers and features that are uniform across the market. It covers hospitalization, Modern Treatment Procedures, Day Care Treatment, AYUSH Treatment, Pre-Hospitalization, Road Ambulance, Post Hospitalization, Cumulative bonus, Cataract Treatment, etc. Also, you have the option to choose the sum insured from ₹ 1 Lac to ₹ 5 Lacs.
2. Navi General Motor Insurance Plans
Navi General Insurance offers both car and bike insurance plans for its customers. Moreover, there are many types of car and bike insurance plans are offered. Let's understand these plans in detail!
COCORide Two-Wheeler Package Policy
This insurance policy covers you against any legal liability arising from the use of the vehicle, including personal injury and property damage to third parties. The plan also includes required personal accident coverage of Rs. 15,00,000 for individual vehicle owners while driving, mounting into/dismounting from the covered vehicle or travelling in it as a co-driver.
COCORide Long Term Two-Wheeler Package Policy
The Long-Term Two-Wheeler Insurance policy provides appropriate and comprehensive coverage for you and your Two-Wheeler for a term of two to three years. The policy protects you against any loss or damage to the vehicle or its accessories as a result of the risks listed below. Fire, explosion, self-ignition or lightning, earthquake, hurricane, flood, typhoon, storm, tempest, cyclone, hailstorm, frost, landslide, inundation, rockslide, riot, strike, robbery, theft malicious act, an accident caused by external means, and more.
COCORide Two-Wheeler Own Damage Policy
This policy is for you if you own a privately registered two-wheeler. You get correct and complete protection for your vehicle with the COCORIDE Two-Wheeler Own Damage coverage. It provides compulsory personal accident cover for Rs. 15,00,000 to car owners for an additional cost, providing the owner has a valid driving licence. This does not apply to a car that is owned by the corporation. If the individual driving your vehicle is inebriated or under the influence of drugs or alcohol, the company will not be responsible for the damage.
Liability Only Two-Wheeler Policy — 5 Years
This policy compensates the third party and his dependents for financial and other losses incurred as a result of your vehicle. It covers damage to property that isn't owned by the insured, is held in trust for the insured, or is in the insured's custody or control up to a certain maximum. In addition, the plan provides coverage for the death or bodily damage of any person if it is required to meet the requirements of the Motor Vehicles Act.
COCODrive Private Car Package Policy
This insurance coverage safeguards you, your passengers, and, most crucially, your prized automobile against significant financial losses and legal responsibilities in the event of an accident. Personal Accident coverage is also available for the occupants of the vehicle, with a maximum Capital Sum Insured of Rs. 2 lakhs per person. Individual car owners are required to have personal accident coverage of Rs. 15,00,000 under the policy. If you possess a car that has been certified as a vintage car by the Vintage and Classic Car Club of India, you will receive a 25% reduction on OD Premium.
Liability Only Policy
This insurance plan allows you to pay a large financial liability if someone is hurt in an accident involving your vehicle, resulting in death, disability, or other damages. Personal Accident coverage is available for vehicle occupants for a maximum Capital Sum Insured of Rs 1 lakh per person for two-wheelers and Rs 2 lakh per person for other classes of vehicles. The corporation, on the other hand, is not responsible for any claims if the vehicle is driven by someone who is not a Driver as defined in the Driver's Clause.
3. Navi Travel Insurance Plans
As a student, businessperson, or pleasure traveller, whether you're looking for travel medical insurance or abroad travel insurance, Navi General has you covered! Hospitalization, baggage loss, passport loss, medical expense treatment, dental expense treatment, daily hospital cash, hijack, loss of foreign driving license, loss of documents, accidental death/permanent total disability, and so on are all covered under the policy.
4. Navi Home Insurance Plans
Navi offers customized house insurance that protects you from natural disasters, fire, and other threats such as terrorism, property loss, and more. The organization offers house insurance policies that are tailored to your budget and needs based on the size, location, and risk profile of your home. A home insurance coverage covers your home, whether it's an owned apartment, a luxurious bungalow, or a leased flat, to ensure it always stands strong to provide you with the shelter and protection you need.
Why Choose Navi General to Choose Your Next Insurance Plan?
Navi General Insurance offers a variety of insurance packages that can be tailored to match your specific requirements. Select from a variety of add-ons to create a plan that meets your needs. The following are some of the advantages of buying an insurance policy with Navi General Insurance:
1. Cashless Facility: This is one of the most valuable services provided by any insurance company, and it's something you should think about while looking for the finest insurance policies, whether it's for your health or your vehicle. If you choose two-wheeler insurance, you will be able to have your bike repaired at one of the insurance company's network garages without having to pay for the repairs. Because the insurance company will assess and pay for the repairs directly, it is simple and quick. Navi General Insurance has a network of garages, so you may go for a cashless claim settlement with ease.
2. Diligent Customer Support Team: Navi General Insurance provides a friendly customer service team to assist you with any questions or concerns you may have so that you can better understand, appreciate, and enjoy insurance. If you have any questions, you can call them on their toll-free number 1800 123 0004 or call them at 022-40943600. You can also write to them at insurance.help@navi.com, visit the nearest branch, or write a letter.
They offer a separate cell for elderly citizens, and senior citizen clients can email them at seniorcare@navi.com for priority service.
3. Purchasing Ease: The NaviHealth App allows you to purchase health insurance in 90 seconds. It ensures that the process is paperless and that policies are generated instantly. Furthermore, no medical examination is required to purchase Navi General Insurance's health insurance coverage.
4. Wide Network Hospitals: Navi General Insurance has a large network of over 10,000 hospitals where you may receive cashless treatment without having to pay anything upfront. It's important to note that you'll only be covered for the therapies that your health insurance plan covers.
5. Easy and Quick Claim Settlement: Navi General Insurance keeps policyholders at ease by providing a smooth and hassle-free claim settlement process. Cashless claims are approved in 20 minutes, while reimbursement claims are approved in four hours.
How To File a Claim for Navi General Insurance Policies?
Regardless of the plan, you are looking to choose from Navi General, the claim process for each plan is different. Here's the list of the claim process of each plan.
1. Navi Health Insurance Claim Process
If you want to get a claim for your health insurance, you can choose either of the two options.
1. For Cashless Process:
Only their network supplier offers a cashless facility for hospitalization. By showing the health card given with this Policy, along with valid picture identification evidence (Voter ID card / Passport/ Driving License / PAN Card / Aadhar Card, or any other identity proof approved), the insured person can access Cashless Facility at Network Provider.
a) For Planned Hospitalization:
i) At least 48 hours before admission to the hospital, the insured person should contact the Network Provider to request hospitalization for medical care.
ii) In the pre-authorization form required by the Authority, the Network Provider will send a request for authorization letter for hospitalization.
iii) The Network Provider shall electronically submit the pre-authorization form, along with all pertinent information, to the TPA's 24 (twenty-four) hour authorization/cashless department, along with the treating Medical Practitioner and Insured Person's contact information.
iv) The eligibility of cover under the Policy will be validated after obtaining the pre-authorization form and all pertinent medical information from the Network Provider.
v) The authorization letter will be sent to the Network Provider if the information supplied in the request is sufficient to determine the authorization. Wherever more information or papers are required, they will be requested from the Network Provider, and the authorization will be provided following receipt of the last necessary documents. All authorizations will be provided within 3 hours after receiving the last complete set of documents.
vi) Details of the sanctioned amount, any specific claim limitations, any Co-Payments or Deductibles, and any non-payable items, if applicable, will be included in the Authorization letter.
vii) The authorization letter is only valid for 15 days from the date of issuance.
If the expense of hospitalization exceeds the approved limit outlined in the authorization letter, the following steps must be taken:
i) The Network Provider must request that the authorization limit be increased. The upgrade will be reviewed based on the availability of additional limitations, and eligibility will be verified.
ii) Within 3 hours of receiving the request for enhancement, the corporation must accept or deny such additional charges.
Note: In some cases, Cashless Facility for hospitalization may be denied due to insufficient Sum Insured or insufficient information to determine the admissibility, in which case you/the insured person may be required to pay for the treatment and submit a claim for reimbursement to TPA, which will be considered subject to the Policy Terms and Conditions.
b). In case of Emergency hospitalization:
i) The Insured Person may seek hospitalization from a Network Provider.
ii) At the hospital admittance counter, the insured person must present his or her health card and information of his or her health insurance policy.
iii) The Network Provider must send the request for authorization to the Hospital within 24 hours of admission or before release, whichever comes first.
iv) In the meanwhile, the Network Provider may treat the Insured Person by requiring a token deposit or treating the Insured Person according to their policies.
v) Once the authorization is issued, the Network Provider will repay the deposit amount to you, less a small amount to cover non-covered charges.
2. For Reimbursement Claim:
You may submit the documentation for reimbursement of the claim to TPA office no later than 15 days from the date of discharge from the hospital if you have chosen to be reimbursed for expenses. A Claim Form is available from any of TPA offices, or you can download one from Navi Website. The following are the claim documents that must be submitted for reimbursement:
Completed and signed Claim Form
Original Death/Discharge Summary
Notes on the Operation Theatre (if any)
Original hospital main bill, as well as break up bills and receipts
Original police reports, X-rays, MRIs, CT scans, and HPE
Referral Slips from Doctors for Investigations/Pharmacy
Authentic Pharmacy Bills
Report of the MLC/FIR/Post Mortem (if applicable and conducted).
Implant information, including a label showing the type of implant as well as an invoice for the cost of the implant
Documents proving your identity (Photo ID proof, Pan Card, Aadhar Card)
Payment by NEFT was made using a voided check.
Note: Depending on the conditions of the claim, the company may request any extra documents or information.
2. Navi Motor Insurance Claim Process
You can avail claim for motor insurance by going through the steps given below:
a). Cashless Claim
If you choose our cashless garage network, you will be able to make a cashless claim in the event of an accident. For your convenience, a step-by-step approach is provided below.
Step 1: Claim Registration
Follow these steps to notify or make a claim:
Calling the toll-free number 1800 123 0004 OR
By e-mailing insurance.help@navi.com or
Through the Customer Portal on the Navi Insurance website or
Using a mobile application or
Walk straight into the branch
Step 2: Take your vehicle for repair
Take your vehicle to any of the garages in our network, along with the paperwork listed below. At the garage, the surveyor will conduct the survey.
Completed and signed Claim Form by Insured (if the insured is a Firm/Company, the CO's seal must be affixed)
A copy of the certificate of registration (original for verification & return).
A copy of the person driving the car at the time of the accident's driver's licence (original for verification & return)
Police Report / Panchnama (in the event of partial theft, third-party property damage, death, bodily injury, or damage caused by riots, strikes, or intentional acts).
If the claim amount exceeds Rs. 1 lakh, KYC documents (Policy Address Proof and ID Proof) are required.
Step 3: Claim Settlement
The surveyor will analyse the loss and issue a work order after receiving all appropriate claim documents.
Once the repairs are finished, the surveyor may undertake a re-inspection.
Upon receipt of the original/proforma repairing bill, Navi GI will issue a Claim Amount Confirmation (CAC).
You can get your car by paying your portion of the claim and/or the sum due for any non-accidental work. Submit a signed satisfaction letter to the garage when you receive your vehicle (the CO's stamp must be applied if the insured is a Firm/Company). After receiving the Surveyor report and all claim paperwork, we will disburse claim payment to the garage within 7 working days.
b). Third-Party Claim
Nodal officer email address is navilegalclaims@navi.com for third-party MACT claims.
Step 1: Claim Registration
Follow these steps to notify or make a claim:
Calling the toll-free number 1800 123 0004 OR
By contacting insurance.help@navi.com via email. OR
Through the Customer Portal, simply visit the company's website.
Step 2: Documentation
Step 3: Claim Settlement
The MACT (Motor Accident Claim Tribunal) Courts will handle all third-party claims. Following the conclusion of the legal proceedings, the Tribunal will determine the amount of compensation to be paid. Employees' compensation claims are handled by the Workmen's Compensation Commissioner.
The claim mo1n5*ey will be deposited with the Court or paid to the Complainant, depending on the decision of the MACT court / Workmen Compensation commissioner.
3. Navi Travel Insurance Claim Process
You have two options when it comes to filing a claim for your travel insurance:
Cashless Facility (Applicable for Overseas Travel Only)
The following coverage under the policy can be given with a cashless facility:
Medical Assistance:
a. Medical Expenses from an Accident or Sickness
b. Medical Evacuation in an Emergency
c. Mortal Remains Repatriation
Reimbursement Facility
If the cashless option is not available, you (the insured person) can submit claim documentation to Navi General no later than thirty (30) days after the event or loss for compensation, according to the terms and conditions of the policy. However, in the event of Permanent Total Disability, the relevant documents must be presented to the company within 30 days of the policy's 180-day continuous disability period expiring.
Documents common to Travel Care, Non-Medical Care, Accidental care
A properly filled-out and signed claim form
A copy of your passport, a visa with entry and exit stamps, and evidence of travel are all required.
All original invoices and bills
Payment by NEFT was made using a voided check.
Any other information or documentation that the company may request.
Note: For all claims, the essential claim documentation must be submitted to the Assistance Company within the timeframes specified. Failure to provide this documentation within the appropriate timeframe will not invalidate or decrease any claim if You can demonstrate that it was not reasonably possible for You to submit/provide proof within that timeframe.
4. Navi Home Insurance Claim Process
Looking to get the claim for your home insurance? If so, make sure you go through the below-mentioned steps:
In the event of an accident, prioritize your safety and the safety of your home. Take all necessary precautions to prevent the damage if at all possible.
Call your insurance company's helpline, send a fax, or send a letter explaining the damage.
Take photos of the damaged areas of your property if possible. Also, preserve all of the bills and receipts from the services you received after the accident.
Your insurance may request supporting documents depending on the nature of the accident and the degree of the damage. Make sure you provide all required papers, as well as a properly completed claim form.
The insurance may appoint a surveyor to assess the damage.
The insurance will offer you an appropriate refund if the claim is validated.
Documents Required for Filing a Home Insurance Claim
Having all of the required documentation on hand will expedite the claims procedure. Some of the paperwork required to file a home insurance claim are listed below.
A properly completed and signed claims form from the insurer and the insurer's legal representative.
Proof of the event, the extent of the loss, and the nature of the accident – valid independent evidence reports include the First Information Report (FIR), rent agreement, court summons, repair bills, legal opinion if applicable, fire brigade report, invoices of owned belongings, hospital bills, bills of replacement suppliers, and so on.
Additional documents may be requested depending on the nature of the claims made. Keep a copy of the policy, the policy number, as well as evidence of identification and residence in case it is needed.
Frequently Asked Questions