Renew in just 5 mins.
No Inspection.
No Paper Work
* Subject To Underwriting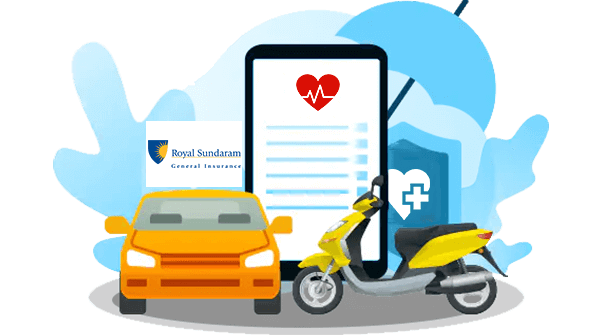 Compare

Bike Insurance Plans
Download Royal Sundaram Two Wheeler Policy
The official contract between an insurance company and a policyholder is referred to as a bike insurance policy document. It acts as evidence of the latter's commitment to upholding its end of the bargain should the former's conduct result in financial loss. The policy paper contains information on the terms and coverage of the purchased insurance. It is an important document since the insurance company bases its offerings on the policy's language and because it is the only supporting documentation used to support coverage claims by insured parties.
Within a few days of the insurance policy being purchased, the Royal Sundaram General Insurance Company mails the policy paperwork to each bike insurance policyholder at their address. The document's soft copy is immediately distributed. Every bike owner should have a copy of their insurance policy in their possession and be familiar with all the information it contains.
Read on to know the process of downloading the Royal Sundaram two-wheeler insurance policy.
How To Download Royal Sundaram Bike Insurance Policy Online Using Policy Number?
A customer can use their policy number to follow the procedures below to download the Royal Sundaram two-wheeler insurance policy document online:
Go to the website of Royal Sundaram and there they need to click on 'Customer Service Request'.
Thereafter, the policyholder must scroll down through the page and click the option that says "Register Your Request Online."
The customer then will be directed to a page wherein they need to select their request type, i.e., "Request for Policy Copy".
After that, they will need to fill up the areas with their request for a policy copy, name, phone number, email, policy number, and text verification captcha. Then, the policyholders can download the Royal Sundaram two-wheeler insurance policy after they enter the required information.
Via Call:
Customers can also get in touch by calling the toll-free number 1860 258 0000 or 1860 425 0000 between 9:30 am and 6:30 pm to seek assistance in getting a hard copy of the policy document.
Via Email:
If a policyholder is looking to download their policy and wants support from the mail, then they can simply send an e-mail to customer.services@royalsundaram.in
Do You Need a Hard Copy of My Bike Insurance Policy Document?
To ride a bike on the road, all car owners in India are required to have two-wheeler insurance, per the Indian Motor Tariff. If they don't, it will be seen as unlawful action. A 2,000 INR fine or a three-month jail sentence can be incurred for operating a two-wheeler without current insurance. IRDAI has introduced an e-Vahan Bima tool to help policyholders transport their policy documents in digital format. Through this scheme, bike owners can receive Royal Sundaram two-wheeler policy documents on a smartphone app that scans a QR code to access all relevant policy details. However, they are permitted to bring a hard copy of the insurance policy with them.
Frequently Asked Questions
The following are some essential sections of a bike insurance policy contract that policyholders should read:
Policy type
Policy duration
General coverage exclusions
IDV and premium amount
Policy number
Policy features and benefits
Terms and conditions of the policy
Personal and vehicle details mentioned
Grievance redressal process of the insurer.
If a customer sells their two-wheeler to someone else, they may transfer their Royal Sundaram two-wheeler download policy to the vehicle's new owner. The insurance liability is thereafter the responsibility of the new policy owner.
The manufacturer, model, age, and registration location of their bike all play a role in determining the Royal Sundaram two-wheeler download coverage insurance costs. The sort of policy they select and their history of claims will both affect how much they pay for two-wheeler insurance.