Renew in just 5 mins.
No Inspection.
No Paper Work
* Subject To Underwriting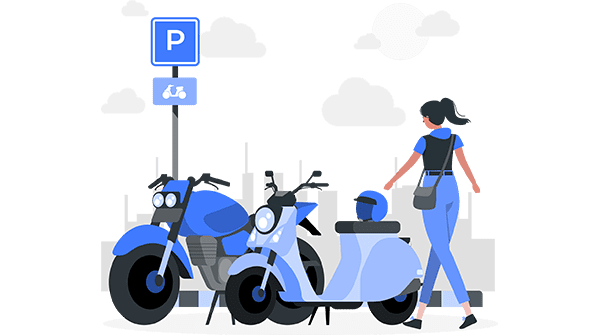 Compare

Bike Insurance Plans
How To Know Two Wheeler Insurance Policy Number?
Since India is home to the largest two-wheeler market, the demand for two wheeler insurance has been drastically increased. Furthermore, the Motor Vehicles Act of 1988 mandates the purchase of insurance for all vehicles registered in the country. Thus, the policy number to the two-wheeler is incredibly important as riding your bike is an illegal and considered punishable offense.
One of the major highlights of bike insurance is that it effectively protects your two-wheeler against a multitude of mishaps, including potential damage, loss, and theft, as well as covering third-party damages caused by the insured vehicle.
It offers the owner-driver with a "Personal Accident cover," which protects the owner-driver from serious injury and even death if the vehicle is involved in an accident. Since technology took the landscape by leaps and bounds, it's now a cakewalk to buy your two-wheeler insurance policy online. As the entire process is streamlined, anyone can spare little time from their hectic schedule and buy the policy online in just a few minutes. The registration number and bike insurance policy number are required whether you are purchasing a third-party or comprehensive policy.
How To Get Two-Wheeler Vehicle Insurance Details by Registration Number?
You only need to submit your vehicle registration number when purchasing bike insurance online. Once you have successfully purchased the plan, you may see that the details of your bike insurance policy are all connected to your registered number that only the respective RTO of the city/state can access.
Your bike insurance details are accessible by the insurance company you choose. You can easily visit the latter's website by adhering to either of the following options:
Option 1: Simply go to the Regional Transport Office's (RTO) official website to find out the location where your two-wheeler is registered. All you need to do is simply enter the mobile number of your vehicle and after that, the information of your bike insurance will be displayed on the screen.
Option 2: If you are looking to confirm the details of your two-wheeler insurance, look no further than visiting the State Transportation Department's website and enter your registration number/mobile number.
Option 3: For those who're new to the insurance, they can visit the Insurance Information Bureau (IIB) website to check the bike insurance policy via online method.
Steps To Find Two Wheeler Insurance Number and Other Information
If you are looking to check the insurance number and other details of the two-wheeler, you can do it via either of the following methods at your convenience. Let's discuss each method in detail.
1. Through Insurance Information Bureau (IIB)
In 2009, the Insurance Regulatory and Development Authority of India (IRDAI) launched the Insurance Information Bureau (IIB) to efficiently help the insurance industry in facilitating hassle-free operations.
To promote overall transparency, all information relevant to insurance policies issued in the country is collected and made available to policyholders under IIB.
Looking to visit the IIB site? If so, simply do the following options to check the bike insurance online. Here are the steps to follow:
Step 01
Visit the official website of the Insurance Information Bureau.
Step 02
On the home page, under "Quick Links," click on the V-Seva tab to be directed to the "Accident Vehicle Information Retrieval System" page.
Step 03
Make sure you enter all the details, such as the owner's name, address, phone number, email address, and two-wheeler registration number.
You will also need to provide information such as the date and location of the accident if the bike met an accident recently and you need to monitor its insurance data to file a claim against it.
Step 04:
Click the "Submit" button after entering the Captcha.
After finishing all the steps, the insurance information for the two-wheeler will appear on your screen. You're good to go.
2. Check Details Via VAHAN
The Road Transport and Highways Ministry's VAHAN e-service website keeps track of all two-wheeler insurance policies. If IIB isn't enough, VAHAN can show you the status of your coverage.
Here's the list of the steps you need to follow and get your policy status in minutes.
Visit the website of VAHAN e-services.
Click on "Know Your Vehicle Details".
If you are a registered user, enter your mobile number and then password in the given box. 
After that, you have to click on "Continue".
Make sure you fill in the right vehicle number and the captcha code and then click on "Vahan Search". 
You're done! Simply check your policy number and various other associated details. 
For New Customers: 
Go to the official VAHAN website.
Click on 'Know Your Vehicle Details' at the top of the page and then go to "Create New Account". 
Simply fill in your e-mail address and mobile phone number. 
After that, you need to "Generate OTP". 
OTPs will be sent to your email address and phone number. Then, you need to fill in the required fields and enter "Verify". 
After that, you need to enter your name and password, and then click on "Save" to activate your ID. 
Once you have successfully activated your account, go back to Vahan search and then log in with new credentials.
Enter the number of your vehicle and the "captcha code", and then click on "Vahan Search". 
At last, you can continue to check your policy number and various other details.
Check Details Via Your Insurer
Your two-wheeler insurance provider can supply you with information about the status of your coverage. The steps that can be beneficial are listed below.
Online: Go to your insurance provider's website and find your policy information.
Offline: Contact your insurance provider's customer service department or pay a visit to their office.
The majority of insurance companies offer both physical and virtual services. The online approach, on the other hand, is simpler and takes less time. As a result, have your registration number handy anytime you check your status.
How To Renew Two Wheeler Insurance Policy Using Registration Number?
Renewing two wheeler insurance online after or before it has expired is fairly simple. All you have to do is follow the three simple steps below:
Choose Your Insurance Company: This is one of the most important factors that you cannot overlook. If, however, you are not satisfied with the services of your current insurance service provider, then you can simply switch to another company while renewing your bike insurance via an online method. You can compare two-wheeler insurance online and get the best deal that suits your requirements.
Enter Your Bike Registration Number: Once you have successfully chosen your insurance company, you then need to visit its website and enter the details (registration number) of your bike. Make sure you choose the right type of insurance policy, IDV, and add-ons (if you want).
Make the Purchase: After you select the policy, you then need to make the payment online. Finally, you will receive a soft copy of your insurance policy on your registered mail ID.
To be on the safe side, check for online bike insurance for your expired coverage or even before it expires using these simple methods.
Frequently Asked Questions
Here's the list of the frequently asked questions related to the two-wheeler insurance policy