Renew in just 5 mins.
No Inspection.
No Paper Work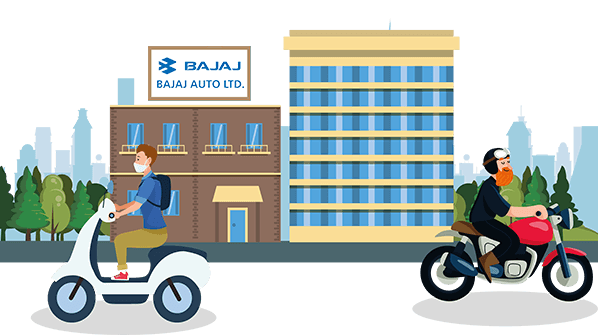 Compare

Bike Insurance Plans
Why to Insure Your Bajaj V12 Bikes
Bajaj V12 Bike is great on Indian roads, which is why there are so many of them. But with two-wheeler insurance, you can:
Be sure that you're rightfully compensated if your Bajaj V12 bike was stolen or damaged beyond repairs.
Get coverage for a third-party if your bike caused an accident and the third party was injured or their property damaged.
Get comprehensive coverage for your own two-wheeler, in case damages were caused to your vehicle.
Be sure that no traffic policeman heavily fines you for not having an insurance policy for your bike. Strictly, say no to bribery!
You are covered against the following:
Loss or damage to the vehicle due to an accident
Loss or Damage caused to third-party life or property
Theft of insured vehicle
Damages caused due to natural calamities
Damages caused due to man-made calamities
You are NOT covered against the following:
Regular wear and tear
Depreciation
Mechanical & Electrical breakdown
Driving with an Invalid or no license
Driving under the influence of intoxicants
Add-on Covers For Your Bajaj V12 Bikes
Trim your Comprehensive Bike Insurance Premium with these Discounts
No Claim Bonus
You are eligible for an NCB discount on your own damage premium for every claim-free year. You get 20% for the first year and can go as high as 50% over 5 consecutive claim-free years.
Installation of Security Devices
A lower IDV demands a lower premium to be paid. (But compute wisely, since IDV is the utmost value the insurer can compensate you with).
Membership of AAI
A membership to any of the recognized Automobile Associations of India can fetch you an extra discount.
Choose the Right IDV
If you are in the noble profession of teaching or employed in Govt. Services, you are entitled to an additional discount on your own-damage car insurance premium.
How to File a Claim for Your Bajaj V12 Bikes
The policy document is a ready reckoner that you can refer for the complete list of documents to be submitted if you have a Car Insurance claim. The documents which you would generally require are:
Bajaj Auto Limited is one of the top business companies as well as two-wheeler manufacturers present in India. With their hardworking, updated models, customer-friendly prices, Bajaj has earned the trust of people not only in India but also in various other countries in the world. Bajaj V12 is one of its prestigious two-wheeler models. The body of this particular model is built with the metal of INS Vikrant. It has 124.5cc air-cooled, DTS-i engine. The powerful headlights help you ride through the dark fearlessly and the wide tires help you have grip as well as comfort. Along with these is the stylist backrest which provides great support at the back. The Bajaj V12 truly gives you a prestigious ride.
Before Your Next Drive On Bajaj V12 Bike
Wear Helmet
Carry this Documents
DRIVING LICENCE
PUC
INSURANCE POLICY
RC BOOK
Most frequent questions and answers about Bajaj V12