Renew in just 5 mins.
No Inspection.
No Paper Work
* Subject To Underwriting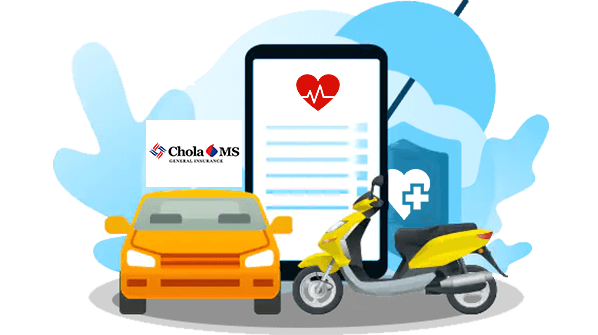 Compare

Bike Insurance Plans
Chola MS Comprehensive Bike Insurance
Bike owners can get full coverage from comprehensive bike insurance. Although comprehensive insurance has higher premium costs than third-party insurance, it provides coverage for a wider range of unforeseen events and contingencies, including accidents, theft, natural disasters, and man-made disasters. More benefits than the increased premium will accrue to the insured.
In India, you need to have at least a Third-party Liability policy to legally ride a two-wheeler. The extensive coverage of the Chola Insurance comprehensive two-wheeler insurance policy allows for the maximum security and safety of your cherished vehicle. There are many advantages to the policy that could help you ensure your peace of mind and the safety of your vehicle.
In addition to providing you with the benefits of own-damage cover, a complete two-wheeler insurance plan also provides the necessary third-party coverage. All liabilities incurred as a result of theft, explosion, fire, burglary, man-made disasters (riots, strikes, etc.), as well as natural disasters like floods and earthquakes, are covered by the own-damage cover.
What Does Cholamandalam Comprehensive Bike Insurance Policy Cover?
The following are the features and benefits of the Chola Comprehensive bike insurance policy.
Personal Accident Cover
Personal accident coverage up to one lakh rupees is included with comprehensive insurance. The insured will be protected from accidents that leave them partially, permanently disabled, or dead. This add-on needs to be purchased separately as a rider for other policies, such as third-party policies.
Provides Complete Protection
As opposed to third-party insurance, pays for harm done to both the insured and to third-party people and property. Theft, accidents, natural disasters, wear and tear, and natural calamities are all covered by this kind of insurance policy. In addition, the insured can add riders like an anti-theft cover, a zero depreciation cover, etc., if they want more protection.
It is significant to remember that third-party insurance does not provide coverage for costs associated with natural or man-made disasters. The insured is shielded from these costs by this comprehensive plan.
Cover Against Third Party Liability
Liabilities only towards third-party individuals and property are covered by third-party insurance. The cost of repairing the insured's vehicle and any damages are their responsibility. This policy also includes coverage for third-party death or bodily injury. When an unfortunate event occurs, someone who has comprehensive insurance can feel secure.
Coverage Against Death or Physical Damage
It offers protection against bodily injuries to both the driver and the pillion passenger. It includes both physical harm and fatalities.
No Claim Bonus
The insured is eligible to use NCB, which offers discounts on the premium up to 50% at the time of renewal if they do not file a claim during the term of the policy.
Deliberate Man-Made Damage
Your two-wheeler insurance policy will cover any harm done by men through vandalism, terrorist attacks, and other nefarious acts, as well as harm suffered during strikes, protests, and riots.
Add-on Covers Offered in Chola MS Comprehensive Bike Insurance
Two-wheeler insurance policy add-ons are similar to top-ups that offer prompt assistance and benefits in unfortunate circumstances.
Zero/Nil Depreciation Cover: This coverage enables you to fully recover the cost of any parts that may have been replaced as a result of an accident without taking into account depreciation. For this coverage, which covers costs for replacement parts and depreciation value, you must pay an additional premium.
Passenger Cover: The rider is protected against death and disability under a typical policy. The pillion rider will also be protected by an additional passenger cover. In the event of a co-passengers death or partial or permanent disability, compensation is given. Although it costs a little more, passenger cover is very advantageous.
Medical Cover: This medical add-on cover aids in paying for various types of medical care associated with accidents involving your two-wheeler.
Accessories Cover: This add-on cover offers protection from loss or damage to any additional expensive electrical and non-electrical accessories that are attached to your two-wheeler and that you may want to insure because of their monetary value. You must estimate the total cost of the accessories at the time of policy purchase to qualify for this add-on.
Exclusions Under Chola MS Comprehensive Bike Insurance Policy
Listed below are the things not included under the Chola MS Comprehensive Bike insurance policy.
Wear, tear, and aging of bike
Burglary/theft of bike accessories
Damage/loss by an under-age or unauthorised rider or driving without a valid license
Electrical or mechanical breakdown or failure
Damage/loss due to irresponsible behaviour like loss of keys or reckless behaviour like speeding, performing stunts
Damage/loss due to driving under the influence of alcohol or drugs
Depreciation in the value of the bike
Damage/loss/liability caused by terrorist attacks, riots, war, invasion, or nuclear weapons
Wear and tear of tires and tubes, unless damaged in an accident
Damage/loss to two-wheelers or a third-party liability arising beyond the stated geographical area i.e. outside India.
How To Buy Chola Insurance Comprehensive Bike Insurance Policy?
A comprehensive cover insurance policy is a complete two-wheeler plan that covers third-party liability as well as protects your vehicle from damage and loss. Your preferred motorcycle or scooter is completely protected if you purchase two-wheeler insurance online from Chola MS with comprehensive coverage.
Step 1: Visit the official website of Chola MS Insurance.
Step 2: Click on the "2-Wheeler" option on the home page.
Step 3: Then, you will see a little table below wherein you need to enter your mobile number and select your existing policy type, and then click on "Get Quote".
Step 4: The moment you click on "Get Quote", you will need to select your bike brand and then select your two-wheeler and variant. Once you are done entering the details, click on the "Continue" button.
Step 5: After that, an OTP will be sent to your mobile number. Enter your OTP and then click on "Verify OTP".
Step 6: Then, you will need to select your date of registration. After selecting your registration date, search your city of registration.
Step 7: In the seventh step, you will then need to enter your previous policy expiration date. Then, the moment you continue with your buying process, you will then need to select your IDV (Insured Declared Value). Even if you want to add "Personal Accident Cover", click on "Yes".
Step 8: On the same page, you will see the premium amount below along with the proceed button in red color. Click on the "Proceed" button to finalize your Chola MS comprehensive bike insurance policy.
Step 9: Simply verify all the details to avoid any faults in the future. To make the premium payment, you can use your credit/debit card and protect your vehicle from damage.
How To Make a Claim For Your Chola MS Comprehensive Bike Insurance Policy?
To receive compensation or other benefits under your bike insurance policy, you must first notify your insurance provider of the incident. To receive compensation on time, it is crucial to notify the insurer right away of the damage or loss.
Cashless Claim Process:
Reporting – To ensure a simple process, inform your insurer as soon as possible about the claim. Visit their website or dial their toll-free number. Register your claim and keep the provided reference number for later use.
Assessment- Your bike's damage will be evaluated by a surveyor that the insurance company has appointed. Following the assessment of the damage, the assessor will provide a report.
Servicing – Your motorcycle will be towed to the closest authorized garage for repair after your claim has been evaluated and approved. You can pick up your repaired bike from the network garage after service.
Cashless Claim Settlement – Your insurer should receive all required paperwork along with the claim settlement form to process your claim. Given that you selected cashless claim settlement, your bill will be settled directly with the garage after you pay the necessary deductibles.
Reimbursement Claim Process:
Here are the steps to file reimbursement claims for your Chola MS comprehensive bike insurance policy.
Reporting – If you want to make an insurance claim for the bike, notify your insurer as soon as possible. Visit their website or dial their toll-free number. Register your claim and keep the provided reference number for later use.
Servicing – Have your bike towed to the neighbourhood garage of your choice, where you can assess the damage. Pick up the bike whenever it is finished being repaired there. To file an insurance claim, keep the original invoices, receipts, and inspection report in addition to paying the last of the bills on your own.
Reimbursement Claim Settlement – Your insurer should receive all required paperwork, the claim settlement form, and the original bills and invoices to process the claim. The insurer will release the compensation after reviewing the claim. The claim amount will be paid out after the deductibles have been deducted.
Frequently Asked Questions