Renew in just 5 mins.
No Inspection.
No Paper Work
* Subject To Underwriting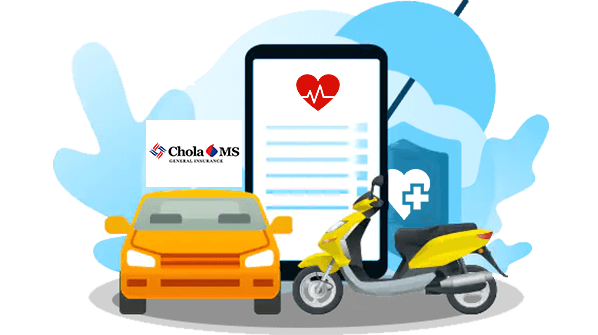 Compare

Bike Insurance Plans
Chola Insurance Own Damage Bike Insurance
When a person rides a two-wheeler frequently, the uncertainties that come with being on the road worsen. As a result, your loved ones might be constantly concerned about your safety. A layer of protection in times of crisis is possible with insurance. The policyholder will have financial security in difficult times thanks to the two-wheeler insurance's provision of compensation in the event of an accident.
Cholainsurance own-damage insurance policy will also protect you in several situations, such as theft, total loss, fires, explosions, and other natural or man-made disasters. It will give you complete protection and peace of mind if you buy it in addition to your required third-party insurance.
Features and Benefits of Cholainsurance Own Damage Two Wheeler Insurance
Here are the features and benefits of Chola Insurance Own Damage Bike Insurance. 
Minimal Documentation
Chola MS only needs a few fundamental documents to process your requests, whether you're buying bike insurance or making a claim. This implies that you won't have to fill out a tonne of paperwork or submit a long list of supporting documents.
Widespread Coverage
Get protection up to Rs. 15 lakhs in the event of the registered owner's accidental death or disability while driving. The Chola MS bike insurance plan also protects against property damage and third-party injuries.
Quick and Simple Claim Settlement Process 
Cholamandalam MS provides claim resolution services both online and offline. Furthermore, Cholamandalam MS Bike Insurance plans have higher claim settlement ratios, guaranteeing that your claims can be settled without any trouble.
Man-Made Disasters
If the vehicle is damaged as a result of man-made disasters, such as strikes, racial unrest, terrorist attacks, etc., the policyholder may be able to recover the cost of repairs.
Theft
The Chola MS General Insurance Company gives you a lump sum payment to make up for your loss if the vehicle is stolen.
In-transit Loss
The Chola MS General Insurance Company will cover the loss if the vehicle suffers any physical harm while being moved from one place to another.
The exclusions under the Chola MS Own Damage bike Insurance policy are given below:
Any accidental loss or damage that occurs outside of India's borders
Any mishap, damage, or loss brought on by nuclear weapon materials
Compensation claims based on contractual obligations
Damage or loss brought on by depreciation
Accidental losses or damages resulting from the use of the vehicle in any illegal or terrorist activity
Damages brought on by a driver operating a vehicle while intoxicated by alcohol or drugs
This policy does not provide coverage for any mechanical or electrical breakdowns.
The policy does not apply to illegal activities like driving while inebriated, driving on the wrong side of the road, or operating a vehicle while underage.
This policy does not apply to damages brought on by intentional actions, such as hitting your bike with the intent to cause an accident.
Buying Process Of Chola Insurance Own Damage Bike Insurance Policy
Since the plan cannot currently be purchased online via the official Chola MS insurance website, Probus Insurance is where one can do so. The company has been operating for many years with the goal of consistently providing its clients with better insurance solutions.
Visit Probus Insurance's official website to easily purchase the Chola Own Damage Bike Insurance plan. On the right side of the page, select the "We Are Here" chatbot. You can 'live chat' with any of the company's customer care representatives after providing your name, email, phone number, department, etc. Throughout the purchase of the plan, the customer care representative will assist you.
As an alternative, you can get in touch with the business's customer service department by using any of the following methods:
Mail: care@probusinsurance.com
How To Make a Claim for Your Cholainsurance Own Damage Bike Insurance?
The ultimate objective of any policy, including the Chola MS own damage two-wheeler insurance plan, is probably claim settlement. Therefore, it is crucial that you have all the information you require to submit a claim and have it resolved. The procedures are as follows:
Step #1: Notify Chola MS
The first step in filing a claim is to notify your insurance company. Therefore, in this case, you must inform your insurance provider of the incident and let them know that you intend to submit a claim in connection with it. To get the bike to the garage, you can enlist their help or, if you can, go get it yourself.
Step #2: Get the reports and documents
After notifying Chola MS of the accident, you must proceed to the nearby police station to file an FIR. To be able to file a claim, make sure you remember to keep a copy of the FIR. A few documents, including a valid driver's license, the vehicle's registration number, insurance documents, and bank account information, must be transported.
Step #3: The claim form
Ask Chola MS for a claim form. You have the option of doing this offline or online. Correctly complete the form, then double-check the information you entered. Submit the form with the pertinent documents attached.
Step #4: Settlement of claim
You can visit a network garage for cashless benefits to have your bike fixed. In a network garage, the insurance company will pay the bills without your involvement. However, you may request payment reimbursement if you must use a garage other than those with Impanelling.
Documents Required for Filing a Claim
If a claim for your damage arises, you must give the insurer the following information:
Valid and active two-wheeler insurance policy
FIR in case of an accident/theft
Registration Certificate of the vehicle
Other documents (may vary from insurer to insurer)
Frequently Asked Questions
By acquiring additional covers, your own damage motor insurance policy can be altered. Since third-party liability auto insurance only covers third-party damages, it cannot be customised with add-ons. Own damage insurance typically has one year of validity before needing to be renewed.
No, OD insurance is not required, but it is advised for the protection of your motorcycle.
When compared to the other person, who had a Zero Dep policy, the claim amount of the person with Own Damage cover was lower. This is because the claim amount for the former was reduced by depreciation.