Renew in just 5 mins.
No Inspection.
No Paper Work
* Subject To Underwriting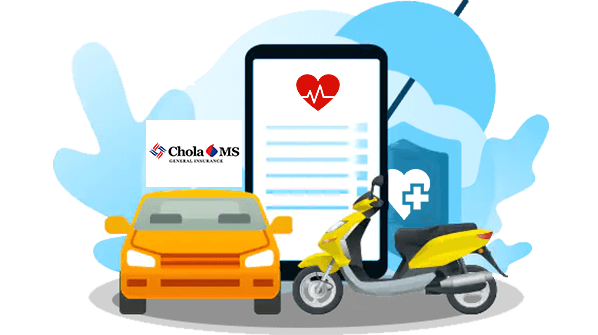 Compare

Bike Insurance Plans
Download Cholamandalam Bike Insurance Policy
A two-wheeler insurance policy document is a contract that obligates the insurance provider to supply the policyholder with specific advantages. The insurance company's terms for providing these benefits and the reimbursement amount are predetermined. These details are included in the policy document's terms and conditions for the insurance.
A copy of their Cholamandalam bike insurance policy must be downloaded/taken out and carried at all times when operating a two-wheeler. Therefore, it is essential that every insurance holder carefully read the policy paperwork. Doing so will help to avoid misunderstandings and issues during the claim-processing phase.
Read on to know the process to download the Cholamandalam Bike Insurance Policy.
How To Download Your Cholamandalam Bike Insurance Policy?
If a customer is looking to download their Cholamandalam two-wheeler insurance policy, here are the steps that they need to follow thoroughly.
Step 1: Go to Cholamandalam MS General Insurance's website. After that, they will need to click on 'Customer Services' under the "Services" tab and then they need to click on "Edit Policy".
Step 2: They can either log in using their mobile number and then click on "Get OTP" and then continue to proceed. Alternatively, they can enter the 13-digit policy number and then proceed.
Step 3: After they have successfully signed in, they will see a download option for their insurance. They can download a copy of the policy and then print it off for a hard copy.
Do I Need a Hard Copy of the Cholamandalam Bike Insurance Policy Document?
Thanks to technological improvements, various insurance carriers now accept electronic versions of two-wheeler insurance policy documents as valid proof of coverage. Based on this, the Insurance Regulatory and Development Authority of India (IRDAI) introduced the e-Vahan Bima app to digitise the vehicle insurance policy document, which removes the need for bike owners to carry a duplicate copy of the policy document while driving. A QR code that contains all of the necessary information about the policy is also included in the digital materials for the vehicle insurance policy.
If customers need any more assistance, they can reach the company's support staff through WhatsApp @ +91 7305234433 (Subject to Change) and 1800-208-5544 (Toll-Free).
A policyholder can get a printed copy of the insurance policy with the help of helpful and professional personnel.
Frequently Asked Questions