Renew in just 5 mins.
No Inspection.
No Paper Work
* Subject To Underwriting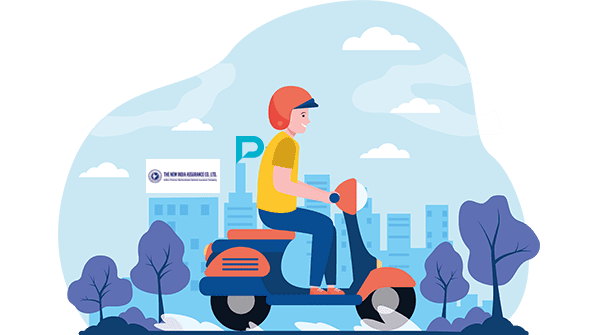 Compare

Bike Insurance Plans
Future Generali Third-Party Two-Wheeler Insurance
Though two-wheelers offer easy maneuvering through traffic, have lower running costs, and need less capital to buy, they are highly vulnerable to accidents due to imbalance, rash driving, and higher body exposure. According to a report by the National Crime Records Bureau (NCRB), two-wheelers have taken the highest number of lives in the nation, approximately 70,000, in road accidents during 2021.
This data itself shows the importance of getting two-wheelers insured before plying them on roads. Moreover, it is mandatory by law for all vehicle owners to have at least third-party motor insurance in India; otherwise, it will cost them hefty fines and even imprisonment (in some cases).
There are many third-party two-wheeler insurance providers in India, but Future Generali General Insurance offers a better experience to its bike insurance holders. The provider has been successfully shielding bike owners from various unexpected accidents over the years. Moreover, the insurer is digitizing its processes to offer convenience and higher accessibility.
How Purchasing Third-Party Two-Wheeler Insurance From Future Generali Is Beneficial?
Let's take a close look at what benefits and features one can have when choosing Future Generali Third-Party Two-Wheeler Insurance:
Instant Policy Issuance & Renewal:
Insurance seekers can easily buy the product instantly from the insurer's official website. They just need to visit the home page, select two-wheeler insurance, enter their details, and pay the premium amount.
Moreover, after purchasing the insurance, Future Generali will automatically send renewal reminders to the policyholders so that they can renew their two-wheeler insurance on time. The renewal process is also quite simple and easy just like the buying process. The policyholders need to enter their policy numbers and other details, pay the premium, and the insurance will be renewed instantly.
Ideal ICR (Incurred Claim Ratio):
ICR is a baseline for measuring an insurer's performance. Technically, it is the ratio of the insurer's net claims payments to its net premiums gathered over a fiscal year. The ratio indicates how quickly and seamlessly an insurer resolves its claims.
As per the latest IRDAI report, the ICR of motor insurance claims of Future Generali was 62.43% in the FY 2021-22. The ICR is not less than 50%, which means that Future Generali does not have more premiums than it has made motor claim payments. Since the ratio lies between the ideal range of 50% to 100%, there is the highest likelihood of claims being filed. Moreover, the percentage also indicates that motor insurance products of Future Generali, including third-party two-wheeler insurance, are fairly priced, offer adequate coverage, and hold not-so-rigid exclusions.
Cashless Facility @ 3500+ Partner Workshops:
Since Future Generali has tied knots with over 3500 network garages across the nation, third-party two-wheeler insurance holders can leverage cashless facilities with ultra convenience. This means that those who have purchased Third-Party Two-Wheeler Insurance from Future Generali need not worry about arranging money for last-time repairs, since everything will be settled by the insurer directly with the workshop.
Faster Claim Settlements With Future Xpress and Xpress+:
Settling two-wheeler insurance can take a lot of time and effort. Since Future Generali is aware of this problem, it offers two incredible and express claim services, namely Future Xpress and Future Xpress+.
Both of these services are designed to offer seamless and speedy claim settlements to its policyholders. By opting for any of them, one can receive on-priority two-wheeler repairs and escape from the hassle of standing in long queues for claim settlements.
Coverage Specifications Of Future Generali Third-Party Two-Wheeler Insurance
The Third-Party Two-Wheeler Insurance from Future Generali will cover the following expenses:
Property Damage Of Third-Party:
The insurance covers financial obligations, such as third-party property damage that may arise from an unanticipated event caused by the insured two-wheeler.
Personal Damage To Third-Party:
The product covers personal damages to the third party in the event of the insured two-wheeler accident, including bodily harm, disability, or death of the third party.
Personal Accident Cover:
This is a mandatory cover that has to be purchased in addition to Future Generali Third-Party Two-Wheeler Insurance. It covers unintentional deaths and disabilities of drivers and pillion riders sustained in the insured bike-related accident.
List Of Exclusions Under Future Generali Third-Party Two-Wheeler Insurance
The following expenses are not covered at any cost under the insurance product:
Normal wear and tear as well as typical aging of two-wheeler
Any harm done to the bike or by someone operating it without a licence
Loss or harm brought on by a nuclear threat, revolt, or war
Any mishap that occurs outside of the defined area
Any harm caused to the vehicle or by a driver under the influence of alcohol or drugs
Frequently Asked Questions