Renew in just 5 mins.
No Inspection.
No Paper Work
* Subject To Underwriting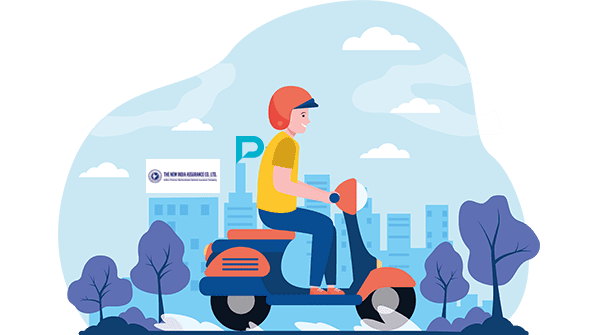 Compare

Bike Insurance Plans
Download ICICI Lombard Bike Insurance Policy
No matter what two-wheeler you drive, you cannot overlook the importance of bike insurance. With such an insurance policy, you may not only protect your vehicle but safeguard third-party liabilities. This type of insurance protects all types of two-wheelers including scooters, mopeds, and bikes.
Every policyholder who purchases an insurance policy from the ICICI Lombard General Insurance company receives a policy document, which is a type of payment receipt. It is strongly advised that all policyholders read their insurance policy's policy documents to easily access the benefits of their insurance coverage. Read on to know the process to download ICICI Lombard bike insurance without any difficulty.
How To Download ICICI Lombard Bike Insurance Policy Online?
If you are looking to download your two-wheeler insurance policy from ICICI Lombard, here are the steps to follow:
Go to the official website of ICICI Lombard.
When you go to the bottom of the page, click on the "Customer Support" link under the "Services" section.
Click on "Require Policy Copy" under the "Request Policy Copy" tab of the "Online Request" section.
Select the product name and case type, i.e. (Request), and then press "Next".
Enter your policy number and various other details as asked by the page. Then press "Proceed".
You will get your policy copy to your registered email ID.
Do I Need a Hard Copy of the ICICI Lombard Insurance Policy Document?
The Indian Motor Tariff Act of 1988 mandates that every bike owner rides on public roads with a copy of their insurance policy in hand. Otherwise, they risk getting into serious difficulty and incurring a severe punishment of INR 2,000 or maybe a 90-day jail sentence. Both penalties may be imposed on the offender if necessary.
However, to allow policyholders to carry their policy documents in digital form, the Insurance Regulatory and Development Authority of India (IRDAI) recently released an Android app called e-Vahan Bima. As a result, there is no longer a requirement for policyholders to carry an original or duplicate copy of their policy documents in hard copy. A QR code that contains all the information about one's bike insurance policy is included with the app.
If customers need any more assistance, they can reach the company's support staff 24/7 at +91 86 55 222 666 (Subject to Change) and 1800 266 9725 (toll-free). Alternatively, you can WhatsApp on 7738282666.
With the assistance of friendly and knowledgeable staff, you can obtain a printed copy of the insurance policy.
Frequently Asked Questions
The following sections of the bike insurance policy contract must be read by each policyholder:
Type of Policy
Term of Policy
IDV and premium amount
Policy number
General exclusions and inclusions
Policy terms and conditions
Grievance redressal process of the insurer
Details of the insured person and the bike
Yes, the information on the no-claim bonus, if any, is included in the copy of the ICICI Lombard bike insurance policy.
If you have accidentally lost your ICICI Lombard bike insurance policy document somewhere in the public, you must have the original policy document, the FIR copy, the indemnity bond, a copy of the newspaper advertisement for the lost policy, and a handwritten application sent to the insurer.