Renew in just 5 mins.
No Inspection.
No Paper Work
* Subject To Underwriting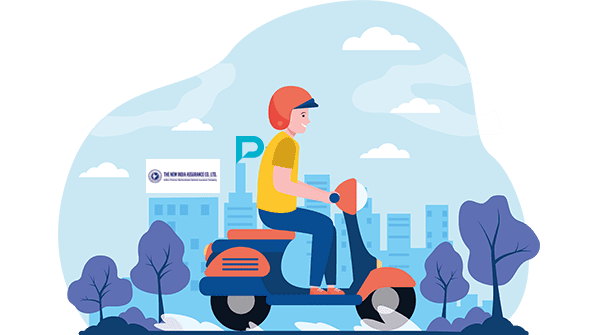 Compare

Bike Insurance Plans
New India Bike Insurance Policy Download
Now that you have finally bought your dream bike, you must be eager to safeguard it by investing in a suitable bike insurance policy. But just buying a two-wheeler insurance plan is not enough. In order to be able to reap the benefits of the insurance plan, you should have a downloaded copy of the policy paper.
Now you may question the relevance of downloaded hard copies of the bike insurance policy in this digitized era. Basically, getting dependent completely on technology is not advisable. In emergency situations, your devices may not function properly, or you may misplace them. A downloaded copy comes in handy in such conditions.
Various Situations in Which a Downloaded Policy Copy Will Serve As a Savior!
Are you still not sure if a downloaded copy of your bike insurance policy will come in handy in different circumstances? Then have a look at the following unpredictable situations that may take place any time in your life:
Your phone breaks down: Suppose you need to show your policy papers to traffic police or at a network garage. And you take out your smartphone to show them the soft copy of the insurance policy. It can break down at any moment without giving any prior hint. And you won't be in a position to procure the soft copy of the policy until you get access to your customer dashboard on any other device. A downloaded hard copy can make the entire process seamless in such a situation.
There is no internet connectivity or network: Maybe you are stuck in a region with poor connectivity. And now you are not able to log in to your insurance customer portal and show the policy soft copy to the concerned authority. Again, the downloaded hard copy will do the needful here.
You do not have your phone/laptop with you: Often, in emergency situations such as accidents, policyholders tend to get panic, and they often fail to carry devices such as phones and laptops in those stressful times. Also, your devices can be stolen or damaged completely. You will be able to come out of the sticky situation easily in case you have that downloaded copy of your two-wheeler insurance policy.
How To Download New India Bike Insurance Policy in a Few Easy Steps?
Here's how you can download your New India Bike Insurance Policy by following a few easy steps:
Visit the official website of The New India Assurance Co. Ltd.
On the right hand top side of the home page, you will see an option of "Download Your Policy"
Click on the same and you will be redirected to a new page.
Here you will have to fill in details such as your registered mobile number, or your email ID.
Click on the "Proceed" button and your bike insurance policy will get downloaded in a PDF format.
Is it possible to make any types of alterations to the New India Bike Insurance policy papers?
Yes, you can make desired changes, such as spelling changes in your name or any other personal details in your New India Bike Insurance policy papers. Simply make a call at the customer care number or drop a mail at the official email ID of the insurance company. One of the customer care executives will get in touch with you and help you with the necessary alterations. You can also personally visit the nearest branch of New Indian Assurance Co. Ltd. and request them to make the changes.