Renew in just 5 mins.
No Inspection.
No Paper Work
* Subject To Underwriting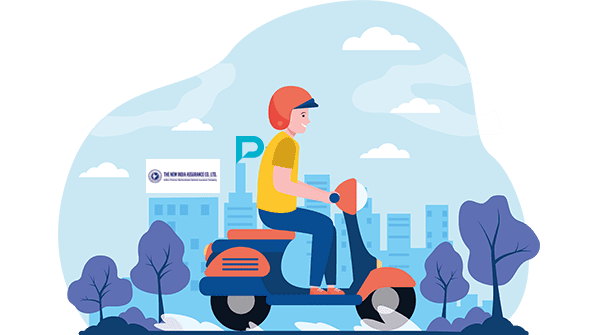 Compare

Bike Insurance Plans
How To Renew New India Bike Insurance Policy
The New India Assurance's liability-only and package two-wheeler insurance policies provide comprehensive coverage for you, your bike or scooter, and third-party liabilities. To make it easier for bike insurance policies to be renewed online, New India Assurance General Insurance has established a well-organized website. Even more so, it offers support thanks to its devoted support staff. The traditional offline method is another option available to policyholders.
Both the renewal procedures of the New India bike insurance policy have been described below.
Benefits Of On-Time Renewal of Your Two-Wheeler Insurance
Here is the list of the benefits of renewing your bike insurance on time. 
Seamless Insurance Protection
In the event of an unexpected accident on the road, you won't have any backup if you forget to renew your two-wheeler insurance before it expires. It will enable you to maintain your protection against unforeseen losses if you renew your two-wheeler insurance policy far before the plan's expiration date. You cannot file a claim if you sustain damages after the policy expires because your two-wheeler insurance is no longer valid.
Peace of Mind
You may essentially purchase complete peace of mind by timely renewing your bike insurance policy. If you get into a collision, you won't have to worry about paying huge fines or extra money for repairs or medical bills. You only need to renew your coverage on time to have this sense of security.
Securing No Claim Bonus
No Claim Bonus, or NCB, is a benefit that you can take advantage of at the time of insurance renewal if you haven't filed any claims over the course of the policy. With such a bonus, you might get a premium discount that ranges from 20% to 50%.
However, as you may already be aware, your NCB may be canceled if your two-wheeler insurance is not renewed during the grace period. So, if you had been earning the NCB incentive every year, one missed insurance renewal would put you back where you started.
Own Damage
Your two-wheeler insurance policy no longer covers any damage your bike sustains if it hasn't been timely renewed. The owner is responsible for paying for any damage to the bike and any necessary repairs. Therefore, it is advised to renew your policy before it expires or to finish your two-wheeler insurance renewal online after it has passed its expiration date, provided you do so within the grace period of 90 days.
Review of Coverage
The ideal time to examine your insurance needs is at policy renewal. The chance to improve your policy by expanding its coverage is during the bike insurance renewal. On the other side, you can even reduce your policy coverage if you believe it to be excessive.
Additionally, it permits you to add rider benefits to your policy for comprehensive protection or change insurers if you are dissatisfied with your current insurance provider.
New India Bike Insurance Policy Renewal - Online Process
Step 1: Visit the official website and go to the renewal page
Visit the New India Assurance General Insurance website.
Select "Quick Help."
From the drop-down option, choose "Quick Renewal."
Step 2: Fill in the policy detail
You must enter your "Customer ID" and either your "Existing Policy No." or your "Renewed Quote No." after a new page has opened. The updated quote number can be sent to you through SMS. When you click "Submit," the page with the policy's details appears. Save the quote after viewing the policy details.
Step 3: Make the payment for renewal
You must use a debit card, credit card, or net banking to pay for the item online using the payment gateway. The policy paperwork is provided shortly after the last payment.
New India Bike Insurance Policy Renewal – Offline Process
You can renew your New India Assurance motorcycle insurance coverage over the phone by calling their customer service line at 1800-209-1415. You can also renew your membership by going to the nearby branch. Both cash and checks may be used to pay the premium.
Frequently Asked Questions
Yes, if you didn't file a claim during the prior policy's term, you are eligible for a No Claim Bonus (NCB) discount of 20% to 50% on the own-damage premium amount of the renewed policy.
After paying the renewal fee, you get a soft copy of the renewed policy via email.
When the policy's expiration date is getting close, it is advised that you renew it. On the other hand, you have until the expiration date to renew it. However, if the policy is renewed more than 90 days after the expiration of the prior policy, the insurer will conduct an inspection.