Renew in just 5 mins.
No Inspection.
No Paper Work
* Subject To Underwriting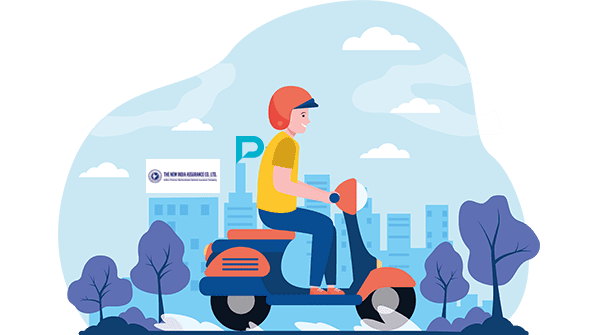 Compare

Bike Insurance Plans
Shriram Bike Insurance Policy Renewal
Shriram General Insurance has provided a convenient solution to minimize the risks on the roads through its bike insurance policies. Shriram's bike insurance policy shields its policyholders from the financial losses arising out of any damage caused during an accident. In order to enjoy the privileges post-expiry, the policyholders need to renew the policy.
Shriram General Insurance has formulated a swift and simple renewal procedure that can be executed online as well as offline. It has set up an active support team to assist the policyholders through the process.
Keep reading to know more about the Shriram two-wheeler insurance policy renewal.
How To Renew Your Shriram Bike Insurance Policy?
Shriram General Insurance makes it easier for its customers to renew their bike insurance policies by doing so in just three simple steps.
Online Process:
Step 1: Visit the official website's policy renewal page.
Access Shriram General Insurance's website.
Select "Quick Renewal" from the menu.
Step 2: Complete the policy information
When a new page appears, enter your policy number and press "Proceed." The premium quote and the policy information are displayed. Review the specifics before moving on to the last stage.
Step 3: Make the payment 
You must use a debit card, credit card, net banking, or NEFT to make the payment. The policy documents arrive in your mailbox a few days after you make the last payment.
Offline Process:
Through Branch Visit:
If you want to renew your Shriram bike insurance policy via the offline method, you can visit their head office-
E-8, EPIP, RIICO Industrial Area, Sitapura, Jaipur – 302022 (Raj.)
Through Call:
By calling the toll-free lines of Shriram General Insurance, which are 1800-300-30000 (Policyholders) and 1800-103-3009, you can renew your motorcycle insurance (Others). You can also renew your membership by going to the nearby branch.
Is It Important To Renew Your Shriram Bike Insurance Policy?
Here are the reasons you cannot overlook renewing your Shriram two-wheeler bike insurance policy.
Third-party Coverage
When you renew motor insurance on time, it will come in handy if there is an accident, even if it results in the loss of lives or property. It enables us to take care of all the accident-related costs as well as any legal issues. This includes physical harm that results in a third party's disability or death, as well as damage to buildings or other property.
Complete Security
The main benefit of renewing your insurance is that it gives you peace of mind. Instead of being preoccupied with concerns about the financial repercussions of an accident, it enables you to drive around with confidence.
Freedom to Switch Insurer
While renewing your vehicle insurance online, you have the option of selecting a different insurer. Bike dealers are where the majority of new car insurance premiums are purchased. It's possible that the insurance or the coverage wasn't given much thought at the time. You do, however, have that choice and opportunity at the time of renewal.
No Claim Bonus Benefit
You will be qualified for an NCB if you renew your auto insurance online without claiming during the policy period. You can receive a discount on your insurance rates when you renew your policy. For the first year, the discount is at least 20%, and it rises to 50% after five years without any claims.
Add-ons
Your present policy's coverage may not satisfy you, and you may need more insurance. When your policy is renewed, you can increase your coverage by adding add-ons. Depending on the insurance plan, extras like zero-depreciation coverage, engine coverage, and accessory coverage are available.
Frequently Asked Questions
If you don't know your policy number, you may still renew your Shriram bike insurance coverage online by providing your registered cellphone number and registration number.
Yes, you can easily switch insurance companies when your policy is up for renewal. It happens quickly at Shriram Insurance.
Shriram Insurance Company indeed offers a secure online option for renewing an insurance policy.