Renew in just 5 mins.
No Inspection.
No Paper Work
* Subject To Underwriting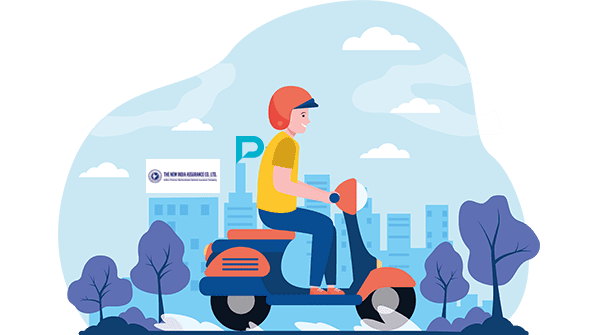 Compare

Bike Insurance Plans
Tata AIG Bike Insurance Policy Renewal
Tata AIG has successfully made it possible for thousands of individuals to safely ride their motorcycles. With its bike insurance plans, it offers monetary security against any unforeseen circumstances. An insurance plan does, however, have a time limit, and you must renew the coverage in order to keep receiving the benefits.
Through digitalization, Tata AIG bike insurance has made the renewal procedure simpler. It has built a reliable helpdesk service that is available 24/7 to support its insured. If necessary, you can also choose the more conventional offline method.
Read on to know the Tata Bike Insurance Policy Renewal process in both offline and online modes.
Process To Renew Tata AIG Bike Insurance Policy
The simple procedures listed below are how Tata AIG bike insurance has handled the renewal procedure.
Online Process:
Step 1: Visit the official website and go to the renewal page
Visit the official website of Tata AIG General Insurance.
After that, you will need to go to the "Self-Service" section and then scroll down a bit and you will see a "Renew Option". Click on it. Click on the "renew" option.
Select the option "Bike".
Step 2: Fill in the details
As you click the said button, simply enter your bike's registration number. You need to fill up the segment with your registered bike number. Once you are done, click on "Renew".
Step 3: Make the payment for renewal
On the screen, the premium quotation appears. You must use a debit card, credit card, net banking, or NEFT to pay through their payment gateway. Within a few days of making the last payment, you will receive the policy in your inbox.
Offline Process:
You can renew your bike insurance by dialing the toll-free number of Tata AIG General Insurance which is 1800-266-7780. The policy can also be renewed by visiting the nearest branch.
Via E-mail:
If you have any query related to your policy renewal, then you can send an email to customersupport@tataaig.com
Via WhatsApp:
Alternatively, you can get your policy details or renew your Tata AIG bike insurance policy, by simply pinging this number +91-9136160375.
What Happens If You Don't Renew Your Tata AIG Bike Insurance Policy?
Here are the things that you are likely to face if you don't renew your Tata AIG Bike insurance plan on time.
Heavy Fines: Every car that travels the highways of India needs to be insured. Transport and traffic authorities may fine you up to Rs. 2,000 and/or imprison you for up to 3 months for the first offense and up to Rs. 4,000 and/or 3 months for the second if you are found riding a bike without a valid two-wheeler insurance policy.
Cost of Repairs: You might ride a bike to get an adrenaline rush or to make it easier to get to work. But did you know that most incidents involve cyclists? Bke mishaps can happen at any time. Therefore, you must prepare for such accidents by timely renewing your insurance. You will be responsible for paying all damage costs and medical expenses for bodily injuries if your bike is involved in an accident after the policy has expired or when the policy has expired.
Lose Money: Keep in mind how we always emphasize the advantages of no-claim bonuses and how they benefit you. Well, you lose the no-claim benefit (if any) that was included with your insurance policy if your insurance policy becomes invalid or you fail to renew it within the allotted time. By doing this, you can also receive Claim Benefits worth up to 50% of what you would have otherwise been entitled to.
Late Fee: Your services can be canceled and you'll be assessed a fine for the late price. If you don't already have your bike insured, do not take the chance; it is better to be safe than regretful.
Frequently Asked Questions
Here is the list of the frequently asked questions related to the Tata AIG Bike Insurance Policy.
Yes, you can transfer your No Claim Bonus from your old insurer to Tata AIG to receive some discounts on the rate for your renewal insurance.
Yes, at the time of renewal, the tenure of the bike insurance policy may be changed. You can change your plans from short-term (1 year) to long-term.
If you choose the offline method, a courier will deliver a hard copy of your bike insurance to your home address a few days after you make the purchase.