Renew in just 5 mins.
No Inspection.
No Paper Work
* Subject To Underwriting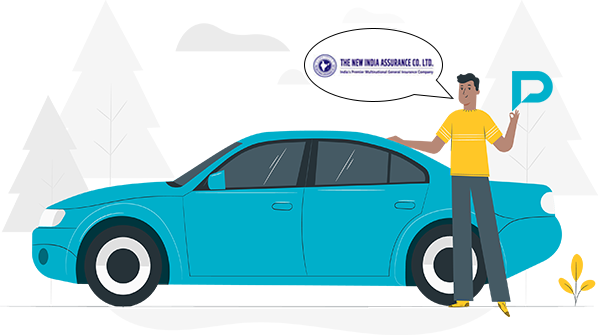 Compare

Bike Insurance Plans
New India Third-Party Car Insurance
A vehicle owner is protected by third-party auto insurance from any legal liability resulting from harm done to a third party. According to the Motor Vehicles Act of 1988, having third-party liability insurance is a requirement that must be updated regularly. The "Liability Only Policy" from New India Assurance Company covers third-party injury or death and property damage.
But your car is not covered by this plan. This policy is less expensive than a comprehensive plan due to the reduced coverage. Without involving the policyholder, the claim amount is paid to the third party directly in the event of third-party damages.
What are the Features & Benefits of New India Third-Party Car Insurance?
The following are covered under the New India third-party automobile insurance policy:
Financial obligations for property damage to third parties:
This policy protects against any third-party property damage brought on by the insured's vehicle. Up to Rs. 1 lakh in third-party property damage is covered by the insurance.
Physical harm to or the death of a third party
When an accident involving the insured's vehicle results in bodily harm, permanent disability, or death of a third party, the insurance company pays compensation. But a legal tribunal decides on the compensation.
When dealing with a stressful circumstance that solely depends on monetary payments, third-party auto insurance policies offer peace of mind. Therefore, the attention is just on getting immediate respite from stress and dealing with the situation rather than thinking further about such unplanned costs.
Some people might ponder if third-party automobile insurance is worthwhile. This insurance must be required by law. It is necessary to purchase this coverage because the premium is not expensive.
Depending on the insurer, the cost and scope of the coverage may change. It varies on the car's manufacture, model, and variant. It is advised that you weigh your options before making a decision.
Affordable and helpful to the insurer 
It is quite cost-effective and advantageous in terms of financial expenditures and premiums to include a third-party vehicle liability insurance component in the entire auto insurance policy, either as an add-on or a necessary part of the primary plan. Additionally, the income of the insurer is taken into consideration while determining the compensation.
What Does the New India Third-Party Car Insurance Cover?
The policyholder is covered for third-party liabilities by New India Assurance's third-party auto insurance. The policy offers coverage for accidents involving the insured's car that result in physical harm, fatalities, property damage, car damage, etc. Additionally, knowing that you won't have to pay out of pocket for third-party damages gives you piece of mind.
The following are covered under Third-party insurance from New India Assurance:
Physical harm to or the death of a third party
Owner/driver personal accident coverage
Up to Rs. 1 lakh in coverage for third-party property damage
Permanent impairment
The insurance provider will pay the full or partial cost of any physical harm, long-term disability, or death caused to a third party as a result of an accident involving the covered vehicle. The law court, however, makes the final decision on the compensation amount.
How To Buy New India Third-Party Car Insurance Cover?
If you are looking to buy New India Third-Party Car Insurance Cover, then simply go to the branch address of the company. Alternatively, you can connect with a broker that can provide you with a New India Third-Party Car Insurance policy. This would ultimately protect your car with third-party protection along with maximum coverage.
Frequently Asked Questions
No, the third-party auto insurance policy from New India Assurance does not cover your damages.
Yes, the third-party automobile insurance from New India Assurance includes coverage for permanent disability.
Yes, it is required insurers to offer personal accident coverage to customers. Personal accident insurance provides a maximum of Rs. 15 lakhs in insurance coverage.