Renew in just 5 mins.
No Inspection.
No Paper Work
* Subject To Underwriting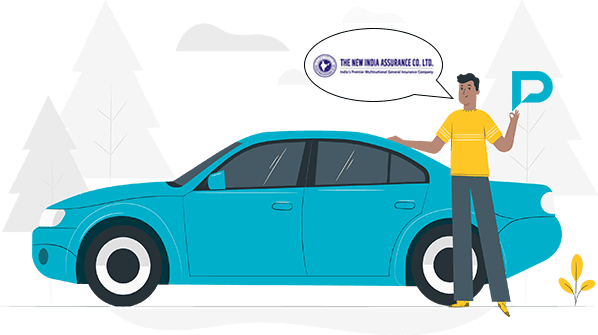 Compare

Car Insurance Plans
New India Insurance is a wholly-owned subsidiary of the Indian Government under the Ministry of Finance, Government of India. It has a presence in 27 countries and offers a wide range of insurance plans. Sir Dorabji Tata founded the company in 1919 and in 1973 it was nationalized. New India is rated A by AM Best and CRISIL, indicating its high degree of financial strength.
Benefits and Features of New India Car Insurance Plans
Car Insurance provides all-round protection for cars from various eventualities. New India Car Insurance offers several types of insurance plans with the following benefits and features: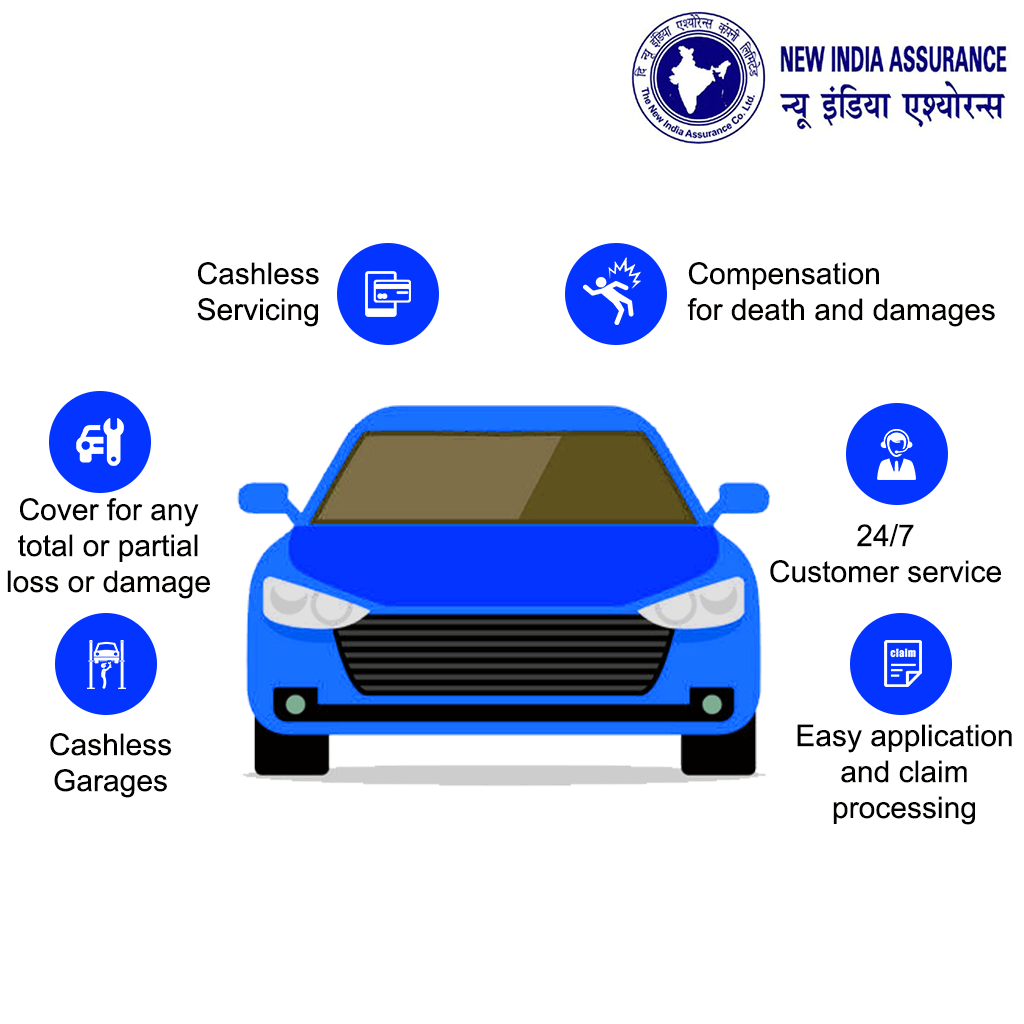 All-round coverage to include compensation for death and damages
Range of add-ons for added protection
Easy application and claim processing
24/7 customer service
Special discounts for members of the Automobile Association of India and on the installation of anti-theft devices in cars
3000+ cashless garages across India
Incurred claim ratio of 103.19% along with quick claim settlements
No claim discount on renewal ranging from 20 to 50%
Coverage of New India Car Insurance Plans
With all-inclusive protection for your car in mind, New India Insurance offers plans that cover the following types of contingencies:
| | |
| --- | --- |
| Natural reasons | Harm or damage caused due to acts of calamities such as earthquake, fire, storm, cyclone, flood, typhoon, hurricane, hailstorm, tempest, inundation, and other acts of nature. |
| Man-made reasons | Damages or loss due to burglary, housebreaking, or theft, riots, or strike. |
| Malicious and Terrorist acts | Coverage for damage caused due to malicious and terrorist acts |
| Losses in Transit | Damages caused in transit by air, elevator, lift, waterway, road, etc. |
| Accidental Acts | Damage or loss caused by accidental acts of a third party or otherwise such as self-ignition, explosion, rockslide, etc. |
Add-on Coverage Of New India Car Insurance
Protecting your car with additional cover is advisable. To enable complete protection for your vehicle in line with your requirements, New India Insurance offers the following add-ons on car insurance plans:
Documents Required To Buy New India Car Insurance Policy
Buying Car Insurance is no more a long and tedious affair. You can now purchase a suitable car insurance plan online by furnishing the following details:
Details of the vehicle, including the name of the car, its model, and year of manufacture
Registration number and certificate
Copy of valid driver's license
Insurance details, including add-ons
Identity proof
Address proof
Passport size photo
Additional details as required
How To Apply for New India Car Insurance?
Gone are the days when applying for car insurance requires multiple visits to the service provider's office. You can now purchase car insurance plans from the comfort of your home by following the steps below:
Apply via New India Official Website
How to Renew Car Insurance with New India?
Renewing your car insurance plan on time helps you attain a better price and stay protected. Do it in a hassle-free manner by following the below-mentioned steps:
Renewal Via The Probus Website
Step 1
Visit our website and click on the new policy.
Step 2
Select the insurer of your choice.
Step 3
You will automatically be redirected to the respective website of the insurer.
Step 4
Input basic details required. Select No Claim Bonus (N.C.B.) is applicable.
Step 5
Add the value of your car and add-ons, if any.
Step 6
Review the details filled in before proceeding further.
Step 7
Pay online by selecting your preferred mode of payment.
Step 8
Receive your renewed policy document via email within no time.
Renewal via New India Official Website
Step 1
Visit the New India Insurance website and click on car insurance.
Step 2
Click on Buy Online and thereafter select 'Renew The Existing Policy From Any Insurer'.
Step 3
Enter the required details such as the policy number, car registration number, policy expiration date, etc.
Step 4
Add other information such as coverage details, add-ons, and details for additional discounts.
Step 5
Review the details before proceeding further.
Step 6
Click on 'Save and Continue' and proceed to pay online using your preferred mode of payment.
Step 7
Receive the renewed policy document in your inbox within minutes.
New India Insurance offers a hassle-free claim process that is broken down into three main categories. The steps under each category are mentioned below:
Steps for claim process in case of damage due to accident:
Register your insurance claim by notifying the nearest office
Fill in the claim form along with a copy of the registration certificate, driving license, and other requisite documents.
A company-appointed surveyor will visit the site /garage and assess the damage to the car, after which he will submit a detailed report to the company.
In case of a reimbursement claim, furnish details such as bills and cash memos as well.
After due verification and examination, your claim will be settled, and money will be credited to your account. 
Steps for claim process in case of theft: 
File an F.I.R. with the police and immediately notify the policy issuing officer.
Submit a copy of the F.I.R. along with other details.
Hand over the final police report on receipt.
A surveyor will assess the details of theft as required.
After approval of the claim and completion of formalities, you will receive the claim amount in your account.
Steps for claim process in case of liability claim:
Notify the company of the accident that may give rise to a liability claim
Furnish summons of the Court to the company on receipt
Fill in the claim form along with a copy of the registration certificate, the driving license, and the F.I.R.
On approval of the claim, the money will be credited to your account in line with your insurance plan.
Documents For Register a Claim
The following documents are required to ensure a quick and easy claim settlement:
Duly filled claim form in the prescribed format.
Copy of the driving license.
Certificate of registration.
Copy of the F.I.R., if applicable.
Estimate of damage or repairs.
Copies of cash memos, bills, etc.
Copy of the policy document and proof of payment.
Any other details as required by the insurance company.
Car insurance is a solicited way to keep your vehicle protected. However, it does not cover certain damages such as: 
Consequential loss
Wear and tear or losses due to breakdowns
Damages caused while driving under the influence of alcohol or without a valid driving license
Losses caused due to extraordinary circumstances such as civil war
Claims arising out of contractual liability
Losses occurring due to the use of the vehicle in contravention of the 'limitation as to use.'
Steps To Calculate Car Insurance Premium Online
There are a plethora of car insurance plans available today. And comparing and contrasting plans will help you assess the offerings under each one of them before making a choice that suits your needs. One of the things you'll notice with the different plans is varying premiums. The premium varies due to several reasons, and some are:
The car – Some vehicles have a higher premium as compared to others. Higher the CC, the higher the premium. The insurer takes the car's model and car's variant into consideration when you choose add-ons and other packages.
Age of vehicle – Typically, the premium for older vehicles is lesser as newer vehicles are more.
Your location – Premiums are higher in urban areas as there are higher chances of claims because of numerous reasons like vandalism, theft, traffic, etc.
Fuel type – As compared to diesel or petrol vehicles, CNG cars attract higher premiums because of higher repair costs.
Insured's Declared Value – For lower IDV, the premium will be lesser and vice-versa.
You can read more about the factors that affect car insurance on the Probus website. Alternatively, use the car insurance calculator below to compute your premium.
Calculator on the New India Insurance Website
Step 1 – Visit the website and browse to the car insurance section.
Step 2 – Fill in the details required, such as your name, contact number, existing policy details, vehicle details such as model name and date of manufacture, etc.
Step 3 – Click on Get Quote
Step 4 – You will receive an instant quote at your email address
Frequently Asked Questions
An individual above the age of 18 years with a valid driver's license and a car registered in his or her name with the Regional Transport Authority of India can buy a policy with New India Car Insurance.
I.D.V. or Insured's Declared Value is fixed based on the manufacturer's listed selling price for the brand and model of the car at the time of commencement or renewal of insurance. It is further adjusted to account for depreciation. Similarly, I.D.V. for a vehicle older than five years is determined on the basis of the agreement between the insurer and the insured.