Renew in just 5 mins.
No Inspection.
No Paper Work
* Subject To Underwriting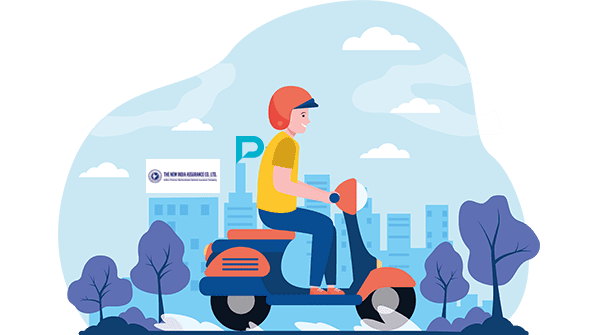 Compare

Bike Insurance Plans
ICICI Lombard Third Party Two-Wheeler Insurance
ICICI Lombard Third-party Two-wheeler insurance is a motor insurance plan that covers you against legal liabilities arising out of an accident. Under this type of two-wheeler insurance policy, if your bike causes injuries to a third party or his surrounding property, then ICICI Lombard will take care of these expenses. According to Motor Vehicles Act of India, it is mandatory to have a third-party liability only policy otherwise, you will be penalised. However, third-party policy only provides protection against loss and damage incurred to the third-party due to an accident. It does not offer any benefit to the owner vehicle, like a comprehensive policy. To know more about third-party liability only policy offered by ICICI Lombard, have a look at the following mentions.
Major Benefits of ICICI Lombard Third Party Two-Wheeler Insurance
The following are the benefits offered by this motor insurance plan.
Liability To Third-party:
The Company will indemnify the insured in the event of an accident caused by or arising out of the use of the Motor Vehicle anywhere in India against all sums, including the claimant's costs and expenses, which the insured shall become legally liable to pay in respect of
Death of or bodily injury to any person so far as it is necessary to meet the requirements of the Motor Vehicles Act.
Damage to property other than property belonging to the insured or held in trust or in the custody or control of the insured up to the limit specified in the schedule.
Legal Protection:
The Company will also pay all costs and expenses incurred with its written consent.
Based on the nature of claim – The Company may, at its own option
Arrange for representation at any Inquest or Fatal Inquiry in respect of any death which may be the subject of indemnity under this Policy and
Undertake the defense of proceedings in any Court of Law in respect of any act or alleged offence causing or relating to any event which may be the subject of indemnity under this Policy.
Personal Accident Cover for Owner-driver:
The Company undertakes to pay compensation as per the scale for bodily injury/death sustained by the owner-driver of the vehicle in direct connection with the vehicle insured or whilst mounting into/dismounting from or traveling in the insured vehicle as a co-driver, caused by violent, accidental, external, and visible means which independently of any other cause shall within six calendar months of such injury result in.
General Exclusions of Third-Party Two-Wheeler Insurance offered by ICICI Lombard
The following situations are the general exclusions of the policy under which it does not provide any benefit.
Wear & tear and ageing of the bike or scooter
Wear & tear of tyres and tubes unless the vehicle is damaged in an accident, in which case we cover up to 50% of the replacement cost
Depreciation or any consequential loss.
Mechanical or electrical breakdown
Harm to or by a person riding the two-wheeler under the influence of drugs or liquor
Loss or damage due to war, mutiny, or nuclear risk
Vehicle being used otherwise than in accordance with limitations as to use
Frequently Asked Questions
ICICI Lombard Third Party Two-Wheeler Insurance has this following scale.
| | |
| --- | --- |
| Nature of injury | Scale of compensation |
| Death | 100% |
| Loss of two limbs or sight of two eyes or one limb and sight of one eye. | 50% |
| Loss of one limb or sight of one eye | 50% |
| Permanent total disablement from injuries other than named above. | 100% |
If the car is recognized as a vintage car, or if you have installed anti-theft device(s) to protect your car, then the company offers certain discounts on the premium of the policy. 
This cover protects you in case you cause harm to any third party in an accident. This premium is standard across all insurance companies.
Up to Rs. 1 lakh worth of coverage for third party property damage.
Unlimited coverage in case of death or disability of another person. This amount is decided by court.