Renew in just 5 mins.
No Inspection.
No Paper Work
* Subject To Underwriting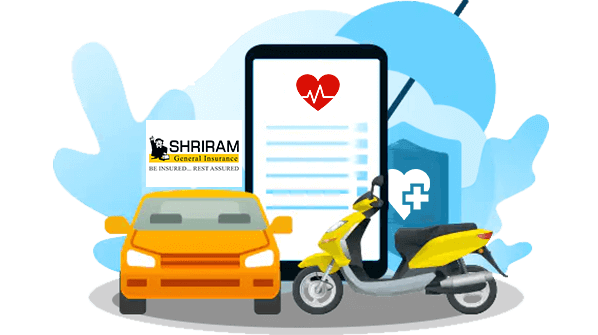 Compare

Bike Insurance Plans
Shriram Third-party Two Wheeler Insurance
Shriram General Insurance is a reliable insurance provider that has minimized the uncertainties on the road through its bike insurance policies. Shriram's third-party bike insurance policy is a cost-effective solution to fulfill the mandatory requirement of the law as well as to get rid of third-party liabilities arising out of accidents due to the insured's bike. Shriram General Insurance has digitalized the purchase of third-party bike insurance. It has set up an efficient support team to assist the policyholders through the process. Shriram's third-party bike insurance policy provides the basic coverage for financial and legal liabilities of the insured's bike towards the third party. It has to be remembered that a third-party liability-only insurance policy is a mandatory policy to have if you are a two-wheeler owner, as per the Motor Vehicles Act of India.
What are the Benefits of Third-party Two Wheeler Insurance Offered by Shriram?
The following benefits are provided.
Liability to Third Parties:
The Company will indemnify the insured in the event of an accident caused by or arising out of the use of the two-wheeler anywhere in India against all sums, including the claimant's costs and expenses, which the insured shall become legally liable to pay in respect of-
The death of or bodily injury to any person so far as it is necessary to meet the requirements of the Motor Vehicles Act.
Damage to property other than property belonging to the insured or held in trust or in the custody or control of the insured up to the limit specified in the schedule.
Legal Liabilities:
The Company may, at its own option-
Arrange for representation at any Inquest or Fatal Inquiry in respect of any death that may be the subject of indemnity under this Policy and
Undertake the defense of proceedings in any Court of Law in respect of any act or alleged offense causing or relating to any event which may be the subject of indemnity under this Policy.
Personal Accident Cover for the Owner-driver:
The policy undertakes to pay compensation as per the following scale for bodily injury/ death sustained by the owner-driver of the bike caused by violent, accidental, external, and visible means which independently of any other cause shall within six calendar months of such injury result in
Type of injury
Scale of Compensation
Death
100%
Loss of two limbs or sight of two eyes or one limb and sight of one eye.
100%
Loss of one limb or sight of one eye
50%

Permanent total disablement from injuries

other than those named above.

100%
General Exclusions of Shriram Third-party Two Wheeler Insurance
This is a basic insurance policy that is very different from a comprehensive bike policy. Therefore, the general exclusions of the third-party two-wheeler policy of Shriram Insurance are as follows.
Own Damages:
Damages to your insured vehicle are not covered under the 2-wheeler Third party insurance.
Riding Without Valid Documents:
For instance, if you do not hold a valid Driving Licence (DL), or if you do not hold a Learner Licence (LL) and ride the two-wheeler without a valid DL holder as a pillion, then your claim could be rejected.
Driving Under Intoxication:
3rd Party Two-wheeler Insurance does not cover damages or losses to the third party if you were found to be riding the insured vehicle under the influence of alcohol or other intoxicating substances.
Accidents Outside the State's Geographical Area:
Incidents occurring outside the specified geographical area are not covered under the Third-party Insurance Bike Policy.
Usage of Vehicle for Other Purposes: If your private two-wheeler is used for other purposes, such as commercial use, then the 3rd Party Bike Insurance shall not cover such liabilities.
Contractual Liabilities:
If your two-wheeler has been pledged to another party and there is an accident caused by the insured vehicle, then the 3rd Party Insurance Plan shall not cover third-party damages or losses.
Frequently Asked Questions