Renew in just 5 mins.
No Inspection.
No Paper Work
* Subject To Underwriting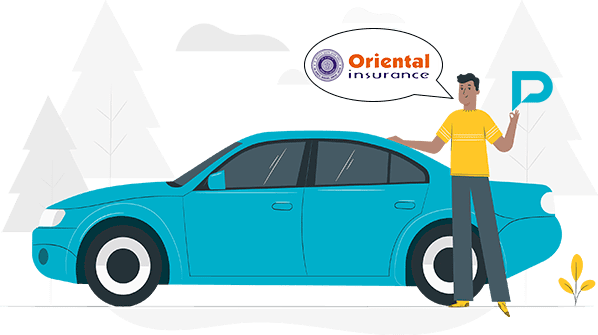 Compare

Car Insurance Plans
Oriental Insurance Company Limited (OICL), headquartered in New Delhi, is a wholly-owned subsidiary of the Oriental Government Security Life Assurance Company Limited. OICL began its operations in 1947 and soon scattered its operations to various cities of the country. They also have overseas operations in countries like Nepal, Kuwait, and Dubai and have around 13,000+ employees. While they offer plenty of insurance policies across various retail and corporate plans, one of their standouts is insurance for both urban and rural populations of India.
Features and Benefits of Oriental Car Insurance Plans
Here are a few reasons Oriental Car Insurance is the right choice for you:
Oriental Car Insurance offers customized protection plans for one year or shorter according to the customer's convenience.
The online portal of Oriental Car Insurance offers hassle-free services like the online purchase of various plans, renewal of plans, or migration for car insurance plans.
Oriental Car Insurance offers several discounts like a discount on the anti-theft device on the premium towards the insurance plan.
The insurance provides all-around protection, from natural disasters to personal accidents.
You can avail of important extension covers at a reasonable additional premium amount.
The private car insurance plan covers a maximum of 2 lakh to the owner of the vehicle in the event of death or bodily injury.
They offer 24X7 customer support to keep you informed.
You can claim assistance through email, call, and SMS services.
Coverage of Oriental Car Insurance Plans
Have a look at what your insurance policy covers:
Natural reasons

Natural calamities like earthquake, flood, storm, landslide or rockslide, inundation, fire, lightning, explosion, and self-ignition, etc.

Man-made reasons

Damage to the car due to terrorism, riots, strikes, malicious acts.
Damage or loss due to theft, and burglary
Damage due to transit by land ways, waterways, or airways

Personal accident cover

Loss of when the driver/owner of the car meets with an accident when traveling in the car is covered

Third-party liability

This policy covers legal liability that arises because of an accident, death, permanent damage, injury, property damage to the third party by the insured vehicle.
Add-on Coverage Of Oriental Car Insurance
Add-ons are the additional benefits that you can enjoy other than the regular coverage. You can select an 'add-on' scheme that suits you best. Some of the schemes might require an additional charge.
Documents Required To Buy Oriental Car Insurance Policy
The only documents you need to complete the application process for car insurance are listed below.
Vehicle Manufacturer, model name, model number, vehicle registration number
Date of registration, date of purchase, state of purchase.
Vehicle registration certificate
Valid driver's license
Bank details
Insurance form
Address proof (government-issued ID Proof)
Recent passport size photo
How To Apply For Oriental Car Insurance?
You can apply for insurance with Oriental Car Insurance in no time with these simple steps.
Apply On Oriental Insurance Official Website
How To Renew Car Insurance with Oriental Insurance?
You must renew your Insurance policy before it lapses. Follow these simple steps to renew your policy.
Renewal Via The Probus Website
Step 1
Login to our website and click on renewal.
Step 2
Select the type of insurance. (Motor Insurance Renewal)
Step 3
Select the insurer
Step 4
You'll be taken to the respective website. Enter your basic details there like, the existing policy number and registration number.
Step 5
The policy details and the Premium Calculated will be shown on the screen.
Step 6
Review all the details and make any change if required.
Step 7
Make an online payment, and you'll have your policy in no time.
Renew Via Oriental Insurance Official Website
Step 1
Visit the oriental Insurance official website and click on the 'Renew' tab.
Step 2
Type policy number and select the 'Renew Now' option
Step 3
The policy details will be detailed on the screen. Review and verify the details.
Step 4
The premium calculation will be displayed for you to verify.
Step 5
Review all the details before proceeding to the payment option.
Step 6
Once reviewed, make an online payment, and you'll have your policy mailed to you.
You can claim your insurance the instant it goes live and valid. Oriental Insurance offers claims in the below-mentioned way.
Immediate notice should be sent to Oriental Insurance Office in writing and a phone call upon the accident or damage
Login to your Oriental Insurance website and register your claim
Fill in the claim form that is displayed on the screen
Collect all the required documents related to the insured vehicle
After verification, the insurance company will initiate the claim procedure.
Documents You Need to File A Car Insurance Claim with Oriental Insurance
To file a claim, keep these documents handy:
Duly filled claim form
Insured vehicle details like make and year, chassis and engine number, registration no, policy number, premium receipt
Details of the driver at the time of the accident
Driving license number
Date, time, place of accident
Speed and kilometers reading at the time of the accident
Description of how the accident occurred
Details of the thirty party is responsible for the accident (name and address contact no)
Vehicle inspection address
Estimation cost of repairs
Full details of the damage.
Copy of FIR if there's a police report, or it's a theft.
Police investigation report
Photograph of damaged property/video of the loss.
There are certain exclusions on the car insurance policies offered by Oriental Insurance Company. A few exclusions are listed below.
Damage caused by the driver under the influence of drugs or liquor
Damage caused by a driver without a valid driving license
Damage caused by mutiny, nuclear risks, or wars
Expenses on damage if the insured vehicle is used for speed testing, reliability testing, goods carriage, organizing race, etc.
Expenses on damages caused to the insured vehicle outside India
Loss or damaged bonds or business-related documents.
Expenses on damages or losses because of theft from the insured vehicle.
Steps To Calculate Car Insurance Premium Online
Oriental Car Insurance has a simple method to derive the value of its premium. It follows the same method in all its car insurance plans. There are many factors that determine the amount of car insurance premium.
IDV of the vehicle
Zone of registration
Cubic capacity of the vehicle
Age of vehicle
The customer can also opt for additional coverage as per their requirement. Additional premiums have to be paid for such covers.
CNG/LPG fuel
Extra Benefits
Electrical and electronic items
Add-on Cover
Calculator on the Oriental Insurance Website
For an exact calculation, you can log into the official website and follow steps similar to the renewal of policy to arrive at the premium.
Frequently Asked Questions
Policy documents can be downloaded from the official website of Oriental Insurance. Usually during the policy procurement policy download link will be mailed to the registered email ID.
Oriental Car Insurance Policy covers bundled cover policy, liability only policy, standalone-od private car policy
Yes, the car insurance policy is transferable with some nominal fee.